Flipping the Script
Cali Group looks to revolutionize "antiquated" restaurant industry
Friday, March 9, 2018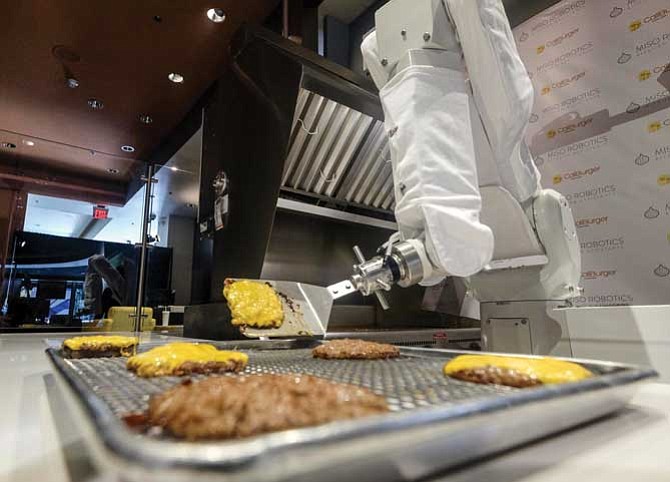 Flippy was still a bit temperamental, leaving a burger to burn on the griddle and dropping another on the counter.
"The robot has a personality," said "Big" Mike James, manager of the CaliBurger restaurant in Pasadena that's giving Flippy a shot. "If it doesn't want to do something, it will actually pick up a burger and throw it; literally toss it away. That's a little iffy. They are still trying to work the kinks out on that."
No, this isn't the lead-in to a Ray Bradbury tale, but a real-life scene that played out as a small group of journalists looked on.
"Flippy" – a Fanuc-manufactured robotic arm, wielding a spatula and flipping burgers autonomously – is the latest attempt by the restaurant's parent company, Cali Group, to entice other eateries into experimenting and adopting automation that would mark new ground for the industry.
"The industry is really antiquated," said John Miller, chairman of Cali Group. "Someone that (worked) in a restaurant 50 years ago would know exactly what to do in a restaurant today. The equipment hasn't changed – the technology hasn't changed."
Flippy was developed by Miso Robotics, a company incubated by Cali Group. The robot is operated by artificial-intelligence software that uses temperature sensors and computer vision to determine when burgers are cooked. It is the flashiest example of Cali Group's ambitions, which also include efforts to track customers via facial recognition technology, self-serve touchscreen kiosks and a tablet-based software program to monitor all of a restaurant's equipment and operations at once.
The investment firm believes it can encourage restaurants to adopt automation – and eliminate expensive and mistake-prone human labor – by first demonstrating its viability within the 35 CaliBurger restaurants the firm operates.
"Restaurant operators are really slow to adopt new technology," Miller said. "So, it's much more capital efficient to develop it, and put it into something where you have the keys and can slide it in."
Miso Robotics scored a win last week when it signed a deal for a pilot program using a Flippy-style robot in a sports and entertainment venue operated by Chicago-based Levy Restaurants, which operates a number of restaurants in high-profile sports and entertainment venues under various names around the U.S., including Staples Center. The agreement stems from Levy's participation in a $10 million Series B round for Miso Robotics last month.
California style
Cali Group's Miller said he founded CaliBurger after a career with Arrowhead Pharmaceuticals Inc. of Pasadena, where he said he was its second employee and helped develop flexible electronic devices.
Prev Next
For reprint and licensing requests for this article, CLICK HERE.