Flipping the Script
Cali Group looks to revolutionize "antiquated" restaurant industry
Friday, March 9, 2018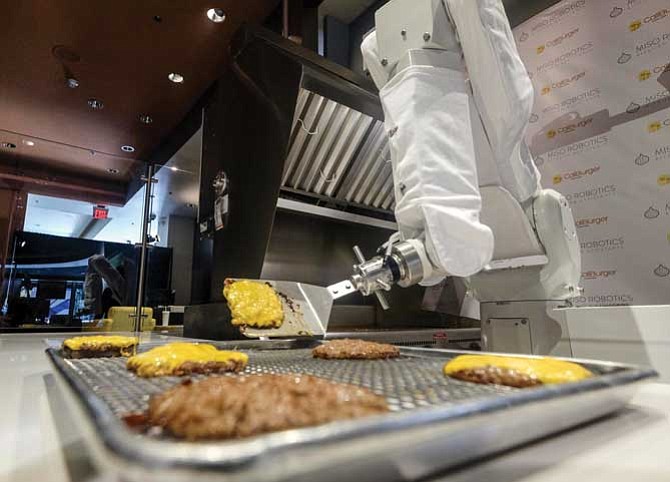 Flippy was still a bit temperamental, leaving a burger to burn on the griddle and dropping another on the counter.
"The robot has a personality," said "Big" Mike James, manager of the CaliBurger restaurant in Pasadena that's giving Flippy a shot. "If it doesn't want to do something, it will actually pick up a burger and throw it; literally toss it away. That's a little iffy. They are still trying to work the kinks out on that."
No, this isn't the lead-in to a Ray Bradbury tale, but a real-life scene that played out as a small group of journalists looked on.
"Flippy" – a Fanuc-manufactured robotic arm, wielding a spatula and flipping burgers autonomously – is the latest attempt by the restaurant's parent company, Cali Group, to entice other eateries into experimenting and adopting automation that would mark new ground for the industry.
"The industry is really antiquated," said John Miller, chairman of Cali Group. "Someone that (worked) in a restaurant 50 years ago would know exactly what to do in a restaurant today. The equipment hasn't changed – the technology hasn't changed."
Flippy was developed by Miso Robotics, a company incubated by Cali Group. The robot is operated by artificial-intelligence software that uses temperature sensors and computer vision to determine when burgers are cooked. It is the flashiest example of Cali Group's ambitions, which also include efforts to track customers via facial recognition technology, self-serve touchscreen kiosks and a tablet-based software program to monitor all of a restaurant's equipment and operations at once.
The investment firm believes it can encourage restaurants to adopt automation – and eliminate expensive and mistake-prone human labor – by first demonstrating its viability within the 35 CaliBurger restaurants the firm operates.
"Restaurant operators are really slow to adopt new technology," Miller said. "So, it's much more capital efficient to develop it, and put it into something where you have the keys and can slide it in."
Miso Robotics scored a win last week when it signed a deal for a pilot program using a Flippy-style robot in a sports and entertainment venue operated by Chicago-based Levy Restaurants, which operates a number of restaurants in high-profile sports and entertainment venues under various names around the U.S., including Staples Center. The agreement stems from Levy's participation in a $10 million Series B round for Miso Robotics last month.
California style
Cali Group's Miller said he founded CaliBurger after a career with Arrowhead Pharmaceuticals Inc. of Pasadena, where he said he was its second employee and helped develop flexible electronic devices.
CaliBurger launched its first location in Shanghai in 2012 as an In-N-Out-style burger joint, complete with a yellow-and-red logo of two palm trees, "Animal Style" fries and a "Double Double" cheeseburger. The firm focused on opening locations in foreign markets to take advantage of international demand for In-N-Out restaurants – a hunger not met by the Irvine-based company's deliberately slow expansion strategy, which has kept all of its locations within the United States.
The similarities between the two restaurants caused In-N-Out to sue CaliBurger in U.S. District Court in Santa Ana for trademark infringement and counterfeiting. A confidential settlement was reached in 2012. While no terms were disclosed, the name of several CaliBurger menu items were renamed, including the "Double Double" burger which became the "Cali Double."
Efforts to create a California-branded burger chain soon evolved into something bigger, said Miller.
"I think it started off as a fun project," he said of CaliBurger. "Then we quickly realized how much room there is for technology."
The company's first attempt to add electronics into the restaurant business came in the form of a recreational video gaming venture called Super League Gaming, a company which developed a software program to facilitate multiplayer competitions for Microsoft Corp.'s "Minecraft."
Super League Gaming's recreation video game competitions were launched as a means to pull in children and their parents into CaliBurgers locations, a similar strategy to McDonald's PlayPlaces facilities.
That venture was eventually spun-off, moved its video game competitions into movie theaters, and collected additional investors such as Nickelodeon, SoftBank and Peter Guber's aXiomatic.
Super League Gaming in many ways is a case study for how Cali Group aims to incubate tech companies, said Miller. The firm develops technology internally, tests it out within its restaurants, and then spins it off as an independent venture with outside investors. The investment firm's portfolio companies include Super League Gaming, mobile game developer FunWall, commercial kitchen Kitchen United, and facial recognition software developer PoP-IQ.
"We own equity positions between 15 percent to 50 percent of all these companies, which are all based between Pasadena and Santa Monica," said Miller.
Robo-burger
The demonstration of Flippy's burger flipping prowess made it clear there was still room to improve on the technology, something Miso Robotics Chief Executive and co-founder David Zito acknowledged. But Zito insisted the technology, once improved, could be a boon for surging demand for prepared food.
"This is coming along just at the right time to really aid the food industry at large," he said. "(The industry) is really in transition. For the first time, 51 percent of all the meals we ate in America were prepared for us."
Increasing purchases of prepared food – whether from restaurants or grocery stores – combined with high worker turnover in the food industry, is creating greater demand for productivity in restaurant kitchens. That demand could make robotic solutions like Flippy attractive, Zito added.
Miso Robotics claims that Flippy, depending on a kitchen's setup, can cook 150 burgers to 300 burgers per hour – all with the same consistency and without rest breaks.
Industry consultants and analysts said that kitchen robots like Flippy could be on the verge of adoption.
"I see no problem if it's designed well and it works well," Jerry Prendergast, owner of restaurant consultancy Prendergast & Associates of Culver City said. "There's automated pizza making machines that do a really good job."
Examples of restaurants using robotic arms to prepare food and drinks include Zume Pizza Inc. of Mountain View and coffee kiosk Cafe X of San Francisco.
Restaurateurs might still be reluctant to add new technology to their kitchens because it is unfamiliar, said Erik Thoresen, principle with Technomic of Chicago, a food industry research firm.
"Most of the decision makers in the restaurant industry don't have a great deal of experience with robotics," Thoresen said. "There is certainly an education curve."
And then there are the costs.
"I think the biggest challenge would be offsetting the cost of installing, maintaining and programming the robot," Thoresen added.
Miso Robotics' robotic arms start at $60,000 for the hardware with a 20 percent annual fee for the robot's subscription-based software, a company spokeswoman said.
Cali Group's Miller contends that the labor savings, high-quality products and upsell opportunities will return restaurants' investments on its automation technologies in the long run.
Flippy has the potential to cut labor costs by reducing the need to teach employees how to properly cook hamburger patties and eliminating downtime needed for rest, said CaliBurger Restaurant Manager James.
"With a person, two different burgers might be two different temperatures because you are going by sight," he said, noting that the robotic system uses thermal sensors instead. "With Flippy, I don't have to give a break. Flippy can stay on the clock the whole time."
For reprint and licensing requests for this article, CLICK HERE.