Bird Raises $100 Million in Series B
Friday, March 9, 2018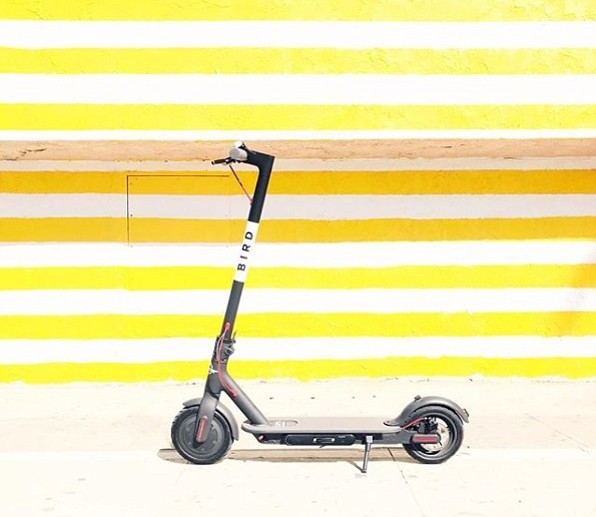 Santa Monica-based Bird, an electric vehicle sharing company, announced a $100 million Series B funding round on March 9. Valor Equity and Index Ventures were the primary investors, while Craft Ventures and Goldcrest increased their existing investments. Additional investors included Tusk Ventures and Upfront Ventures.
Bird offers users access to electric scooters through their smartphone to close the gap in their commutes, what they call the "last mile" after getting off the subway or bus. The company markets their product as an environmentally-friendly alternative to driving.
"Today, 40 percent of car trips are less than two miles long," said Travis VanderZanden, founder and CEO of Bird. "Our goal is to replace as many of those trips as possible so we can to get cars off the road and curb traffic and greenhouse gas emissions. With this funding, we can move quickly to bring this vision to communities all across the country."
According to the press release, the money will be used to expand to 50 markets in 2018, and comes on the heels of a Feb. 13 announcement of $15 million in Series A funding. Launched in September 2017, Bird is reporting over half a million rides to date. The company also announced Paige Craig will join the company as a head of U.S. city operations.
"Bird has a transformative, last-mile electric vehicle solution with a powerful community of enthusiastic riders, and it's by far the first-mover in the field," said Antonio Gracias from Valor Equity Partners, who is also on the board at Tesla and SpaceX. "We believe Bird is writing the next chapter in transportation and is poised to become the next great company in this space."
Technology reporter Eli Horowitz can be reached at ehorowitz@labusinessjournal.com. Follow him on Twitter @coachhorowitz13 for the latest in L.A. tech news.
For reprint and licensing requests for this article, CLICK HERE.