Commercial Real Estate Awards 2018: Best Office Project
Custom Content by the Los Angeles Business Journal
Thursday, March 8, 2018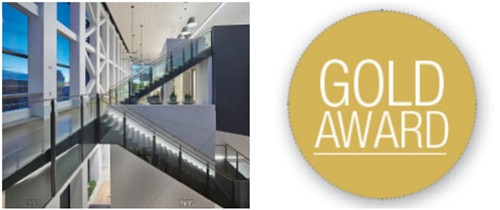 BCG LOS ANGELES HQ
Location: 515 S Flower St #5100, Los Angeles, CA 90071
Size: 45,000 sf
Contractor: Sierra Pacific Constructors
Architect: ShubinDonaldson Architects
The desire to create compelling spaces that feed one's aspiration as well as promote ambition fueled the design, reflecting the unique aspects of BCG's 45,000 sf Los Angeles office. The existing spatial volume consisted of a 25,000 square foot single floor and a second floor was created by connecting to the mechanical penthouse above. This connection is realized with an organizational hub at the heart of the project through the creation of a 60 foot-tall sky lit atrium stairwell that introduces natural light into the interior. The skylight culminates at the roof of the 53rd floor: it is surrounded by a faceted fascia that cascades down the inner wall, and extends into the front elevator portal on the 51st floor. The connectivity of experiences throughout the office and reinforcement of unlimited possibilities is realized with layered levels of orientation within three separate open-air workspaces. The lower floor encompasses the entire building's width, which accommodates 26 formal meeting rooms, and over 20,000 sf of adaptable desk space.

Location: 4130 Cover Street, Long Beach, CA 90808
Size: 40,376 sf
Developer: United Pacific
Contractor: Oltmans Construction Co.
Architect: DRA Architects
United Pacific's move from Gardena to Long Beach's Douglas Business Park was an employee driven decision. United Pacific sought for a space that promotes collaboration, drives productivity, and fosters employee retention and dedication. The new corporate headquarters is a 40,376 sf, two-story, build-to-suit concrete tilt-up building on an 115,455 sf site at the corner of Worsham Avenue and Cover Street in Long Beach. One project highlight is the infusion of the company's culture and history into the new and modern space.
For reprint and licensing requests for this article, CLICK HERE.