New Subscription
TechStyle adds brick-and-mortar channel to e-commerce base
Friday, March 2, 2018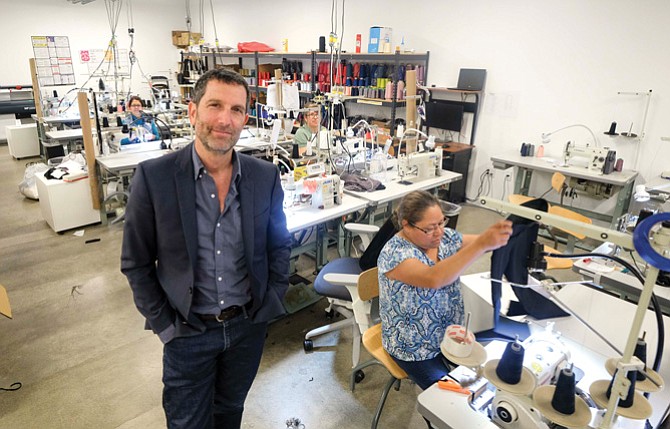 E-commerce retailer and apparel maker TechStyle Fashion Group is seeing success applying tech-company tactics to sell shoes and clothing through its newest channel – brick-and-mortar retail stores.
The El Segundo-based company has until recently sold its four fast fashion brands – JustFab, Fabletics, ShoeDazzle and FabKids – through an online subscription service. After a rapid rollout, TechStyle just opened its newest store in Boca Raton, Fla. in December selling items under its youngest brand, Fabletics, bringing its brick-and-mortar total to 24.
Sales for Fabletics, the athleisure brand co-owned by actress Kate Hudson, accounted for $200 million of the company's $700 million in revenue last year, TechStyle said.
The brick-and-mortar stores, in keeping with the company's bent, are supported by technology.
Anton Von Rueden, TechStyle's chief operations officer, calls the brick-and-mortar stores' plan "strategic."
"We're treading smartly here," he said. "We have data on our customers that helps inform our retail strategy."
Subscribers of the eight-year-old company's online subscription services grew last year to just over 5.1 million, up 13.3 percent over the prior year.
The subscription model gathers data about "styles, size, color preference, location and more" that shoppers have to give in order to become members, said Shawn Gold, TechStyle's corporate marketing officer.
"We have all these data about the user which allows us to hedge risk," Gold said.
"We know their likes and dislikes. We know that there are 700,000 people who wear small, and their buying habits. An X amount of people buy monthly, weekly. We can forecast inventory better than most fashion companies."
Tech-company tactics
TechStyle's retail businesses don't function as traditional brick and mortar stores but as high-tech, data-gathering and tracking tools, explained Von Reuden.
For example, shoppers in the Fabletics stores must first scan items before trying them on, enabling TechStyle to track whether the item is ultimately purchased or not.

"What's exciting about that is they're measuring what you're trying," said Anthony Dukes, a professor at USC's Marshall School of Business. "That is an untapped niche."
Shoppers don't have to be members of the subscription services but subscribers'
purchases account for 50 percent of all in-store sales, Von Rueden said.
The company rebranded itself from its original name, JustFab Inc., to TechStyle Fashion Group in 2016 to reflect its increasing reliance on technology as its marketing backbone.
Adam Goldenberg, co-founder and co-chief executive, said in a press release about the name change that the new corporate identity captured the essence of what JustFab had become, metaphorically, "Fashion Avenue meets Silicon Valley."
Prev Next
For reprint and licensing requests for this article, CLICK HERE.