New Subscription
TechStyle adds brick-and-mortar channel to e-commerce base
Friday, March 2, 2018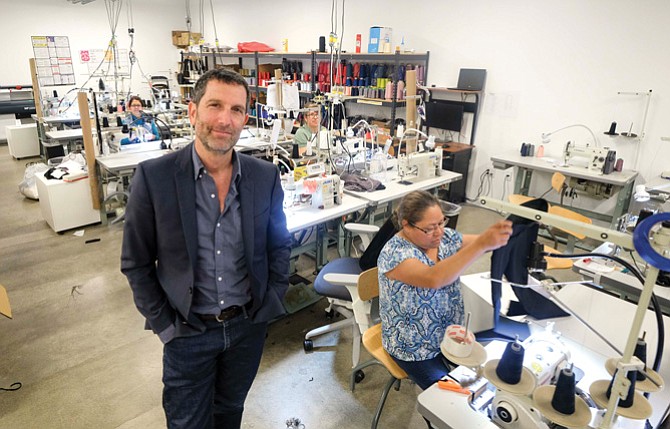 E-commerce retailer and apparel maker TechStyle Fashion Group is seeing success applying tech-company tactics to sell shoes and clothing through its newest channel – brick-and-mortar retail stores.
The El Segundo-based company has until recently sold its four fast fashion brands – JustFab, Fabletics, ShoeDazzle and FabKids – through an online subscription service. After a rapid rollout, TechStyle just opened its newest store in Boca Raton, Fla. in December selling items under its youngest brand, Fabletics, bringing its brick-and-mortar total to 24.
Sales for Fabletics, the athleisure brand co-owned by actress Kate Hudson, accounted for $200 million of the company's $700 million in revenue last year, TechStyle said.
The brick-and-mortar stores, in keeping with the company's bent, are supported by technology.
Anton Von Rueden, TechStyle's chief operations officer, calls the brick-and-mortar stores' plan "strategic."
"We're treading smartly here," he said. "We have data on our customers that helps inform our retail strategy."
Subscribers of the eight-year-old company's online subscription services grew last year to just over 5.1 million, up 13.3 percent over the prior year.
The subscription model gathers data about "styles, size, color preference, location and more" that shoppers have to give in order to become members, said Shawn Gold, TechStyle's corporate marketing officer.
"We have all these data about the user which allows us to hedge risk," Gold said.
"We know their likes and dislikes. We know that there are 700,000 people who wear small, and their buying habits. An X amount of people buy monthly, weekly. We can forecast inventory better than most fashion companies."
Tech-company tactics
TechStyle's retail businesses don't function as traditional brick and mortar stores but as high-tech, data-gathering and tracking tools, explained Von Reuden.
For example, shoppers in the Fabletics stores must first scan items before trying them on, enabling TechStyle to track whether the item is ultimately purchased or not.

"What's exciting about that is they're measuring what you're trying," said Anthony Dukes, a professor at USC's Marshall School of Business. "That is an untapped niche."
Shoppers don't have to be members of the subscription services but subscribers'
purchases account for 50 percent of all in-store sales, Von Rueden said.
The company rebranded itself from its original name, JustFab Inc., to TechStyle Fashion Group in 2016 to reflect its increasing reliance on technology as its marketing backbone.
Adam Goldenberg, co-founder and co-chief executive, said in a press release about the name change that the new corporate identity captured the essence of what JustFab had become, metaphorically, "Fashion Avenue meets Silicon Valley."
Companies like TechStyle that use technology have become successful, in part, by learning what consumers want and providing it, say retail experts.
"They curate the experience and behaviors of customers on their online platform and the subscription model allows them to deliver quickly without getting the customer into a store," Dukes said.
TechStyle's revenue has risen 11.6 percent since 2016, the company said, but declined to comment on profits. It has also gained the approval of investors who have given the company nearly $260 million in funding. The privately-held company employs 2,000 people, 550 in El Segundo, and has an estimated valuation of at least $1 billion. It also runs a production studio internally with two sound stages and three studios at its headquarters.
The company said its vertically integrated operation helps it controls costs and enables it to oversee everything from product design and manufacturing to distribution and customer service.
Several fashion retailers have declared bankruptcy recently, but fashion e-commerce businesses appear healthy, according to a report conducted by Statista, an online market research firm in Hamburg, Germany.
U.S. retail e-commerce revenues from apparel and accessories sales amounted to $72 billion in 2016, according to Statista, and are projected to increase to $116.3 billion by 2021.
"E-commerce fashion enables customers to choose from a broader product range than in traditional offline retail," Statista wrote.
Subscription pros/cons
TechStyle's monthly subscription prices vary per brand.
ShoeDazzle and apparel brand JustFab cost $39.95; the athletic apparel and shoes Fabletics cost $49.95 while FabKids costs $29.95.
Members sign up on the brand's website and take a personal quiz where their answers are personalized by the company's algorithm.
Von Rueden, the chief operations officer, said that subscriptions are about engagement with the brands' users.
"We're in an age where anyone can go anywhere from their phones and buy anything, anywhere in the world," he explained. "But you need a mechanism that engages with your brand, and to us that is the membership model."
Engagement for TechStyle comes in many forms. Based on the data it has on its subscribers, ads are re-targeted to them to remind them of unmade purchases, and personalized print catalogs are mailed to them. The company also spends heavily on advertising.
But TechStyle's subscription-based system isn't without criticism.
Media reports have documented the difficulty some customers have had in cancelling subscriptions, though Gold, the chief marketing officer, contends that TechStyle fully discloses and explains how it works.
"On the first of the month, members are sent an e-mail with personalized selections …in this e-mail, they are reminded to visit the website and "skip" if they are not interested, and there is no charge," Gold said.
If members don't do anything, they get charged a credit which doesn't expire that they can spend at member pricing at a later date, he explained. However, the issue some users have had with similar subscriptions services is that they would rather skip a month without any charges.
But USC's Dukes likened the model to traditional memberships.
"This is no different than any other subscription-based businesses where you are guaranteed a product - like a newspaper or a gym membership," he said. "Now whether you actually read the news or go to the gym, that's a different story."
Venturing into traditional retail stores can be risky - no matter how prepared a company might feel or how tech savvy it might be, said Lloyd Greif, chief executive of downtown-based investment firm Greif &Co.
"TechStyle is making waves – it has a deep war chest thanks to venture funding, and it's creating a great, monster business," Greif said. "However, retail is fraught with risk and there's different expertise needed for that. E-commerce is only going to go up, and that's where it (TechStyle) needs to be."
For reprint and licensing requests for this article, CLICK HERE.