710 Freeway Proposal Decision Delayed By MTA Board
Thursday, March 1, 2018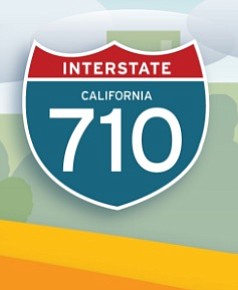 The board of the Los Angeles County Metropolitan Transportation Authority on March 1 voted unanimously to delay by several years a decision on two multibillion dollar alternative proposals to widen the 710 Freeway until after interchange and ramp improvements are completed, according to information posted on the agency's website
The vote spares for the near future the possible displacement of up to 560 homes and businesses along the 25-mile route to make way for additional freeway lanes.
The decision is the latest turn in the decades-long debate over how to improve traffic flow on the 710 Freeway between the Port of Long Beach and the 60 Freeway. The freeway has become the major road route for thousands of trucks each day carrying cargo from the ports to warehouses throughout the region; besides the constant congestion, the truck traffic has damaged much of the pavement.
MTA staff presented to the board two alternatives to widen the freeway: A $10 billion plan to add elevated four-truck lanes paralleling the entire freeway stretch and a $6 billion plan to add one truck-only lane in each direction with an additional 2.5-mile set of truck lanes around the interchange with the 405 Freeway.
But facing an outcry from business owners, homeowners and renters who feared being displaced by the widening project, several board members, led by Los Angeles County Supervisor Hilda Solis and Long Beach Mayor Robert Garcia, proposed an amendment on Feb. 27 that would prioritize improvements at interchanges with the 405, 91 and 5 freeways, including truck bypass lanes around the 405.
Those projects will take several years, during which time, the board members said, agency staff could explore other alternatives and try to line up more funding. Once those projects are completed, the amendment calls for the board to once again consider proposals to improve traffic flow on the freeway.
Economy, education, energy and transportation reporter Howard Fine can be reached at hfine@labusinessjournal.com. Follow him on Twitter @howardafine.
For reprint and licensing requests for this article, CLICK HERE.