Google Adds L.A. Infrastructure
Server facility will increase data transfer speed for local businesses
Friday, June 29, 2018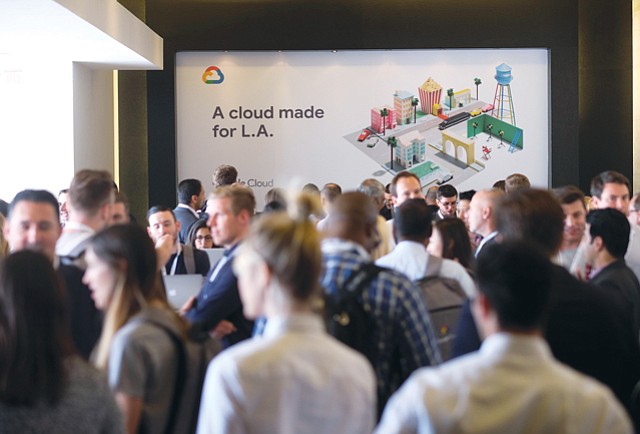 Alphabet Inc.'s Google Cloud file sharing and storage software service made landfall in Los Angeles June 26, with a new physical data center coming to an undisclosed location in the city.
Company representatives promised the server center would mean faster data sharing for local companies that use Google Cloud services. The L.A. location is the 17th data region the company has opened globally and the fifth in the U.S.
The proximity to servers reduces latency – the time it takes to transfer data from one place to another – for businesses in Los Angeles. This is especially important for companies that are transferring huge amounts of data, such as movie studios rendering digital animation or tech companies processing large amounts of code.
Stephen Kowalski, a systems engineering executive at Sony Pictures Imageworks Inc., said his company is excited to use the cloud, especially the animation department.
"Today they use G Suite when they should actually be using Google Cloud," Kowalski said. "Part of the reason of why is because of latency, so the fact that (Google) just made latency go away gives us a chance to switch. We are entirely based here in L.A., so are our clients, and this data center is going to allow us to extend services to them."
John Motz, chief executive at machine learning firm GrayMeta Inc. in Playa Vista, said a local server as "creates an environment where the deployment of innovative solutions are accessible in a fraction of the time," which is essential to business.
The Google Cloud server center will create some jobs in L.A., though the company was coy about how many and what it cost to run the facility. The company said it was withholding the exact location of the server facility due to security concerns.
Google Cloud held an event at Milk Studios in Hollywood to announce the new server center. Executives from Sony Pictures Entertainment Inc., Universal Music Group Inc., eHarmony Inc., and the City of Los Angeles were in attendance.
Ted Ross, chief information officer for L.A. Mayor Eric Garcetti, said that the arrival of a cloud server demonstrates local technology expansion.
"Six years ago, we really weren't talking about L.A. as a big tech center," said Ross. "We have become the creative capital of the world, we have billions of venture capital coming into Los Angeles."
For reprint and licensing requests for this article, CLICK HERE.