UCLA Stakes Claim on Inaugural Innovation Day
Unifies researchers across various disciplines under tech development group
Friday, June 22, 2018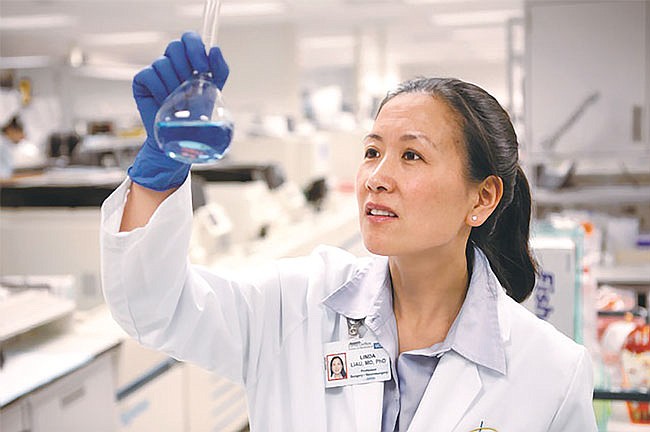 It wasn't enough for UCLA professor and biochemist Michael Jung to help invent Xtandi, a leading prostate cancer drug whose royalty rights sold for $1.14 billion.
Jung then cranked out another prostate cancer drug – Erleada, now owned by Johnson & Johnson – approved for sale early this year. It could turn out to be another biotech blockbuster.
"With all good science, eventually you need a product at the end," the chemist, who has spent 44 years at UCLA, said June 13 to more than 500 research scientists, biotech industry professionals, financiers and students who turned out for an inaugural UCLA Biomedical and Life Science Innovation Day.
The event staked the Westwood campus as a cornerstone for L.A.'s emerging biosciences sector.
"How did this all get started? With a question: 'How do we position L.A. as a hub for biotech innovation?'" said Amir Naiberg, associate vice chancellor and chief executive of UCLA Technology Development Group, which hosted the day as part of its mission to promote campus research, patents, commercialization and startups.
"This event is all about building an ecosystem," Naiberg added.
The university, which files more than 400 scientific disclosures a year, stressed a culture of collaboration among scientists who bump shoulders on the smallest footprint of all nine UC campuses.
UCLA now aims to spur more innovation by unifying researchers across multiple disciplines under six major research themes – cardiovascular, metabolism, cancer, neuroscience, precision health, regenerative medicine and I3T, short for immunology, inflammation, infection and transplantation.
Research scientists were moved beginning in May to UCLA's newly renovated South Tower, a former hospital converted into a 443,000 square-foot medical research lab.
"The discoveries made on our campus have impacted health worldwide … from Hercepten to Gleevec, from PET technology to curing 'bubble baby disease,'" UCLA David Geffen School of Medicine Dean Kelsey Martin said to the audience June 13. "Join us as we try to bring new discoveries and inventions to the marketplace, for the betterment of humanity."
Jung and Daniel Geschwind, a professor in neurology, received an Amgen Early Innovator Award for advancing research into Alzheimer's disease.
Jung, in return, turned to a room full of drug financiers and drug makers from Amgen Inc. to Kite, a Gilead Co.
"Come and talk to us," said Jung, with a trace of a native New Orleans twang, as he ran down dozens of compounds UCLA is developing to treat chronic illness. "Let's get together, and let's make drugs for fun and profit, legally."
Prev Next
For reprint and licensing requests for this article, CLICK HERE.