Minibar-in-a-Car on Way to Uber, Lyft in L.A.
Cargo Services to use Snapcode in place of standard QR here
Friday, June 22, 2018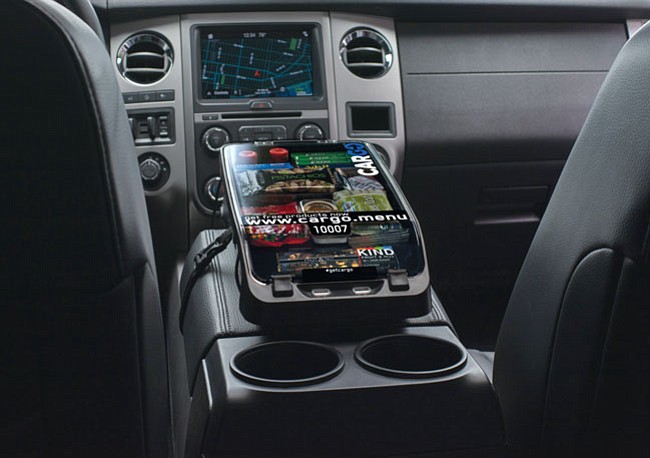 Los Angeles native-turned-New York City- transplant Jeff Cripe started Cargo Services Inc. six years ago with the aim of developing a mobile vending machine for Uber and Lyft passengers.
Cripe returned to his hometown this month with an expansion into the L.A. market, where passengers of the ride-share services will likely begin seeing Cargo Services boxes – think hotel room mini-bars for cars – as soon as the July 4 holiday.
"We want to provide updated passenger experiences," said Cripe, chief executive and founder of Cargo, which is privately held. "I spend so much time in L.A., and realized we're spending so much time in vehicles, but the experience of being a passenger just isn't enjoyable."
Cargo puts its boxes on the center console of cars, with a QR or Snapcode. Scanning the code with a smartphone camera allows the user to unlock the box and pay for any of its contents, which range from phone chargers and retail items to snacks. Some items are complimentary, but most are priced in the $1.99-$10 range.
Drivers get the Cargo boxes installed for free, and make a commission on each item sold. Weekly and monthly bonuses for drivers are available, and there's an in-app tipping option. Cargo's website claims that top drivers earn up to $300 per month in extra income from peddling the goodies.
Cargo's expansion into L.A. was solidified by two key affiliations with local businesses, Snap Inc. and Awesome Office Inc., better known by its brand name SnackNation. L.A. passengers will be able to unlock the boxes filled with SnackNation food by using Snap Inc.'s trademark Snapcodes – which take the place of standard QR codes printed on the L.A. boxes.
One concern raised is how rideshare companies will react to drivers making extra cash while driving for their service. Uber, which has long faced criticism over labeling its drivers as independent contractors, won't try to get a piece of the action, according to Cripe, who contends that the drivers making extra money increases their loyalty and is actually good for both companies.
Cargo has purchased warehouse space in Ontario, California, and is already looking into the possibilities of driverless cars in the future.
"Our hope is that we can kind of bundle all of that into one company that's serving ridesharing and autonomous vehicles."
Gamers Galore
After another well attended Electronic Entertainment Expo, or E3, the Electronic Software Association plans to hold its 2019 show in Los Angeles, with a run of June 11-13 already booked.
Prev Next
For reprint and licensing requests for this article, CLICK HERE.