Asia Cos. Top L.A. Investment
TRADE: 17 out of 20 largest foreign cos. with L.A. HQs
Friday, June 15, 2018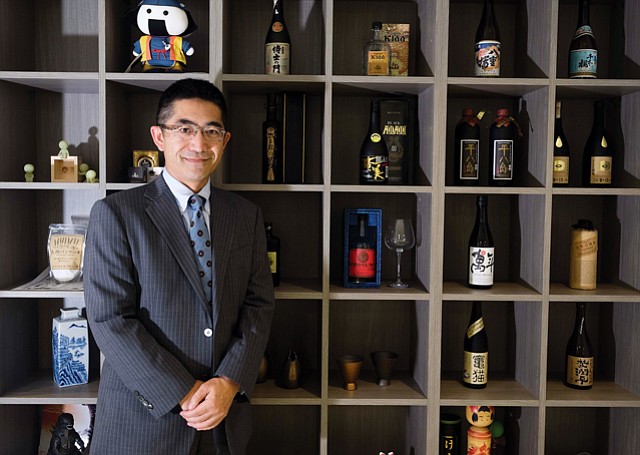 Los Angeles County harbors the nation's largest twin sea port complex by trade volume, the No.1 Customs District, the largest manufacturing sector and an expansive cargo movement supply chain.
The county's status as a significant international trade hub – and a history of migration dating back to the 1970s – are why, experts say, Japanese companies account for nearly half of the 20 foreign entities on the Business Journal's list of those that have their U.S. headquarters in L.A. County. In fact, all but three of the businesses on the list, which is ranked by parent company revenue in 2017, are based in Asia.
The original Japanese community's attraction to L.A., though, was with the region's cultural diversity, its openness to new ideas and its proximity to the homeland, said Kevin Klowden, executive director of the Center for Regional Economics at the Milken Institute. The initial interest has grown over the years to attract major investments as well, he added.
"It comes down to history," Klowden said. "The Japanese started making L.A. their key center of investment in the 1970s, and they've developed a number of industry clusters in places like Torrance and Gardena. They have a large expat community as well, and have been consistently investing in the L.A. market for decades."
Japanese dominance
Japan, China, South Korea, Switzerland and Singapore house the top 10 companies on the list, with four calling Japan home, including No.1 American Honda Motor Co. Inc. in Torrance with nearly $126 billion in parent company revenue, a sub-1 percent gain from 2016 revenue of about $125 billion.
Other Japanese entities include two Torrance-based beer importers, Asahi Beer U.S.A. Inc., ranked No. 5 with 2017 revenue of $18.5 billion, and Kirin Brewery of America at No. 6, which generated $16.5 billion last year, a drop from $19 billion the prior year. Epson America Inc. in Long Beach, with just over $9 billion in revenue, came in at No. 9.
In L.A. County, Japan accounted for 1,272 foreign-owned enterprises and provided 43,012 jobs in 2017, according to a May report by the World Trade Center Los Angeles, Los Angeles County Economic Development Corp. and Malibu-based Pepperdine University's School of Public Policy.
According to the report, besides Japan, the top countries with the most business investments in L.A. County were the United Kingdom and Canada. The top three local business sectors where foreign investment has the greatest presence are manufacturing, finance and professional business services, the report said.
Local Japanese trade organization, Japan External Trade Organization or Jetro, has been in Los Angeles for six decades.
"Jetro has helped over 340 Japanese companies establish themselves in the U.S. between 2010 and 2016," Keiichi Nishimoto, chief executive director of Jetro L.A. told the Business Journal last fall.
Nishimoto said the L.A. region was attractive due to its large, diversified market size as well as the distribution network of port facilities, warehousing, logistics and transportation resources.
"We hope Mayor (Eric) Garcetti's upcoming trip to Japan in July will further strengthen and encourage additional investment and trade opportunities between Japan and local Southern California companies," Nishimoto said last week. He declined to comment on recent trade developments.
Big loss coming
The 20 companies on the list generated a combined $379 billion in revenue last year. That number was up about 4 percent from 2016. Next year, however, combined revenue stands to decrease substantially, as No. 2-ranked Nestle USA Inc. will be removed from the list because the firm relocated to Rosslyn, Va. from Glendale in March. Revenue in 2017 for the food giant was about $91 billion.
No. 4 Beijing, China-based Air China moved up a slot, and another China-backed company, electric vehicle manufacturer BYD Ltd. Corp. remained at No. 7. The companies have their U.S. headquarters in El Segundo and downtown L.A., respectively. BYD was awarded a nearly $48 million contract to build 60 buses for Los Angeles County Metropolitan Transportation Authority last August.
After Nestle, the only two other companies not headquartered in Asia were No. 12-ranked energy drink maker Red Bull North America Inc. of Santa Monica, whose parent company is in Austria, and No. 20-ranked retail center developer and operator Westfield Corp. of Century City, now owned by Paris-based Uniball-Rodamco.
Trade uncertainty
President Donald Trump's position on trade has some experts worried that jobs and business opportunities from domestic and international companies based here could potentially leave the county as a result.
The Trump administration is expected to reveal a new list of tariffs targeting Chinese goods on Friday, June 15 – after the Business Journal goes to press. Specifically, Trump is expected to impose a 25 percent tariff on possibly 1,300 Chinese goods, according to some estimates, including raw materials and finished products.
Parents of two manufacturers on the list are based in China – BYD and Hikvision USA in the City of Industry, which makes video equipment.
"The speed at which these decisions are made, plus the back-and-forth, creates uncertainty," said Tom Gould, trade consultant with Sandler, Travis & Rosenberg, a Miami, Fla. law firm specializing in international trade. "And uncertainty is always bad for business."
Stephen Cheung, executive director at the World Trade Center Los Angeles, said businesses should be aware of this.
"I'd also urge international companies based in L.A., and L.A. businesses, to be very vocal about the disruption in cost, planning and trust due to these (potential) tariffs," he added.
For reprint and licensing requests for this article, CLICK HERE.