Nuances of Influence
LA 500
Monday, July 30, 2018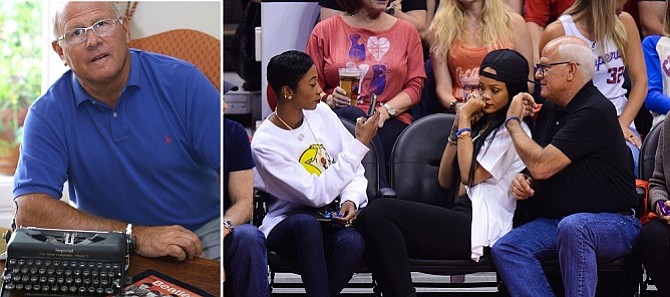 Some of L.A.'s powerbrokers wield influence through new media alongside traditional channels. They're not selling lipstick, but they do sell ideas.
Steve Soboroff turns to Twitter when he wants to communicate with Los Angeles Police Department officers en masse.
"I think it's great," said the 69-year-old developer who serves as president of the Los Angeles Police Commission.
Efficient, too – 5,000 or so LAPD officers follow Soboroff, about half of the department's cops.
The longtime civic leader and one-time candidate for mayor takes another tack when he wants to get the attention of smaller groups of fellow power players – he pulls out his typewriter.
Not an electric typewriter, mind you. Soboroff has a real, old-school manual typewriter – the kind that looks as though it pounded out film noir scripts back in the 1940s. He collects vintage typewriters, including one that was once owned by Theodore Kaczynski, the infamous Unabomber.
Group email campaigns tend to generate a low rate of response, Soboroff said, while his typed missives beat even a handwritten note when it comes to prompting replies.
"It's the coolest way of communication," he said. "I wrote a note to 12 people, asking them to contribute to something, and I got 10 out of the 12."
The enthusiasm for the typewriter doesn't mean Soboroff bemoans the loss of the good old days before the internet. The manual typewriter has gained a retro cool he can use to his advantage, but he also delights in the advantages of recent digital communication platforms, particularly when it comes to the relationship between law enforcement and the community.
"The characteristics and mannerisms of people who are successful and influential are the same," Soboroff said. "There always have been tools to be influential, and the tools change, but the job gets done."
The forward-thinking Soboroff is not alone among prominent Angelenos who built their careers pre-internet, and certainly before social media became a powerful marketing tool. You don't get ahead without thinking outside the box, after all, and that often means embracing new technology.
So it's not surprising to find many L.A. business and community leaders of a certain age who in no way resemble the stereotype of the befuddled senior who can't figure out how to post family photos from iPhone to Facebook.
Take Mickey Kantor, 78, partner in downtown's Mayer Brown law firm and former United States trade representative under President Bill Clinton, a tenure that included negotiating parts of the controversial North American Free Trade Agreement. Kantor became secretary of commerce after then-Secretary Ron Brown died in a plane crash in 1996.
Prev Next
For reprint and licensing requests for this article, CLICK HERE.