Robotics Key to Device Startup
HEALTH CARE: Neural Analytics aims to quicken brain injury diagnosis
Friday, July 27, 2018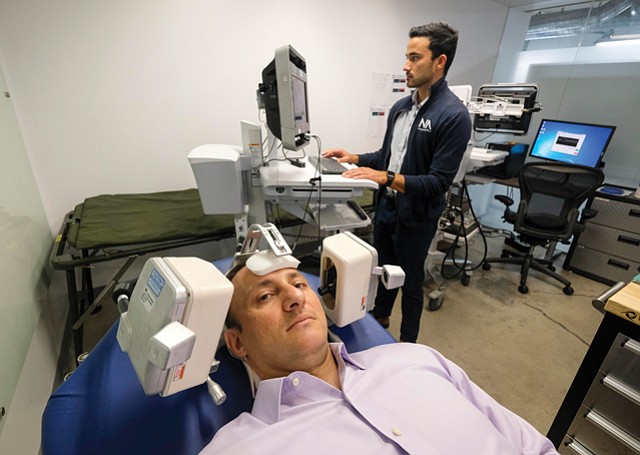 Neural Analytics claims the Lucid Robotics System – which received federal clearance to evaluate brain blood flow characteristics and provide clinicians with information to diagnose neurological disorders such as stroke – has the potential to simplify the diagnostic process, lower health care costs by eliminating the need for skilled technicians, and increase patients' chances for survival.
The Neural Analytics system combines an ultrasound system known as a transcranial Doppler with a boxy headset containing robotic wands that automatically monitor blood flow to the brain.
The device also uses artificial intelligence in the form of a machine learning software platform with algorithms to pinpoint brain disorders, company executives said, which helps it quickly tell doctors the extent of a stroke.
It also holds potential for use in diagnosing concussions, migraines, brain bleeding and dementia, although those applications are pending approval.
The Lucid Robotics System will be sold to hospitals and clinics in the third quarter of 2018. A hand-held version is being developed for the Department of Defense for use in combat scenarios. Other portable versions are being developed for ambulances and emergency responders.
"What I'm holding in my hand is the next generation of ultrasound," Petrossian, chief executive for Neural Analytics, said, cradling a 10-pound Lucid NeuralBot headset devoid of traditional ultrasound wires. "We'll no longer have to hold the ultrasound wands – we'll have a robot. The benefit: it is available 24/7, never gets worn, never gets tired."
Mass market
While Hamilton's initial pitch to UCLA business students was mocked, the noninvasive machine that could diagnose concussions anywhere from the football field to the battlefield soon won support from Petrossian, an entrepreneur with a doctorate in biomolecular nanotechnology, and Hanchey, with nearly two decades of software development experience who now serves as the company's vice president of software engineering.
It also caught the eye of someone else on the UCLA campus.
Roy Doumani, executive director of the UCLA Business Science Center and a co-founder of the California NanoSystems Institute, immediately saw market potential in the device.
Doumani not only believed in the new company. He invested in it.
"The technology is good, it works," said Doumani, former board chairman for Neural Analytics. "I believe it's promising, because there's a strong market for it."
Hamilton said Neural Analytics has few competitors. While some surgical systems, such as those developed by Intuitive Surgical Inc. in Sunnyvale, employ robotics, and some imaging companies, such as Viz.ai Inc. of San Francisco, employ artificial intelligence, he said no biomedical company now employs both.
"To the best of our knowledge, there is nothing as good," Doumani said. "Or as accurate. We've had it out to a few stroke centers, where it scored in the high 90s. The doctor's love it."
Prev Next
For reprint and licensing requests for this article, CLICK HERE.