Cannabis Seeks New Setting in Jewelry District
Renovation aimed at luring marijuana-related tenants to be renamed 'Green Street'
Friday, July 27, 2018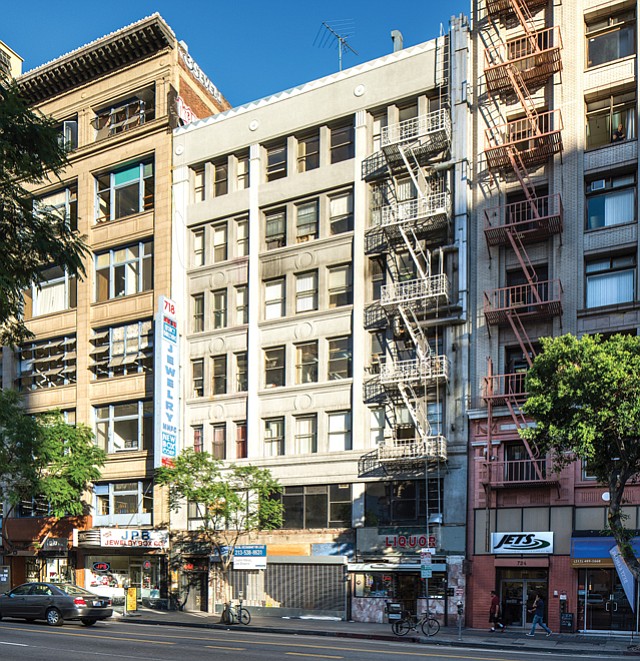 Bow West Capital, a Santa Monica-based developer, is rebranding 718 S. Hill St. in the Jewelry District of downtown Los Angeles as Green Street, a creative office space devoted to the cannabis industry.
The company purchased the seven-story, 67,000-square-foot building for $14 million, or roughly $303 per square foot, in December 2017.
The building is slated to reopen in November with several floors of coworking spaces, office suites, a rooftop deck, an art gallery, retail space and a 5,000-square-foot restaurant. The amenities are targeted toward providers and consumers of cannabis-related products, Bow West Capital said in a statement.
Green Street, a branding and business development consultancy agency currently based in the Miracle Mile, will be the flagship tenant, leasing three full floors. The firm is a minority investor in the building, and has been involved in the project's conceptualization and planning, according to Sean Beddoe, Bow West Capital's founder and president.
"They have been the ideal partner for the reinvention of this historic structure," Beddoe said in a statement. "They have a deep understanding of today's cannabis industry and a real vision for its future."
Vicente Sederberg, a Denver-based legal office that calls itself "The Marijuana Law Firm," will lease one floor of the property.
Mid-City based M-Rad Architecture is overseeing the building's redesign. The structure was built in 1913.
Strong Beach Snapshot
Rents rose despite an increase in the vacancy rate in downtown Long Beach's office market during the second quarter of 2018, according to a study by Downtown Long Beach Alliance, a nonprofit organization operating on behalf of the area's commercial and residential property owners and tenants.
The average asking rent for commercial space in the downtown area of Los Angeles County's second-largest city by population rose 1 percent year over year to $2.43 per square foot. The vacancy rate in Long Beach's downtown area was 15.6 percent, up from 12.5 percent a year earlier.
"The uptick in vacancy is in large part due to existing tenants relocating to newly renovated spaces," the Alliance noted in the study. "Overall, vacancy rates should trend downward over the remainder of 2018 as job growth continues to remain strong and consumer confidence stays high."
The area has become a target for coworking companies such as WeWork Cos. Inc., which opened a location last year at 100 W. Broadway. CommonGrounds Workspace, Work Evolution and P3 Office Lofts are among the other coworking companies operating in Long Beach's central business district.
Downtown Long Beach has been hot for real estate development. More than a dozen large projects are planned or underway, including overhauls of the Queen Mary, the Long Beach Civic Center, Aquarium of the Pacific and multiple apartment buildings.
An accompanying survey of downtown business people showed that 81 percent were confident in the local economy, and 75 percent of businesses said they were able to find skilled or educated talent in the region.
But 65 percent said housing availability was an issue in attracting or retaining skilled workers, especially among educational services, utilities and retail trade industries.
JLL Snags Retail Veteran
Jones Lang LaSalle Inc. has hired Greg Whitney as a senior vice president of retail development in its Century City office.
Whitney joins JLL from San Francisco-based real estate firm Wilson Meany, where he worked as director of development since 2013. In that role, he oversaw the planning and development of the Los Angeles Stadium and Entertainment District at Hollywood Park in Inglewood.
Whitney previously spent 23 years at CBRE Group Inc., where he worked as a senior vice president. Whitney also handled foreign and domestic projects for companies such as Target Corp. and Viacom Inc. subsidiary Paramount Pictures Corp.
Overall, Whitney has directed 37 major redevelopment projects – more than 35 million square feet of space.
He is a graduate of Arizona State University and a member of the International Council of Shopping Centers and the Urban Land Institute.
Staff reporter Ciaran McEvoy can be reached at cmcevoy@labusinessjournal.com or (323) 556-8337.
For reprint and licensing requests for this article, CLICK HERE.