Developers Expand Medical Complex Near DTLA
Plan for 3-story, 48,000 SF building in Pico-Union advances
Friday, July 20, 2018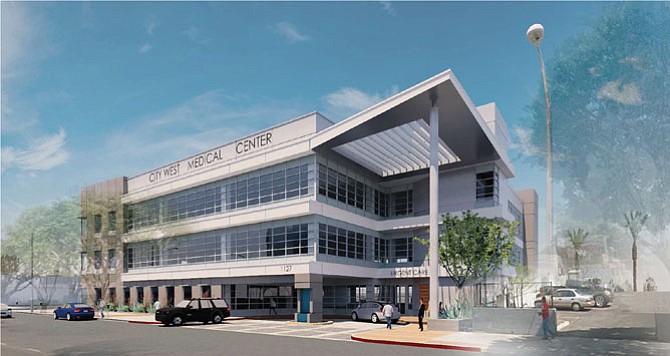 Two downtown-based developers plan to expand a medical office complex in Pico-Union as a downtown-adjacent option for health care services.
Robhana Group Inc. and Inception Property Group said they will build a 48,000 square-foot City West Medical Center at 1127 W. Washington Blvd.
The 3-story office building is the second phase of new construction on the speculative Downtown West Medical campus, located next to Interstate 10 at Union Avenue. It is expected to break ground next summer and open for patients in 2020.
"For years now, the downtown area has consistently added … new residents and jobs annually," said Peter Becronis, a founding partner of Inception Property Group. "Health care has tried but struggled to keep up with our city's incredible rate of growth."
The Robhana/Inception builders chose Washington Boulevard as the site for their nearly 160,000 square-foot Downtown West Medical campus because of its visibility to the freeway.
The first phase – a 4-story 60,000-square-foot medical office building at 1120 W. Washington Blvd. – opened in May to house the regional headquarters for HealthCare Partners, a unit of DaVita Medical Group. An existing 50,000 square-foot medical office is being renovated next door alongside a newly built parking garage.
Becronis declined to discuss the cost of the two new and one renovated medical office buildings that make up the campuses because of a potential impact to lease negotiations.
Torrance, Cedars Team Up
Torrance Memorial Medical Center broke last month ground on a $36 million cancer center to be staffed by both Torrance Memorial and Cedars-Sinai Medical Center doctors.
The 37,000-square-foot Hunt Cancer Center, scheduled for completion in June 2019, is the latest result of the February affiliation between the 470-bed hospital in Torrance and the 886-bed hospital in Beverly Grove.
The new South Bay center will treat more than 60 types of common, rare and complex cancers, with access to both Torrance and Cedars-Sinai specialists.
"Physicians from bother health centers have been working together for more than a year to establish enhanced services through this relationship," said Dr. Robert Figlin, deputy director of the Samuel Oschin Comprehensive Cancer Institute at Cedars-Sinai, in a statement. "We want to offer more patients advanced cancer care and medical expertise without leaving their communities."
The two-story center will also triple the size of the Torrance Memorial oncology department and include a 32-station infusion center for treatments such as chemotherapy. The new center will also be home to the Hunt Cancer Institute and the Torrance Memorial Physician Network - Cancer Care.
For reprint and licensing requests for this article, CLICK HERE.
Prev Next