Crenshaw Renaissance?
Why talk of transformation is different this time around
Friday, July 20, 2018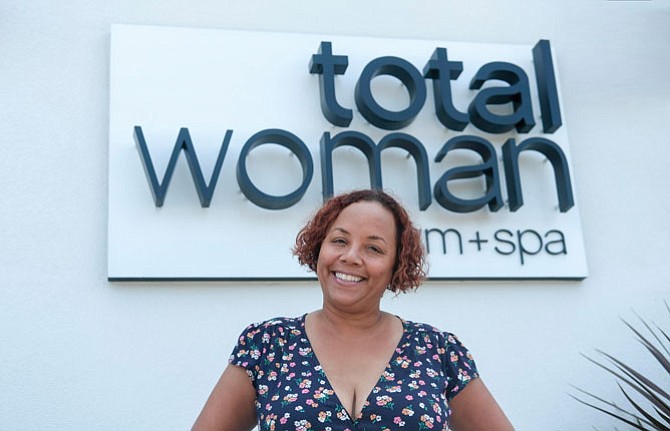 The revitalization of the Crenshaw district of South Los Angeles has been talked about for decades, but a new light-rail system, surging real estate prices, a new hospital and the $700 million redevelopment of a local mall makes it appear to some observers that the current push to transform the community is different.
Shauna Robinson, the owner of a Total Woman Gym & Spa franchise located inside the Baldwin Hills Crenshaw Plaza shopping mall, is one of the believers. Robinson rose through the ranks as a Total Woman Gym sales representative, decided to become a franchiser for the company, signed a 10-year lease at the mall and opened her own business.
The entrepreneurial leap came with some extra risk – malls aren't the economic drivers they once were, after all. Case in point: Baldwin Hills Crenshaw Plaza's largest tenant, Walmart Inc., vacated the mall in 2016 and the space remains vacant.
Yet there is a growing belief in the South L.A. community that residents shouldn't have to drive as far away as The Grove in Mid-Wilshire to shop, Robinson said. Once-overlooked areas of Los Angeles County – from Culver City to Boyle Heights – are turning into go-to destinations, and there's a sense that Crenshaw could be next.
"Why not us?" Robinson asked.
It's a timely question – the Los Angeles City Council last month approved the plan of Chicago-based Capri Capital Partners to redevelop the Baldwin Hills Crenshaw Plaza shopping mall.
The project aims to add more than 2 million square feet to the 43-acre site, including an eight-story, 400-room hotel, 330,000 square feet of new shops and restaurants, a retail village, a 10-story, 148,000-square-foot office tower and other amenities.
The retail project isn't alone in glimpsing a different future in the Crenshaw district.
The Los Angeles County Metropolitan Transportation Authority plans to open next year its Crenshaw/LAX Line, which will run 8.5 miles and connect the Expo and Green lines. It's a project that has been decades in the making.
Destination Crenshaw, a 1.1-mile outdoor museum intended to celebrate the neighborhood's rich African American culture and history, will run along the light-rail line on Crenshaw Boulevard between 48th and 60th streets.
Plans were filed last month to build a mixed-use property at 3670 Crenshaw Blvd. with 573 residential units, grocery, retail and restaurants. West Hollywood-based developer Charles Co. is behind that proposal.
Kaiser Permanente opened a four-story, 100,000-square-foot medical office building in Crenshaw in September 2017, designed for treatment of more than 50,000 of the health care provider's members in the neighborhood.
Times are changing
Crenshaw thrived from around World War II until the Watts riots of 1965 as a middle-class African-American neighborhood. It was hit hard the latter decades of the 20th century, hurt by the decline in the area's manufacturing base. Poverty and crime increased as middle-class white, black and Japanese-American residents moved to other areas of Los Angeles.
The mall's redevelopment in the 1980s was intended to resuscitate the area, but was unable to drum up much investment. The collapse of the aerospace industry in the 1990s took away many of the few-remaining high-wage jobs in South Los Angeles.
Now the growth of the tech industry – and the high wages that come with it – along with a real estate boom have changed things. Nearby Inglewood is seeing prosperity thanks to tech workers looking for housing that is less expensive than that in Santa Monica, Venice and Playa Vista.
Those gains apparently are now spilling over into Crenshaw.
The median home value in Crenshaw in May was $820,600 – an increase of 18.5 percent from a year earlier, according to data provided by Zillow Group Inc. The median home value in Los Angeles County in May was $644,900 – a gain of 8 percent.
With good comes bad
Rising property values benefit owners rather than renters. Rising rents inevitably force out businesses and individuals who can't afford them. That has caused some concern in the community.
"You always hear the word 'gentrification,'" said Shoneji Robison, owner of Southern Girl Desserts, also located at Baldwin Hills Crenshaw Plaza. She is an 18-year resident of nearby Leimert Park.
She supports the mall's redevelopment and the Crenshaw/LAX Line because she believes it will bring new customers to her business.
She also acknowledges says she believes locals have valid concerns of rising real estate prices and changes in the neighborhood.
"People feel like they're being pushed out of their community because they can't afford it anymore," Robison said.
Capri has agreed with city officials to make 10 percent of the proposed residential units at Baldwin Hills Crenshaw Plaza available for those in need of affordable housing. The developer also committed to a 30 percent local hire mandate for the construction project.
Capri also agreed to pay $2 million to Los Angeles Trade Technical College for educational and job training programs. It also agreed to pay $1.5 million for tree trimming and other maintenance in the district.
Robinson, of Total Woman Gym & Spa, said she is excited for the redevelopment, but also conceded that change can be awkward and painful.
"Every benefit has a loss," she said. "You can't have something wonderful happening without losing something."
For reprint and licensing requests for this article, CLICK HERE.