The Food and Beverage Industry in Los Angeles: A Roundtable Discussion
Custom Content from the Los Angeles Business Journal
Monday, July 16, 2018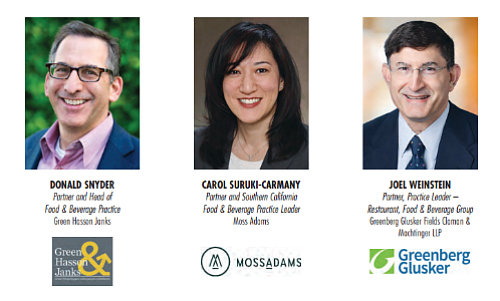 What elements are driving innovation in the food and beverage industry today?
Snyder: Consumer demand for new products is the primary driver for food and beverage innovation. For example, over the past few years we have seen the healthy foods movement pushing companies to come out with products that are gluten free, organic, no preservatives and much more. Whole product lines are being created, while others are fading. Food and beverage companies that want to succeed will need to listen to their customers and continue to innovate.
Why are food and agribusiness companies investing in technology more than ever before?
Suruki-Carmany: The agtech investment landscape has exploded over the last decade, from a niche, opportunistic clade of the venture capital investment class, to a legitimate asset class attracting focused and generalist funds with dedicated agtech investment allocations. Changes in the global landscape of agricultural production and consumption are leading to the shifting landscape of investments in public and private R&D in the US and worldwide. Technology innovation is being sparked by changes in the population, a reduction or reallocation in the labor force, increased food safety safeguards, as well as the desire to gain a competitive edge. It is being applied to nearly every crop in every sector of the industry. Automation is set to be another big deal in 2018, as labor costs and shortages drive high-value ag producers to seek solutions to harvesting, weeding and crop protection.
What are different ways customer demands are shaping industry trends?
Snyder: I am seeing quite a bit of change in store layouts, which affects what food and beverage companies are placing in stores. The centers of grocery stores have been traditionally stocked with things like soft goods, packaged goods and canned goods, which are lower margin. To grow, stores have been making changes in the peripheries. That is where the fresher and more impulse-driven purchases are made, and they can be significantly more profitable. Part of that is the "grab and go" concept of complete meals or meal kits. Consumers want to spend less time in stores, and they want to spend less time cooking. Stores are also putting healthier foods like kombucha and fortified waters on the periphery. All of these products are higher margin, so smart companies are using it to their advantage.
How has the e-commerce revolution and digital marketplace, such as Amazon, impacted the food and beverage industry?
Prev Next
For reprint and licensing requests for this article, CLICK HERE.