SOCIAL FACTORY
Fox Sports cranks out World Cup content
Friday, July 13, 2018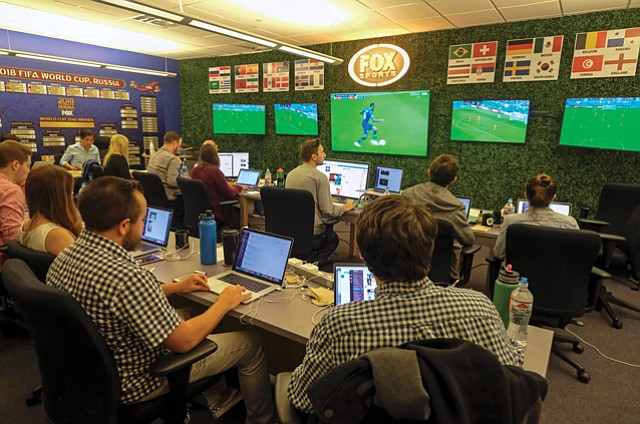 The days of going to a match to get the best view of the action are long gone — at least that's what the executives at Fox Sports Inc.'s digital team report.
Evidence of the trend was tucked away in a cramped room lined with television screens in Fox's Playa Vista headquarters, where a tournament bracket for the 2018 World Cup filled an entire wall.
Fox Sports Digital tried something new this year, using Slack Technologies Inc.'s office networking software to connect staffers as they crafted and pushed World Cup content on social media.
Tyler Moorehead, director of sports social media for Fox Sports Digital, said the outfit aimed to go beyond broadcast, cable and the web, and the rights its parent held to the World Cup tourney presented a prime opportunity.
Fox Sports Digital typically assigns two reporters to a sports event. Moorehead said it had about 12 reporters on a team that totaled 30 staffers for the World Cup, which was set to wrap up July 15.
The unit counted on 37 cameras that Fox Sports deployed for each match, intent on recording every discernible angle of play.
Fox Sports Digital staffers in the cramped room scoured social media feeds throughout the games to see which goals and other game aspects fans post the most about. Then they would distill the footage to produce highlights to be sent out via various social media platforms.
"From all our Twitter shows, to Snapchat shows, to everyone doing Instagram content, digital, web content, YouTube... we're averaging across platform nearly 200 pieces of content a day," said Moorehead.
The focus on social media isn't new to Fox, but capitalizing on a major international sporting event gave the company an opportunity to expand views and engagement. The digital team produced daily "Twitter moments" about the matches, slideshows of 10 to 20 items – photo, video or text – within Twitter Inc.'s app that detail the day's highlights.
A squad of producers and editors spent their days crafting videos under 30 seconds long for Snapchat users to peruse in the app's "Discover" feature.
Behind all of the content creation is Slack, the communication tool that was developed in Mountain View and now has spread to over 100 countries and 8 million daily active users worldwide. Slack users can create a channel that allows in-house groups to send messages and share files instantaneously.
The Slack software is a key, according to Dana Salas, Fox Sports Digital producer for Snapchat content.

"For what we do for Snap, it's vital, because it's usually just ten second videos, so it moves very quickly," Salas said. "I think it's good because Snap Inc. has taken a lot of interest and tried to inform the younger generations, and that's how the sport is going to grow. … the more you're curious about it the more you want to learn."
Fox Sports reported this year's quarterfinal match averaged 5.7 million viewers, a 15 percent increase in viewership from the previous 2014 quarterfinal. Ratings from the final two rounds of the tournament were pending, as of press time.
For reprint and licensing requests for this article, CLICK HERE.