Deals & Dealmakers: Shakeup for B. Riley
Financial services firm creates co-CEO position for Riley, Kelleher
Friday, July 13, 2018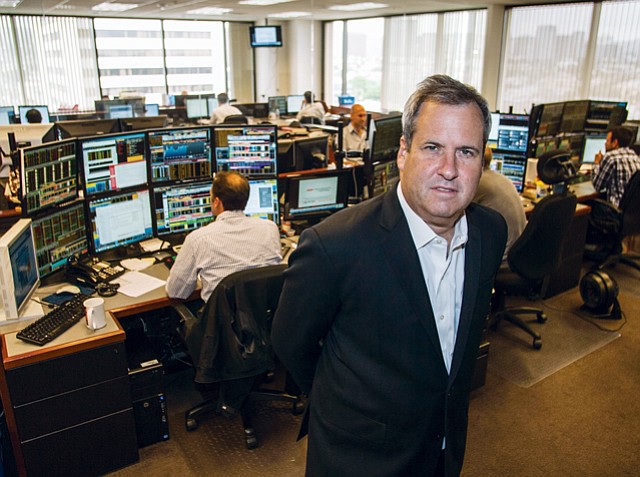 West Los Angeles financial services firm B. Riley Financial Inc. announced last week that Tom Kelleher has been promoted from president to join Chief Executive Bryant Riley as a co-chief executive of the company, effective July 10.
The firm said Kenny Young would take over as B. Riley's president, and also maintain his role as head of the company's B. Riley Principal Investments unit, which acts in a quasi-private equity role.
"Tom has been by my side for over 20 years and has been the visionary in many respects for intra-company collaboration," Bryant Riley said in a statement. "Kenny has done an incredible job with operating B. Riley Principal Investments, and with his past experience managing large corporations, he will be instrumental in scaling our businesses. I am proud of what we have collectively achieved and excited to see what the future holds."
B. Riley has grown since it went public in 2014 through a reverse merger with liquidator Great American Group, based in Woodland Hills. The firm's stock was initially traded over the counter, and listed on the Nasdaq in 2015.
The company's current market cap is approximately $595 million, with its shares trading at $22.75 at market close July 12. Shares were up more than 120 percent since they were first listed on the Nasdaq.
Bryant Riley said the company's growth necessitated a change in leadership structure.
"Personally witnessing the growth of B. Riley from a one-office, research-focused firm to a diversified company, with over 50 offices around the globe and almost 900 professionals, has been rewarding and has surpassed our expectations," he said. "That said, I am also confident that we're just getting started."
Oaktree Dinged
Downtown-based private equity firm Oaktree Capital Management was fined $100,000 by the Securities and Exchange Commission last week for violating the regulator's so-called pay-to-play rule.
The fine comes as part of a settlement negotiated by Oaktree and the SEC after regulators found three individuals at the firm made political campaign contributions to candidates in California and Rhode Island that exceeded limits imposed by the agency. SEC rules forbid donations of more than $350 to candidates who have the ability to influence the selection of investment managers.
The contributions at issue included a 2014 donation of $500 to a candidate running for California State Superintendent of Public Instruction, and a $1,400 donation to a candidate running for Mayor of Los Angeles in 2016. The SEC did not specify who the donors or the candidates were in the settlement agreement filed June 10.
The SEC filing said the donations occurred at a time when Oaktree was managing funds that included investments from the California State Teachers Retirement System – which in 2007 invested $300 million in the firm's Oaktree Opportunities Fund VIIb – and the Los Angeles Fire and Police Pension System – which invested $120 million with Oaktree between 1999 and 2015
The SEC determined contributions were violations because the political donations at issue were made to candidates who had influence over the selection of investment managers, and also because the rule at issue does not require any quid pro quo arrangement for such a finding.
Colony Divests
Colony Capital Inc., a downtown investment firm, announced the sale of its stake in DATA4 Group to AXA Investment Managers - Real Assets, a division of AXA France Vie S.A. for undisclosed terms.
DATA4 was founded by Colony Capital in 2006 to offer high-capacity data centers in Europe. The company has 15 data centers in Paris, Milan and Luxembourg. AXA Investment Managers will now own the remaining 63 percent of DATA4 it had previously shared with Colony Capital.
"Colony Capital is very proud to have created and supported DATA4 in its development," Nadra Moussalem, Colony Capital head of European investment management, said in a statement. "I would like to thank the investors who trusted us and congratulate the teams who made Marcoussis the largest data hosting center in Europe and have succeeded in replicating the company's success internationally."
Have a deal tip? Henry Meier can be reached at hmeier@labusinessjournal.com or (323) 556-8321.
For reprint and licensing requests for this article, CLICK HERE.