L.A. = N.Y. for Foreign Investors
REAL ESTATE: Survey points to ports, industrial
Friday, January 26, 2018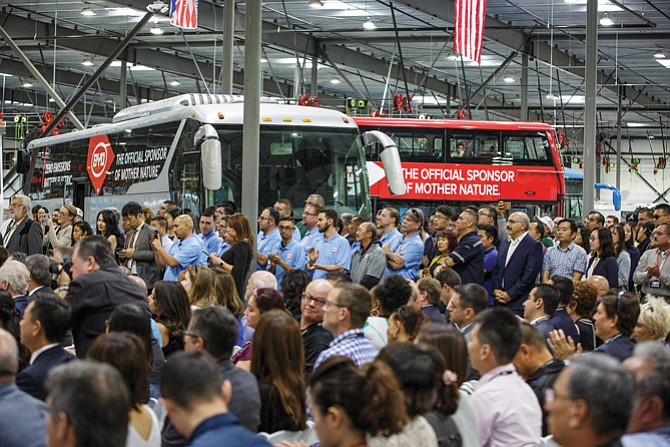 Los Angeles scored its highest ranking ever and tied New York as the top destination for foreign investment in U.S. real estate, according to a survey by the Association of Foreign Investors in Real Estate released this month.
The ranking is based on a survey of the association's members, billed as some of the largest institutional investors in the world, with an estimated $2 trillion in real estate assets under management globally. The survey considered factors such as the stability of local markets and chances for capital appreciation, among other factors, and was conducted by James A. Graaskamp Center for Real Estate at the University of Wisconsin's School of Business.
"We can't express how excited we are about this new rank," said Stephen Cheung, executive director at the World Trade Center Los Angeles. "We've always trailed San Francisco and New York, but this puts us on the map in this category."
There's long been interest in both commercial and residential real estate in L.A. County among foreign investors, Cheung said, but the last five years have been a turning point with the resurgence of the aerospace sector, growth in electric vehicle design and production, and the rise of Silicon Beach as a technology hub (see related story, page 1).
A more recent allure for foreign investors, according to Cheung, was the passage of Measure M, the half-cent sales tax voters approved in November 2016 to give the Los Angeles Metropolitan Transportation Authority $120 billion over the next 40 years to build and make improvements to its public transit system.
"That has created a lot of interest, and we're seeing mostly Asian-backed bids, at least in the transportation sector, for contracts," Cheung said.
Such bids are accompanied by significant investments here in some cases.
Downtown-based BYD Motors, for example, received a $66 million contract last summer from Metro to build 60 new electric buses for the agency's fleet. BYD is the U.S. subsidiary of China-based electric vehicle and battery manufacturer BYD Co. Ltd., and it employs more than 600 workers at the assembly factory it opened in 2013 in Lancaster, at the northern edge of the county.
L.A.'s vast port complex and supply chain system appears to have given a big boost to industrial and distribution properties around the facilities.
"This was the first time we've seen industrial, warehousing and distribution centers lead as the No.1 choice for real estate among our investors," said James Fetgatter, chief executive of the Association of Foreign Investors in Real Estate.
Representatives of Japan's overseas trade promotion agency – known as JETRO – echoed similar sentiments in a fall interview with the Business Journal.
Japan is the No. 1 provider of overall foreign direct investment in L.A. County, according to a separate report released last year by the World Trade Center and the Los Angeles County Economic Development Corp.
Keiichi Nishimoto, chief executive director of JETRO Los Angeles, said the L.A. region was attractive due to its large, diversified market size, the distribution network of port facilities, warehousing, logistic and transportation resources, and the region's proximity to Japan.
Trade threats
There's no guarantee L.A. will retain its high status among foreign investors. The World Trade Center's Cheung said the possibility of a renegotiated North American Free Trade Agreement is a wild card for the region.
President Donald Trump has already taken the stance that the 24-year-old trade pact isn't favorable to U.S. interests. Talks among trade representatives of the U.S., Mexico and Canada have been strained, according to various accounts.
The chance that the U.S. could pull out of the tri-national trade pact altogether recently kicked up a notch when Trump reportedly said in a Jan. 17 report by Reuters that the "best deal" would be to terminate the pact.
His comments came as trade negotiators met recently in Montreal.
Trump also came under fire from leaders of countries that are trade partners of the U.S. throughout the world for using foul language in disparaging remarks about Haiti and African countries while discussing immigration.
Los Angeles businesses say they are starting to see repercussions from the Trump administration's travel ban from seven countries in the Middle East and Africa – Iran, Libya, Somalia, Sudan, Syria and Yemen – countries that the U.S. Department of Homeland Security has identified as "presenting concerns about terrorism and travel to the United States."
Lee Maen, partner at Innovative Dining Group, which runs restaurants including Sushi Roku, told the Business Journal in a recent interview that customers from other Middle Eastern countries, including Saudi Arabia, Qatar and the United Arab Emirates, dropped 80 percent at its restaurants in L.A. and Orange counties over the summer.
Maen attributed the drop to the administration's travel ban.
L.A. County tourism has also taken a hit, particularly from Mexico, the county's biggest single market for international visitors. Visitor numbers fell 2.8 percent last year, according to the Los Angeles Tourism & Convention Board.
Last week saw the contours of another potential bump emerge as the Trump Administration slapped tariffs on imports of solar panels and washing machines from Asian markets and continued to block appointments of judges to a World Trade Organization panel that arbitrates trade disputes.
Those moves came as 11 Pacific Rim countries moved to form a new commercial bloc – Trans-Pacific Partnership 11 – that would exclude the U.S.
For reprint and licensing requests for this article, CLICK HERE.