Coliseum Plaza Upgrade Plan Draws $7.5 Million
Argyros Family Foundation gift to benefit USC Trojans, fix travertine, restore mural
Friday, January 26, 2018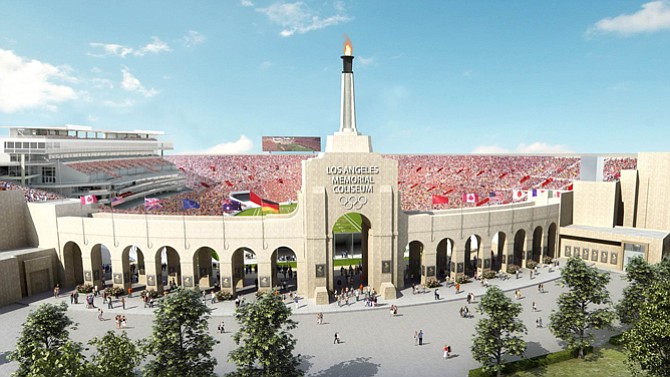 The distinctive peristyle plaza at Los Angeles Memorial Coliseum will be named for two donors who bestowed a $7.5 million gift to restore its columns and Olympic torch.
The plaza will be renamed the Julia and George Argyros Plaza in recognition of the gift from the Argyros Family Foundation. George Argyros is the founder of the Costa Mesa-based Arnel & Affiliates, a commercial real estate owner.
The plaza's renovation project will include the removal of two large video boards installed for the 1984 Olympics as well as fixing or replacing damaged travertine limestone tiles and restoring the mural underneath the center arch.
Argyros served as U.S. ambassador to Spain and Andorra under George W. Bush and also owned the Seattle Mariners baseball team.
The 93,000-seat Coliseum opened in 1923, and has hosted the 1932 and 1984 Summer Olympic Games, the first Super Bowl and the 1959 World Series. It's the current home of the USC Trojans football team and the Los Angeles Rams, which expect to move to a new stadium in Inglewood in 2020.
USC previously signed a 98-year lease on the publicly-owned stadium, and in 2016 announced plans to renovate the aging building with an estimate cost of $270 million. Renovations are scheduled to begin this year and are to be completed by August 2019.
The planned renovations include construction of club seats, loge boxes and suites along with a new press box on the south side. New stadium seats, added aisles, increased legroom and new concession stands also are planned.
Tech-Media Score
Apple Inc. is literally expanding its move into the entertainment space – a move that speaks just as loudly about Culver City's ongoing revitalization.
The tech giant has agreed to lease a new four-story, 128,000-square foot office building developed by Dallas-based Lincoln Property Co. at 8777 Washington Blvd. in Culver City, a municipality steeped in movie lore. The city also is home to Sony Pictures Studios.
City officials confirmed to the Business Journal the Cupertino-based company's move into the office space with Mayor Jeffrey Cooper's statement, "Culver City is looking forward to Apple growing its operations in our community."
The property, owned by Los Angeles' Clarion Partners, according to CoStar Group Inc., is near the Culver City Metro Expo Line station as well as the intersections of National and Washington boulevards, close to the city's downtown area. Home Box Office Inc. reportedly considered leasing the building, but backed away. The structure replaced 12,500-square-foot commercial building occupied by Surfas Culinary District restaurant suppliers, a café, a detached storage garage building, and a parking lot.
With its multi-story height and size, the glass-clad building is also adding to the city's push to revitalize the immediate area, led by new transit-oriented projects and its downtown section. In the fourth quarter, 456,000 square feet of office space was under construction in the city – more than half of the new building going on in the Westside submarket. Rents rose to $4.71, up nearly 32 percent from a year ago.
The merging of the technology and entertainment sectors has been beneficial to Los Angeles County's office market. Hollywood in particular has seen office vacancy rates decline to around 14 percent in the fourth quarter of 2017 from about 21 percent during the year-ago quarter.
Apple has signaled intent to compete with Netflix Inc. and Amazon.com, reportedly bolstering its programming budget for original TV shows and movies to $1 billion. It already has a Culver City presence at 8600 Hayden Place with its Beats Electronics and Apple Music businesses.
Staff Reporter Ciaran McEvoy can be reached at cmcevoy@labusinessjournal.com or (323) 556-8337.
For reprint and licensing requests for this article, CLICK HERE.