Sports Titans: Magic Johnson
Laker legend key player in another L.A. sports renaissance
Friday, January 19, 2018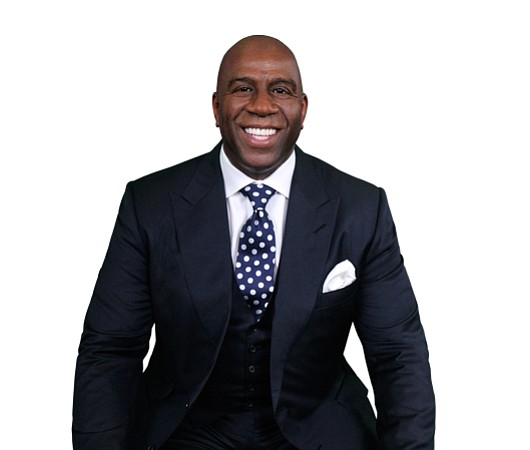 Earvin "magic" Johnson Jr. arrived here 39 years ago as the No. 1 overall draft pick of the Los Angeles Lakers, soon to be the leader of a basketball renaissance that produced five National Basketball Association titles for the city.
Nearly four decades later, Johnson is part of another sports renaissance in Los Angeles – as both a team owner and executive – this one spanning multiple sports and institutions.
"We as fans are really blessed and should be happy," Johnson said, citing the return of professional football to the city; Stan Kroenke's Inglewood stadium and the Los Angeles Football Club stadium projects; and Los Angeles' winning bid for the 2028 Olympics as pillars in a new era of sports.
And the sports renaissance is not just about the fan experience, Johnson pointed out. It's also a boon for the local business marketplace.
"Creating a building, a new stadium provides so many job opportunities, contract opportunities for different suppliers and companies in the city and then you think about tax revenue for the city itself," he said. "There's a lot of money. That's why cities recruit teams to come because they know what it means for the economy."
And Johnson is in the thick of much of this economic boom, attached in some form or another to at least five local sports franchises.
He's part of ownership groups that control the Los Angeles Dodgers, The Los Angeles Sparks, the Los Angeles Football Club and e-sports franchise Team Liquid/aXiomatic. The Laker great also is making a return to his former team as president of basketball operations, brought on by managing owner Jeanie Buss to help turn the team around after several down years.
All this comes on top of his more than 30-year run as chief executive of Magic Johnson Enterprises Inc. His eponymous operating company has franchised national brands such as Starbucks, Burger King and 24 Hour Fitness, and joined Ron Burkle's Yucaipa Co. of West Hollywood and Canyon Capital Partners of Century City in several investment funds.
Johnson's transition from the hardwood to the owner's box came with some hardship, however, and Johnson is candid in describing the difficulties players often face once their athletic careers wane.
"Business, when I first started, was hard because you knew pick-and- roll, you knew free throws, you knew how to throw a no-look pass," Johnson said. "But EBITDA and this and that. Oh my God. It's a steep learning curve."
Prev Next
For reprint and licensing requests for this article, CLICK HERE.