Sports Titans: Magic Johnson
Laker legend key player in another L.A. sports renaissance
Friday, January 19, 2018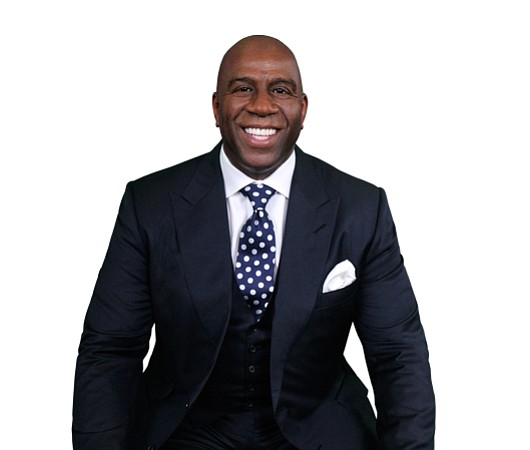 Earvin "magic" Johnson Jr. arrived here 39 years ago as the No. 1 overall draft pick of the Los Angeles Lakers, soon to be the leader of a basketball renaissance that produced five National Basketball Association titles for the city.
Nearly four decades later, Johnson is part of another sports renaissance in Los Angeles – as both a team owner and executive – this one spanning multiple sports and institutions.
"We as fans are really blessed and should be happy," Johnson said, citing the return of professional football to the city; Stan Kroenke's Inglewood stadium and the Los Angeles Football Club stadium projects; and Los Angeles' winning bid for the 2028 Olympics as pillars in a new era of sports.
And the sports renaissance is not just about the fan experience, Johnson pointed out. It's also a boon for the local business marketplace.
"Creating a building, a new stadium provides so many job opportunities, contract opportunities for different suppliers and companies in the city and then you think about tax revenue for the city itself," he said. "There's a lot of money. That's why cities recruit teams to come because they know what it means for the economy."
And Johnson is in the thick of much of this economic boom, attached in some form or another to at least five local sports franchises.
He's part of ownership groups that control the Los Angeles Dodgers, The Los Angeles Sparks, the Los Angeles Football Club and e-sports franchise Team Liquid/aXiomatic. The Laker great also is making a return to his former team as president of basketball operations, brought on by managing owner Jeanie Buss to help turn the team around after several down years.
All this comes on top of his more than 30-year run as chief executive of Magic Johnson Enterprises Inc. His eponymous operating company has franchised national brands such as Starbucks, Burger King and 24 Hour Fitness, and joined Ron Burkle's Yucaipa Co. of West Hollywood and Canyon Capital Partners of Century City in several investment funds.
Johnson's transition from the hardwood to the owner's box came with some hardship, however, and Johnson is candid in describing the difficulties players often face once their athletic careers wane.
"Business, when I first started, was hard because you knew pick-and- roll, you knew free throws, you knew how to throw a no-look pass," Johnson said. "But EBITDA and this and that. Oh my God. It's a steep learning curve."
Assist men
Those hardships, in Johnson's case, were mitigated by relationships with local business leaders, who he sought out for advice and mentorship. He credits deceased Lakers' owner Dr. Jerry Buss as the first to take interest in his post-basketball career, opening up the team's books to Johnson so he could understand the economics of sport.
"I've always wanted to be a businessman and my mentor became Dr. Jerry Buss," Johnson said. "He introduced me to everybody – 'You want to be a businessman, you have to know all these people.' He opened a door to meet so many incredible people. I took a lot of them to lunch."
Peter Guber, now chief executive of Mandalay Entertainment Group Inc. and part-owner of the Dodgers, Golden State Warriors, Team Liquid and L.A. Football Club, was another early business tutor. Johnson said that the former Sony Pictures Entertainment Inc. chief executive was one of the first to encourage him to strike out into the business world with his Magic Johnson Theatres, and the pair has gone on to work on more than five business ventures together since.
Michael Ovitz, the Creative Artists Agency co-founder, also played a big role in Johnson's business education. Ovitz would take Johnson with him to the power lunches of Los Angeles – lunches are foundational in Magic's businessman origin story – introducing him to the town's premiere players. The super agent also changed Johnson's reading habits, insisting on a new focus.
"My first lesson from Michael was (him asking) 'What part of the paper do you read first?'" Johnson said. "I said 'The sports, of course.' Wrong answer. 'If you want to be a businessman you have to read the business section.' He gave me like 10 different magazines, and when I came back he quizzed me to make sure I read them all."
Finding place
Even with Buss, Guber and Ovitz's mentorship, Johnson said it took more than a decade to establish his bona fides in the business community.
"I was chasing deals and also trying to dispel the myth of dumb jock and I had to prove myself," he said. "I would say the first 15 years was just proving myself and that I really knew what I was doing and that I wasn't just riding my name."
Coming into his new position as president of basketball operations for the Lakers front office has been different, however, with his years as a player combined with three decades as a businessman giving him the tools to be successful in his first opportunity to run a team.
"The business side of things is business," Johnson said. "Profit and loss. It's what I know. I tell people, they ask 'How was the transition?' and I say 'Easy! I've been doing this my whole life.' And then I'm a gym rat. I love being in the gym. So this is what I was born to do. It comes natural to me."
For reprint and licensing requests for this article, CLICK HERE.