Sports Titans: Jeanie Buss
Showtime's backbeat reverberates as she guides team into new era.
Friday, January 19, 2018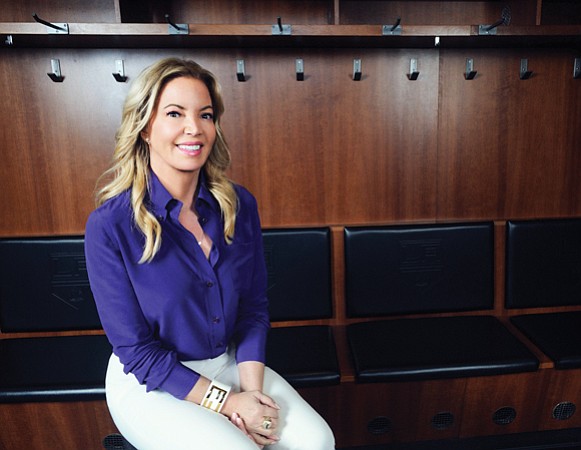 It was just before the start of the season, and a steady drumbeat made its way to Jeanie Buss' office at the Los Angeles Lakers' new headquarters and training facility in El Segundo.
It wasn't all the talk of improving the team's 26-56 record of last season, or of the promise of its rookie sensation Lonzo Ball.
It was an actual drumbeat – thumping up into her spacious second-floor office overlooking the team's practice courts as players took part in a shoot around below.
A distraction?
Not in the least, said Buss, the Lakers' chief executive and controlling owner. It hearkened back to the team's "Showtime" days at the Forum in Inglewood, where the offices were below the arena and every concert sound check and shoot-around soundtrack reverberated through the executive suite.
This era's beat carries through the team's $80 million, 120,000-square-foot headquarters, where Buss called the team well positioned to revive the Showtime feeling that throbbed through the Forum in the 1980s.
It's too early to tell the Lakers' progress on the court – social media and talk radio gave the feeling of a team on the verge of going off the rails earlier this month, before a modest winning streak changed the conversation.
Buss has been focused on basketball this season, to be sure, but she's also looking after the business side of operations – and she shed light on her priorities during that talk at the El Segundo HQ back on the brink of the season.
The complex financial relationships with the National Basketball League make connecting with the community a key to a healthy bottom line for the Lakers.
There are limits to what the Lakers or any NBA team can do to extend its brand. The league allows its franchises to strike licensing deals in their home markets but controls the logos and marks beyond that – which means Buss and her colleagues on the business side have to look for other ways for the brand to bring local dollars.
A big example came when the Lakers struck on selling the naming rights to the new headquarters in El Segundo to UCLA Health, which agreed to pay the team $4 million a year – just about enough to cover forward Julius Randal's annual salary – for five years.
UCLA Health gets its name emblazoned on the center and operates a 2,500-square-foot sports performance center at the building. The UCLA center is open to the public but separated from the team facility.
Prev Next
For reprint and licensing requests for this article, CLICK HERE.