New Heights for Drones?
Why telecom giant SoftBank joined forces with AeroVironment
Friday, January 19, 2018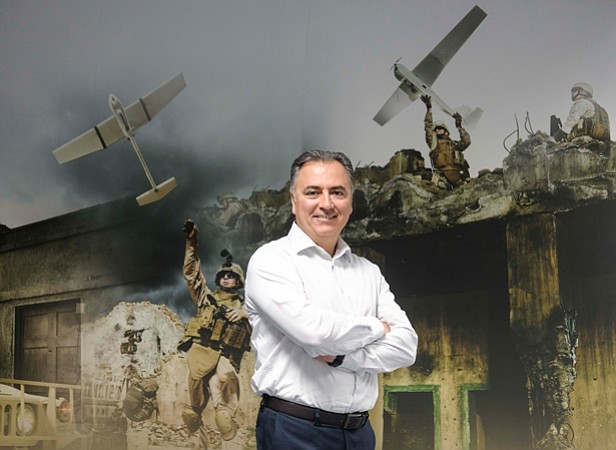 AeroViroment Inc. opened 2018 with plans to build a drone that flies higher and longer than any it has built before – a solar-powered plane that could soar in the upper atmosphere for weeks or months at a time and carry a load of telecommunications transmitters.
The company laid out its latest goals as part of a Jan. 3 announcement of a joint venture with Tokyo-based telecommunications giant SoftBank Corp., called HAPSMobile Inc. The new partners will join an ambitious field of projects – including a flying-wing in the works at Facebook Inc. and a balloon-based experiment by Alphabet Inc. – that aim to lift telecommunications transmitters up to 65,000 feet above sea level in order to grab a piece of the broadband market in developing countries.
AeroVironment also has secondary plans in the works at its Monrovia headquarters and manufacturing plant in Simi Valley. The company aims to use the same drones to serve as communications hubs for the U.S. military as its forces rely more and more on high-tech weaponry, gear and communications.
"Militaries have been deploying more and more data-intensive technologies on the battlefield," said Steve Gitlin, AeroVironment vice president of corporate strategy. "There's the potential for platforms like this to help with that."
The U.S. military leased bandwidth from commercial satellite operators to the tune of about $1 billion in 2012, according to a report by the Government Accountability Office. The Department of Defense's satellite communication requirements are expected to grow by nearly 70 percent between 2013 and 2023, according to a report by the Defense Business Board.
The Department of Defense is AeroVironment's top customer and accounted for 40 percent of the firm's revenue in fiscal year 2016, according to a filing with the Securities and Exchange Commission.
The majority of AeroVironment's small surveillance drones are designed with the military in mind. The roster already includes several long-endurance, high-altitude drones built over the past three decades as research and development projects, including a solar-powered flying wing called the Helios Prototype, built in coordination with NASA. The flying wing flew to a world record altitude of 96,863 feet in 2001.
AeroVironment's new telecommunications drone would improve upon the firm's prior drones, said Gitlin, who declined to give a more detailed description of the aircraft.
The drone also would cost much more than the company's average product, he said, declining to state the aircraft's exact price.
It reportedly cost more than $1 million to develop the Helios Prototype in 2001 – several times more than AeroVironment's small drones, such as the hand-launched Raven, which costs between $100,000 and $200,000 a unit.
Prev Next
For reprint and licensing requests for this article, CLICK HERE.