Consumer Confidence Continues Slide
Friday, January 19, 2018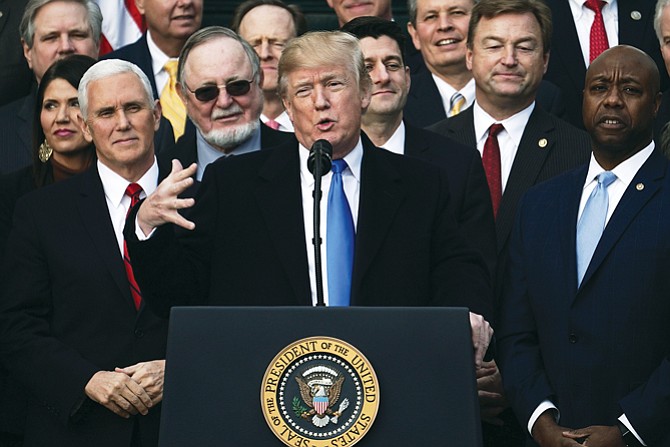 Business continues to chug along in Los Angeles, but that doesn't seem to matter to Angelenos, who are persistently less optimistic about their outlook on both the local and national economies.
That's the overview from the quarterly consumer sentiment survey of the L.A. market by the Lowe Institute of Political Economy at Claremont McKenna College. The index for the local economy fell to 92 during the fourth quarter from 95.7 the previous quarter and 113 a year ago.
Angelenos' confidence levels in the national economy fell by a bit less, with an index reading of 93.7 in the fourth quarter, down from 96.8 in the third quarter.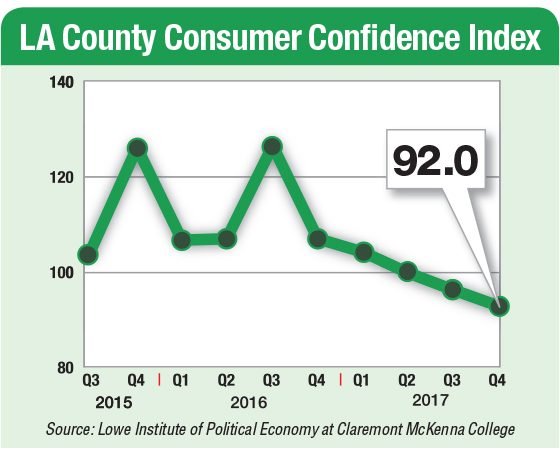 The baseline index reading of 100 was set in the second quarter of 2015 for the index, which debuted last year.
The survey came against a backdrop of a local economy many consider to be at or near full employment, with a jobless rate of 4.5 percent and a record 4.5 million payroll positions. And the recent drop to 92 isn't indicative of any sharp departure from the steady growth, according to according to Marc Weidenmier, the survey's author.
Working against upbeat statistics and the relative strength he cited, however, are several factors that appear to figure into the continuing slide of the index, including:
• Increased uncertainty over the recently enacted tax reform package;
• Fears that the Trump administration will take actions that will harm trade and immigration – two key pillars of the local economy, and;
• A general sense that many in the middle class are being left behind.
Weidenmier was the former Director of the Lowe Institute of Political Economy; he's now professor of economics and finance at Chapman University in Orange.
Lowe, Chapman
The index is the first of its kind for Los Angeles, and one of the first to track consumer sentiment at the local level. It is produced through an alliance between the Lowe Institute and Chapman.
The fourth-quarter reading was from a sampling in December of 500 Los Angeles County residents who answered questions about their current economic situation, their outlook for their own finances and spending in coming quarters, and their outlooks on both the local and national economies.
The December timing of the survey was crucial, since that was the period during which Congress debated and ultimately passed the tax reform package, which President Donald Trump quickly signed into law.
"There was a lot of uncertainty at that time: uncertainty about whether the plan would pass and what the impact would be, particularly in blue-state California," Weidenmier said. "The reforms have been characterized as lowering taxes for businesses but offering little for the working and middle class, which is reflected in the index. Further, the reduction in state and local tax deductions and the ceiling on the mortgage interest deduction have ramifications for many in this region."
Prev Next
For reprint and licensing requests for this article, CLICK HERE.