Cable Calling Card
Hallmark Channel plans offering expansion after 2017 success.
Friday, January 19, 2018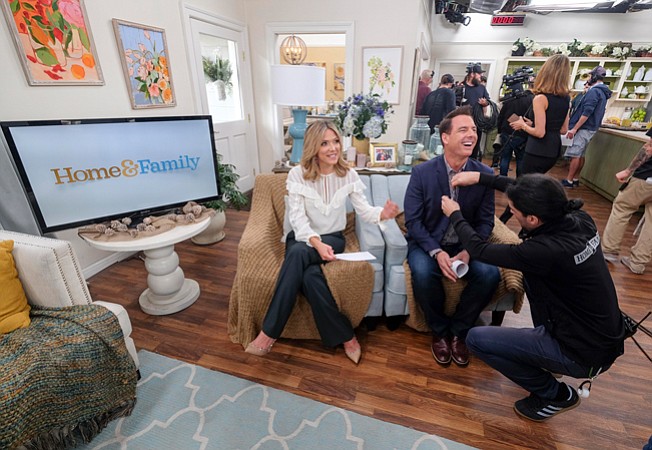 It was a sunny 70 degrees on a recent afternoon at the Universal Studios lot, but snowy winter reigned on the set of Hallmark Channel's "Home and Family," a two-hour daily talk show that tapes on the lot, not far from Hallmark Channel's headquarters in Studio City.
"Home and Family" always reflects East Coast weather, so in January expect cooking segments about hot soups and stews, or tips on how to de-ice your car. "We are in California, but we are really speaking to the country," said executive producer Tracy Verna.
Viewers of a recent show learned how to make snuggly mother-daughter beanies.
"It was adorable," Verna said. "It's feel-good TV. It's a big hug."
It's also part of a programming slate that has overperformed for parent company Hallmark Cards Inc. of Kansas City, Mo., leading the cable channel to increase the number of movies produced along with their budgets.
Hallmark Channel – along with Hallmark Movies & Mysteries and Hallmark Drama channels – is part of New York-based Crown Media Family Networks, which was brought into private ownership in 2015 by Hallmark Cards.
The Hallmark channels enjoyed record ratings in 2017, largely fueled by a full slate of "Countdown to Christmas" movies with titles including "Switched at Christmas" and "The Christmas Train."
The Hallmark Channel was the No. 3 watched cable television network with an average daily viewership of more than 2 million in mid-November. That led the channel to increase the number of movies on its schedule from about 85 to more than 90 in 2018, according to Bill Abbott, chief executive of Crown Media Family Networks.
The executive added that movie budgets also are increasing at Hallmark, ranging from an average of $2.2 million all the way up to $6 million.
Programming process
There's a script for the Hallmark Channel's success, and it hews closely to the greeting card business model.
Hallmark Channel follows it's holiday-themed December with a January slate of equally sentimental and romantic "Winterfest" movies. Then, melt those icicles off your heart: Jan. 24 begins "Countdown to Valentine's Day," including the movies "My Secret Valentine," "Very Very Valentine" and "Cooking With Love," starring Ali Liebert as a TV producer who finds unlikely love with a celebrity chef (Brett Dalton) on the set of a children's cooking show.
"We view Hallmark Channel as being representative of what you'd experience at retail, if you walk into a Hallmark store," Abbott said. "We have a similar type of strategy in how we plot out the calendar, in terms of taking the viewer through the year… in a very crowded environment it allows us to break out and really be identified in a way I think is very unique in the entertainment space."
Abbott said other programming, including "Home and Family," also plays a major role in bringing in viewers. Each day's show airs twice, consecutively, the day after it is taped.
"Home and Family" does not attract the numbers like Christmas movie fare, but Hallmark Channel reports steady growth for the show, now entering Season 6, with a 5 percent increase from Season 5 among women 25-54 (to 65,000 viewers) and a 4 percent increase in total viewers, to 251,000. The channel saw some increases among women aged 18-49, although the median age of the "Home and Family" viewer remained at 57 year-over-year.
Hallmark channels remain outliers in the TV business because the programming is not yet streamed via any online platform. "Home and Family" counts on viewers who watch at home, on a television, and may keep the channel on all day as a background to homemaking duties.

Media watcher David Lieberman, an associate professor of the graduate media management program at the New School in New York, wonders whether Hallmark can maintain its edge in today's cable TV landscape, even with its specific niche.
"Independent cable channels are likely going to have a tough time as the industry consolidates," said Lieberman said. "You need all the leverage you can get with the cable satellite companies.
"I don't know if they've got some kind of secret sauce, but it's getting tougher and tougher for the independents to play."
For reprint and licensing requests for this article, CLICK HERE.