Athlete Inspired
Jason Glushon | Glushon Sports Management
Friday, January 19, 2018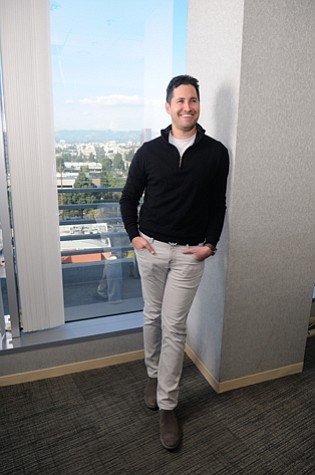 Jason Glushon, president and founder of Glushon Sports Management in West Hollywood, has moved ahead quickly in the competitive world of representing National Basketball Association players. He left heavyweight agency Wasserman Media Group in Westwood to start his own firm in 2016.
Glushon Sports Management has already negotiated more than $300 million in deals, including a four-year, $113 million deal for Boston Celtics player Al Horford, and a five-year, $126 million contract for Jrue Holiday of the New Orleans Pelicans. Other clients include David Nwaba and Quincy Pondexter of the Chicago Bulls.
All this by age 32 – although Glushon admits it has taken him longer to get in the game when it comes to developing a personal style.

"When I started at my last company (Wasserman), I just took whatever was in my closet, even if the shirts and pants didn't really fit," he said.
That started to change when Glushon, who spent several years as a right-handed pitcher in the minor league system of the Oakland Athletics, began taking notice of how his clients dressed off the basketball court.
"Professional athletes are incredibly gifted that they can share their unique styles no matter what it is," Glushon said. "There are so many avenues recently, throughout the sports landscape.
"Some can really be out there, and (follow) their own drum," Glushon added. "Some people keep it more classic. You can really showcase exactly who you are, not just with the way you play, but your style."
Glushon finds himself emulating players who take the classic route.
"I think a lot of my own style has (come) from the classy, clean style of my clients," he said. "At times, I'll ask their opinions."
Glushon joked the last time he wore a suit was to his wedding. His business look tends more towards sweaters, jeans, and neutral colors. "Sleek" is a favorite term.
All bets are off when it comes to shoes. The newlywed Glushon proudly said he's holding his own in a footwear competition with his wife. It helps that clients frequently endorse clothing, especially athletic shoes.
"I have a very color-coded closet, and out of everything in my closet, my shoe collection might be my most impressive," he said. "I can challenge my wife with the number of shoes we have. I don't know who's winning, but it's definitely impressive."
– Diane Haithman
For reprint and licensing requests for this article, CLICK HERE.