Weingart and Ballmer give $15M to Recruit Doctors Needed in South L.A.
Wednesday, January 17, 2018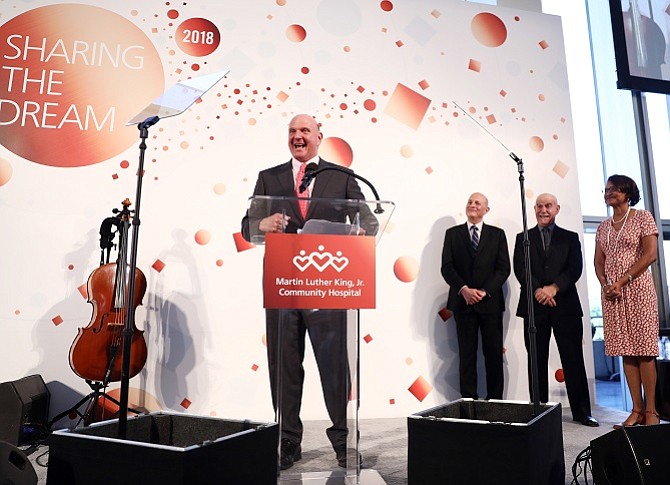 The Weingart Foundation and a charity founded by Los Angeles Clippers owner Steve Ballmer have donated $15 million to help fill a doctor shortage in South Los Angeles.
The Westlake foundation has teamed up with the Ballmer Group of Bellevue, Wash., to contribute $7.5 million each to a physician's group affiliated with Martin Luther King Jr. Community Hospital in Willowbrook.
"There is a profound shortage of doctors practicing in South Los Angeles," said Fred Ali, chief executive of the Weingart Foundation, in a statement. "The hospital is exploring a promising way to eliminate that disparity and we're eager to help."
The gifts, announced during a ceremony last week, will be distributed over five years to the MLK Community Medical Group to help recruit physicians to the 131-bed hospital that r replaced a defunct MLK Jr./Drew Medical Center.
The hospital aims to close a critical physician gap in South Los Angeles. The funds will be used to create a "financially viable" way to allow physicians to practice there, said Nina Revoyr, executive director of the Ballmer office in Los Angeles.
When it opened in 2015, MLK Community projected 35,000 annual visits to its emergency room; it now sees 90,000, hospital officials say. More than half its discharged patients say they have no regular doctor.
Health business reporter Dana Bartholomew can be reached at dbartholomew@labusinessjournal.com. Follow him on Twitter @_DanaBart.
For reprint and licensing requests for this article, CLICK HERE.