CUSTOM CONTENT: Top Ways to Grow Your Business on the Golf Course
Custom Content from the Los Angeles Business Journal
Originally published January 17, 2018 at 9 a.m., updated February 1, 2018 at 12:11 a.m.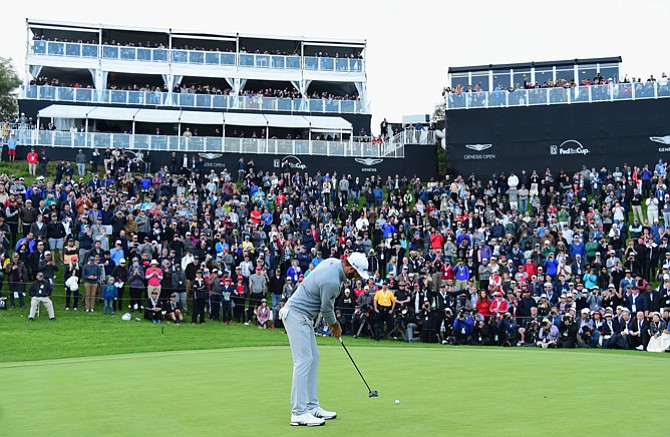 Sporting events have often been used as a method of conducting business, but the entertaining options in a stadium or arena luxury box are all the same. Spending a day at the Genesis Open provides the perfect opportunity to build meaningful business relationships while enjoying a live sporting event unbound by stadium walls and seating charts. It's time to think outside the stadium.
For businesses large and small, the Genesis Open offers a dynamic setting for growing your business with the added benefit of watching the world's best golfers at The Riviera Country Club.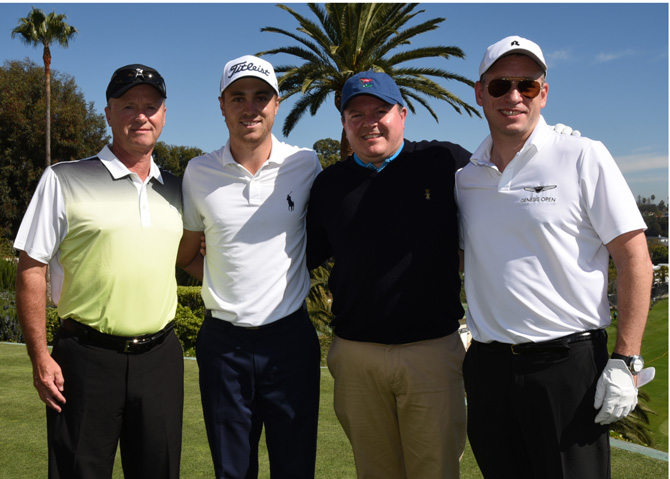 1) Challenge a partner
The ultimate sports experience is playing in one of the Genesis Open pro-ams. At no other professional sporting event can guests compete with the professional athletes. Entertain key clients or prospects by treating them to a round of golf at L.A.'s most iconic course with one of the top pros on the PGA TOUR. Playing in one of the Genesis Open pro-ams is an experience that will never be forgotten.
2) Entertain clients
Give your clients the experience of a lifetime at Riviera. Spending a day at the Genesis Open is the perfect way to thank your current clients and entertain your top prospects. From all-inclusive private hospitality to reserved seating options on the golf course, there is a package for every business that is perfect for your entertaining needs.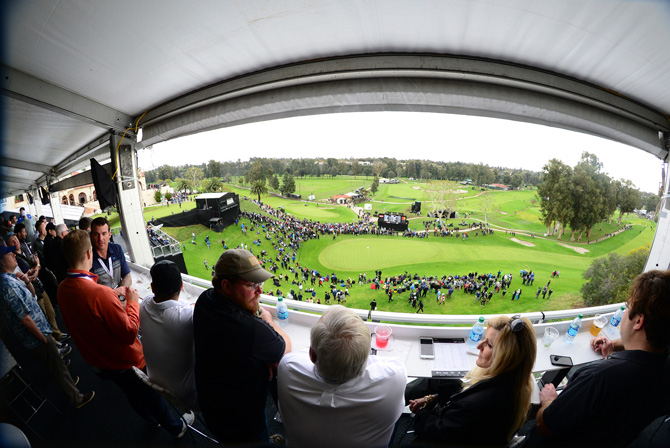 3) Networking and mingle
Industry leaders, decision-makers and social influencers all spend their time at the Genesis Open. There are two shared hospitality venues perfect for business-to-business networking complete with the best views of the live golf action. Meet new clients and other local L.A. area businesses at The Bluffs, located on 14 green, and The Backlot on 18 green.
4) Show appreciation
Thank the people that help you get your day-to-day business done by hosting a staff appreciation day at the Genesis Open. A day at the Genesis Open doesn't mean time and opportunity lost. Increase morale and camaraderie among the staff by rewarding their hard work with a day out of the office and on the grounds of Riviera.
5) Engage
With thousands of guests entering The Rivera Country Club for the Genesis Open each day, the Genesis Open is a great opportunity to showcase your business or brand. From spectator activation to brand recognition, the Genesis Open offers a number of unique engagement opportunities for brands and businesses during tournament week.
Limited opportunities remain to be a part of the scene at the Genesis Open. Click here for package details or contact 1-800-752-6736 to speak with a representative today.
For reprint and licensing requests for this article, CLICK HERE.