Property Managers' 2017 Takeaway: Big Get Bigger
Retail-focused firms buck trend to grow local square footage by 4-plus percent
Friday, January 12, 2018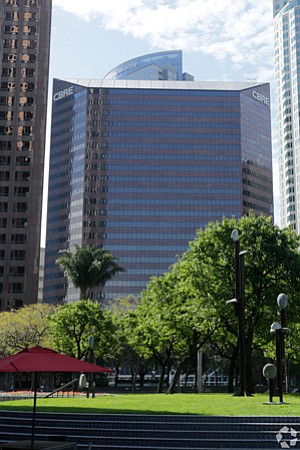 Commercial property managers added little size to the collective inventory under their care in Los Angeles County last year, with growth coming mainly from assets outside the Golden State and overseas.
Property portfolios of the top 40 commercial property managers in L.A. County in the Business Journal's list, as ranked by the amount of square footage managed locally, increased by a mere 0.45 percent to 261 million square feet in 2017.
The companies expanded their national and international managed property inventories by 16.8 percent in 2017 to 12.5 billion square feet from 10.7 billion square feet in 2016.
Some management firms in the top tier of this year's list, such as downtown's top-ranked CBRE Group Inc., did grow their totals significantly over the year. The full-service firm held onto its lead by expanding square footage 13.3 percent to 44 million square feet last year, far outsizing other contenders.
Chicago-based Jones Lang LaSalle Inc., No. 2 on the list, manages 25.5 million square feet of property in the county, about even with a year earlier.
No. 3 Cushman and Wakefield reported 24.6 million square feet under management, up by 11.8 percent.
The year-to-year gains for CBRE came in the industrial market here.
"Retail stayed relatively flat; we grew our industrial market and maintained our office portfolio here," said Mike Ruppert, managing director of asset services at CBRE.
One of the tactics CBRE uses to expand its managed property portfolio in L.A. County was to leverage its huge and local brokerage presence, Ruppert said. CBRE is also the world's largest commercial real estate brokerage firm.
"If a client of ours is working with the brokerage sector at CBRE, they may be interested in property management services, and if they are, we treat those opportunities like gold," he said.
Ruppert said one challenge to holding onto an account can be when a property changes hands, something his division saw a lot of recently.
"Any time that happens, you have to re-commit and re-thumb how to manage a property. New ownerships create opportunities but some challenges too."
CBRE was able to hold onto management of Pacific Corporate Towers, a three-building complex in El Segundo despite its $605.5 million sale to Greenwich, Conn.-based private investor, Starwood Capital Group, Ruppert said.
CBRE also manages the largest amount of office space in L.A County, with 27.2 million square feet of property under its management.
Firm-wide, CBRE last year added 100 million square feet of managed property – about 2 percent of its overall 5.3 billion square feet of inventory – over the prior year.
Retail resilient
The list shows that local property management firms ran counter to national trends to report a 4.4 percent increase in their retail market compared to 2016.
"The national trend is hype and people will retail no matter what. It's the regional malls and lifestyle centers where the concern lies," said Todd Nathanson, president of Encino-based illi Commercial Real Estate.
His firm ranks No.1 in the county in retail space with 9.6 million square feet out of 9.8 million square feet firm-wide.
"With real estate, retail is our backbone," he said. "Our business strategy is volume, and we focus on smaller deals, local and regional chains and mom and pop enterprises when most firms shy away from it."
The company currently manages 250 properties, he added.
Part of the company's allure, he said, is that it helps clients orchestrate a complete turnaround if needed. For example, the company recently helped a client design and change signage as well as the overall look of a storefront, Nathanson said.
While top-ranked illi and other retail property managers grew their space in L.A. county last year, the amount of retail space managed firm-wide plummeted 62.4 percent to 390 million square feet from 1 billion square feet, consequences no doubt of the struggling sector.
Nathanson said illi has largely been unaffected by the trend of bankrupt retailers and shuttered stores – what some experts call the "retail apocalypse" – because the firm focuses on smaller businesses.
Industrial
Property management firms tightened their grip on L.A.'s industrial market, adding 3.6 million square feet – nearly 4 percent – to their inventories last year.
No. 1 in industrial sector is Cushman & Wakefield with 17.2 million square feet of local space under management, about 2 percent of L.A. County's overall 800 million-square-foot industrial market. The company has 45,000 employees worldwide and reported $6 billion in revenue for fiscal year 2016.
"Our industrial market in L.A. continues to attract investors both local and out-of-state," said Karinna Cassidy, senior managing director at the firm.
Sawtelle-based Rexford Industrial Realty and Management jumped from No. 7 to No.4 on the list.
For reprint and licensing requests for this article, CLICK HERE.