New Tune For Old Trade
Beverly Hills pawn shop more like hedge fund of hard knocks
Friday, January 12, 2018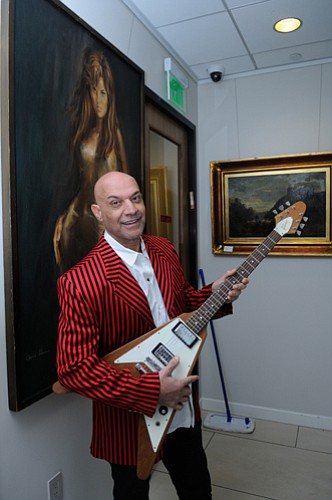 The loans made against such items can go well into six figures at the shop, and Dina will work his many contacts to put together bigger deals. The terms: timely repayment with interest gets the item back to the customer, who otherwise forfeits the merchandise, which is then Dina's to sell.
Long road
The road to Beverly Hills started in Israel, wound through France and New York, and led to the Fairfax District.
"I was in school, and I came to America to visit my brother," Dina said. "I was working in Paris for the Israeli government, and then for summer vacation I went to New York to visit my brother. It was 1979."
Fate stepped in at a diner.
"We were having breakfast, and I'm dating a girl who comes in and says to me, 'We're going to L.A. in a car and you have five minutes to decide if you want to come with.' It changed my life."
Not before a three-month adventure that started with a misadventure.
"The car broke down, and we sold it in – I forget which state," Dina said. "Then we started hitchhiking, and then we found a company that would hire people to drive cars from state to state. There was no rush – it was more like, 'See America.' It was beautiful."
The wandering ended in the Fairfax District, where Dina spent his first night in the parking lot of Canter's Deli. He spent some time handing out flyers, then got started on an apprenticeship of sorts.
"I started working for a lady selling jewelry door to door," Dina said. "$10 to $100 items – $200 would be a big, big piece."
He sold jewelry for more than 10 years before putting together enough cash to open a store at the corner of Wilshire and San Vincente boulevards with merchandise stacked up like a traditional pawn shop.
It went well – a "money machine," according to Dina.
The place also got robbed twice – including one near-miss for Dina and his employees – but he said that was life at a pawn shop that's obviously a pawn shop.
The robberies and a desire to challenge himself as a merchant eventually prompted Dina to move to Beverly Drive, where he's now on his second location on the same block.
Dina landed a reality TV show – "Beverly Hills Pawn" – that helped get the word out that his shop had unique pieces and there was room to bargain.
For reprint and licensing requests for this article, CLICK HERE.