Deals & Dealmakers: Firms Get Fast Start on 2018
Transom Capital closes new $300 million fund, sells portfolio business to Icahn
Friday, January 12, 2018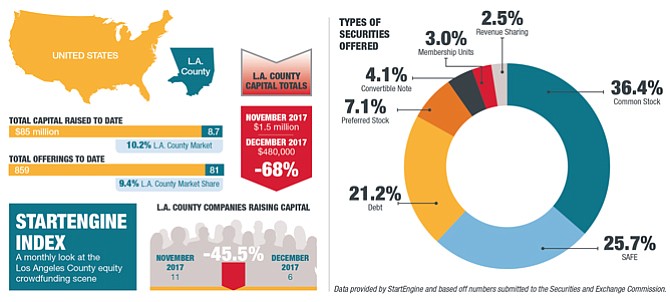 Westwood-based Transom Capital Group closed out 2017 with several acquisitions and a sale of a portfolio company – and rang in the New Year with the announcement of a new $300 million fund Jan. 9.
Co-founder and Managing Partner Russ Roenick told the Business Journal that the new fund – Transom's third since it was founded in 2008 – is a big step forward for the firm, building on the success of the investments made over the past several years. The fund hit its hard cap in 60 days and passed its initial target of $250 million.
Roenick added that the outfit's penchant for a more hands-on approach played well with limited partners, who are searching for greater returns on their capital investments.
"We offer a pretty unique promise," Roenick said. "We're not just looking to find companies that have numbers going up and to the right. We're a value-oriented control investor with a pretty hands-on focus. We want to roll-up our sleeves and get in there to do some work."
This attitude can lend itself to different strategies, however.
In some cases, Roenick said, there can be core issues with a company's operations that need to be addressed and Transom can spend a significant amount of time getting a company back to profitability after making an acquisition.
Other times, a few tweaks can make a company attractive to a strategic buyer.
The latter scenario was the case when Transom purchased Aamco Transmissions Inc. franchiser American Driveline Systems Inc. in January 2017.
Transom was able to implement a few structural tweaks and sold the business to a subsidiary of Carl Icahn's Icahn Enterprises in October.
Roenick declined to give dollar figures for either of the transactions, but said he was happy with how the deals worked out.
"We had a very specific set of turnaround items that needed to get done," he said. "But once they were done, the business was very attractive for a strategic to come in and take over."
Sage Advice
BH Cosmetics Inc. of Burbank was purchased by New York-based private equity firm MidOcean Partners for an undisclosed sum, the companies announced Jan. 4.
BH, which offers a full-service beauty line, had some help from another local player in closing the deal, however.
West Los Angeles investment bank Sage Group represented BH in the sale, and New York-based partner Andrew Charbin said the firm is beginning to establish itself as a player in the beauty market.
"Beauty is definitely a strength for us as a firm," Charbin said.
In addition to the BH sale, which officially closed Dec. 28, Sage advised on two other beauty deals in December. The firm represented Oribe Hair Care of Miami Beach, Fla. in its sale to Japan-based Kao Corp. for more than $400 million. It also advised Vita Liberata Ltd. on its sale to Hildred Capital Partners' Crown Laboratories.
Thorofare Fares Well
Downtown-based real estate bridge lender Thorofare Capital Inc. also closed 2018 out with a bang.
The firm originated nine loans in the past six weeks for a loan volume of more than $87 million. The deals put Thorofare's total loan volume at more than $378 million since the firm's inception in October 2015.
That volume put the firm over its initial capital deployment goal of $300 million, according to firm leaders.
For reprint and licensing requests for this article, CLICK HERE.