Vroom, Vroom on Vermont?
Aecom hopes upfront financing puts bus lane on fast-track.
Friday, January 5, 2018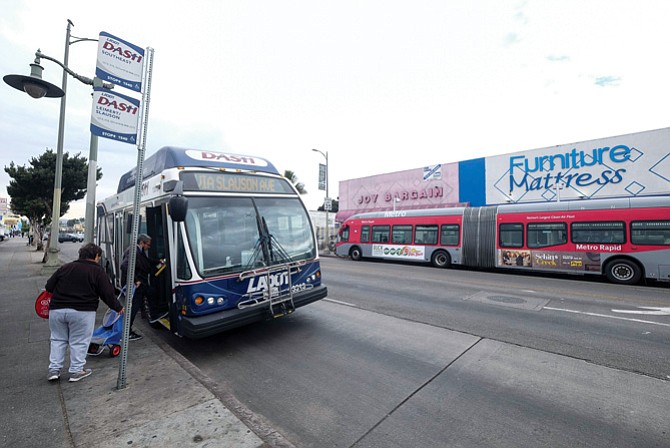 L.A. engineering giant Aecom is hoping that a plan to speed up the timeline on a proposed bus lane along the busy Vermont Avenue corridor will help it win the potentially $400-plus million project.
Aecom teamed up with London-based John Laing Group to submit an unsolicited proposal last month to the Los Angeles County Metropolitan Transportation Authority. The plan calls for private financing to complete the dedicated bus lane several years ahead of the scheduled time frame.
The bus lane, estimated to cost $425 million, would extend 12.5 miles on a stretch of Vermont from the Red Line subway station on Hollywood Boulevard in East Hollywood to just south of the Green Line light rail station at the 105 Freeway.
The MTA's previous plan estimated finishing the project between 2028 and 2030, but the Aecom/John Laing proposal would shave "several years" off that timetable, said Stephen Polechronis, Aecom's senior vice president for transportation for the Southern California and Nevada region.
"It is safe to say this proposal calls for the project to be completed well before the 2028 Summer Olympics," Polechronis said.
Fast-tracking
The highly-used Vermont Avenue stretch has long been targeted for a dedicated bus or rail line. The corridor is the second busiest bus route in Los Angeles with 45,000 weekday bus boardings, behind only Wilshire Boulevard.
Aecom and John Laing propose shortening the timetable by privately financing the project through a public-private partnership. MTA would provide an initial $25 million, private financing would cover the rest, and the public agency would eventually pay off the investors with a return.
John Laing specializes in putting together financing packages for public-private partnerships on infrastructure.
Public-private financing agreements have become principal tools for the MTA to fast-track major capital projects. The agency has received about 90 such proposals – all still under consideration – on various projects throughout its countywide service area in the past two years.
Aecom's Polechronis said the company chose this the public-private-partnership proposal because, "the demand on Vermont is extraordinary and there is a tremendous need and tremendous desire on the part of (the MTA) to move this project forward."
He also said the proposal would use "creative private financing" and technology similar to that found in autonomous vehicles to both shorten the time to finish the work and keep costs in check.
MTA has earmarked the initial $25 million from Measure M, the half-cent sales tax increase approved by voters in 2016, for the project, but the remaining $400 million needs to come from federal, state and local funding sources not yet identified.
Prev Next
For reprint and licensing requests for this article, CLICK HERE.