USC Opens $100M Outpatient Center on Eastside
Norris Healthcare Center to serve 100,000 patients a year in Boyle Heights
Friday, January 5, 2018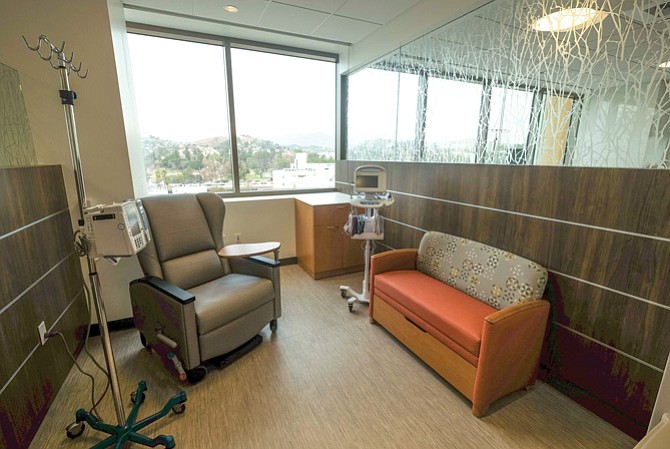 The new $100 million outpatient Norris Healthcare Center at the USC Health Sciences Campus in Boyle Heights opens this week, designed with future medical technology in mind.
The building features nearly 50 exam rooms to treat walk-in patients, with facilities dedicated to everything from women's specialty care to chemo infusions. There are also operating rooms for organ transplants and orthopedic surgeries as well as chemotherapy stations and breast cancer screening setups.
The five-story ambulatory care center is expected to draw up to 100,000 patient visits a year, according to administrators.
"I feel that it is the best building on campus – it's highlighting how we intend to provide outpatient care in the future," said Smitha Ravipudi, chief operating officer for USC care and ambulatory care services, during an open house last week for faculty and staff.
The 116,000-square-foot Norris tower is the fourth outpatient healthcare building at the 79-acre USC Health campus, which is also home to Keck Hospital of USC and the USC Norris Comprehensive Cancer Center.
The new center has been built to relieve crowded clinics for chemo infusions and other procedures after a 40-percent spike in outpatient business since 2014, hospital officials said. It will be the first facility at the USC campus to provide under one roof women's specialty preventive care from gynecology to breast imaging.
It also will be home to the USC Institute of Urology, USC Transplant Institute and USC Outpatient Surgery Center, with an infusion center devoted to both cancer and noncancer patients. Its six operating rooms, among the largest on campus, offer extra room for future robotic equipment that could aid in surgery.
"We've had a vision for this building – to create a healing environment for ambulatory patients in a high-tech environment," Ravipudi, a former executive at Children's Hospital Los Angeles, said.
First look
Ravipudi joined a throng of doctors, nurses and other USC employees who filed into the healthcare center for a first look at the finished building last week. The outpost features sunlit lobbies lined with bright abstract paintings and a hanging sculpture that resembles atomic rings.
Many in the group lingered in the fourth-floor infusion center, which contained two dozen reclining wing-back chairs in private suites or grouped together in day rooms with views of the San Gabriel mountains.
The building has tech features such as digital check-in kiosks, interactive links with patient smartphones – including a digital pager system – and pneumatic tubes that whisk blood samples to labs in other parts of the building.
The Norris building is located next to Keck Hospital and is part of a major Keck Medicine of USC expansion project in response to a 70-percent rise in inpatient visits and a 40-percent increase in outpatient volume in recent years. Hospital administrators are now drawing up plans for a $1 billion "hospital of the future" to be built in the next 10 years.
The new Norris center will meanwhile help "decompress" overcrowding at other campus clinics, including a Day Hospital for infusion patients, administrators said. Norris' six new operating rooms will bring the total number at Keck USC to 41.
"It's very spacious," said Alice Issai, chief operating officer at Keck Hospital. "It's really a dream for our surgeons, staff and patients."
For reprint and licensing requests for this article, CLICK HERE.