Rosy Red at Pacific Design Center Campus
Friday, January 5, 2018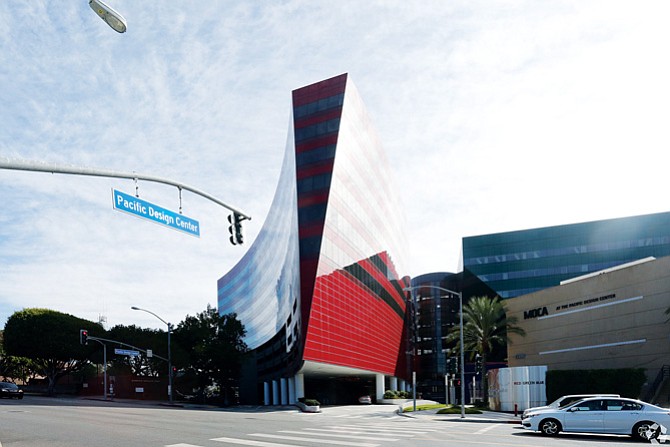 Tenants of the Red Building in the Pacific Design Center are expanding their presence as the city has become increasingly desirable for tech and entertainment companies.
The 400,000-square-foot Red Building at 750 N. San Vicente Blvd. is one of three at the Pacific Design Center, and provides a dramatic flourish to the campus at Melrose Avenue and San Vicente Boulevard in West Hollywood.
Red Building was developed by Charles Cohen, head of Cohen Brothers and Cohen Media Group, longtime owner of the Pacific Design Center. Cohen completed construction of the Red Building in 2013, and reportedly left the building unoccupied for its first year or so until he got the tenants and rents he desired.
Now some of those tenants say they are pleased enough with their digs and ready to expand.
Several tenants have doubled their space within the building, including social networking company Grindr and Gaumont International Television, the U.S. television division of the France-based Gaumont Film Co.
Criteria Corp., an online pre-employment testing service company, also doubled its 8,000-square-foot office space on the 15th floor of the building's east tower by taking down a wall, said David Sherman, the company's chief financial officer and chief operating officer.
The company has grown beyond the 16 employees it had since moving there in July 2015 from Beverly Hills, where it subleased space.
"Once we got up to over 40 (employees), we knew we were going to need more space," Sherman said. "We had a right of first refusal on adjacent space that was empty."
Other tenants that increased their real estate include Clique Media, a global advertising firm, which grew by one-third.
The Green Building at 700 N. San Vincente Blvd. within the Pacific Design Center also has seen occupancy increase from the boom. InvestCloud Inc., a cloud-based financial digital solutions company, expanded its space there.
The recent renewals highlight the city's efforts to make itself an increasingly attractive business option, according to Genevieve Morrill, president and Chief Executive of the West Hollywood Chamber of Commerce.
"West Hollywood is filling up with creative companies," said Morrill said.
She added that the city is looking at "more and more ways" from transportation to technology to increase its desirability.
– Ciaran McEvoy
For reprint and licensing requests for this article, CLICK HERE.