Building on Broad
L.A.'s leading philanthropist finds successor to lead foundation
Friday, January 5, 2018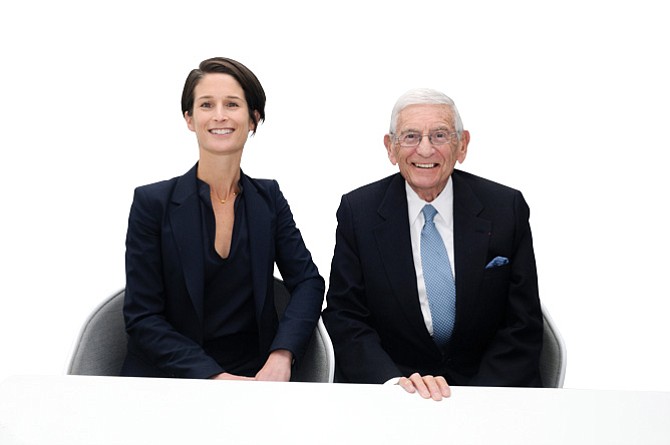 Expect a predictable career trajectory if you go to work for multibillionaire businessman, philanthropist and civic leader Eli Broad, founder of downtown's Broad museum, which houses his extensive contemporary art collection.
Either you've got what it takes, or you don't.
"People come here and they're either here for three to six months, or for 20 or 30 years," Broad said during a recent conversation at the Century City headquarters of the Eli and Edythe Broad Foundation. To date, the charitable foundation has provided $4 billion in grants and has an endowment of $2.5 billion.
"If they don't fit, we don't do them a favor by having them hang on," Broad continued. "We have a very different culture than any other foundation. We're not a bureaucracy. We're willing to take risks...we allow people to do things – and if they fail, that's OK once or twice."
Expect the same risk-taking mandate from Gerun Riley, 41, who became president of the Broad Foundation in August, 2016 after more than a decade there.
"We're very lean – we expect everyone to roll up their sleeves and participate," said Riley, who joined her longtime mentor to talk about their relationship in the foundation's 30th floor offices, where the walls reflect the elder executive's passion for contemporary art. "We're demanding, we're curious. We, I think, are open to evolving."
The demands of Riley's position as president widened in October, when Broad announced his retirement from the Broad Foundation, saying that he wanted to spend more time with his family.
The charitable Broad Foundations – which includes the Broad Foundation and the Broad Art Foundation, which lends art works –were established to advance entrepreneurship in education, science and the arts.
Riley, a neuroscience graduate of Bowdoin College in Maine, easily passed Broad's unofficial three-to-six-month test: It's been 14 years since she joined the Broad Foundation in an entry-level position as office manager, rising through the ranks as chief of staff and vice president.
Broad is noted in the business world for building two Fortune 500 companies as co-founder of KB Home, headquartered in Westwood, and owner of SunAmerica Inc., later acquired by AIG. He ranked No. 5 on the Business Journal's 2017 Wealthiest Angelenos list with a net worth of $8.24 billion.
Putting Riley in charge of the charitable foundation was a natural next step, he said.
"I take great pride in mentoring successors, whether it was at KB Home or SunAmerica," he said. "It's nice to have her as my successor."
For reprint and licensing requests for this article, CLICK HERE.
Prev Next