Building on Broad
L.A.'s leading philanthropist finds successor to lead foundation
Friday, January 5, 2018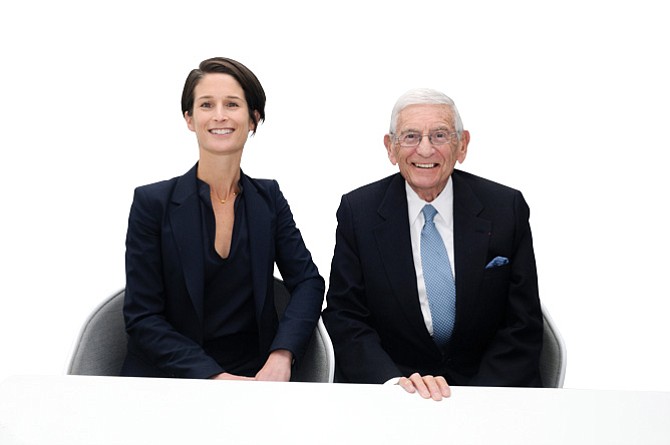 Expect a predictable career trajectory if you go to work for multibillionaire businessman, philanthropist and civic leader Eli Broad, founder of downtown's Broad museum, which houses his extensive contemporary art collection.
Either you've got what it takes, or you don't.
"People come here and they're either here for three to six months, or for 20 or 30 years," Broad said during a recent conversation at the Century City headquarters of the Eli and Edythe Broad Foundation. To date, the charitable foundation has provided $4 billion in grants and has an endowment of $2.5 billion.
"If they don't fit, we don't do them a favor by having them hang on," Broad continued. "We have a very different culture than any other foundation. We're not a bureaucracy. We're willing to take risks...we allow people to do things – and if they fail, that's OK once or twice."
Expect the same risk-taking mandate from Gerun Riley, 41, who became president of the Broad Foundation in August, 2016 after more than a decade there.
"We're very lean – we expect everyone to roll up their sleeves and participate," said Riley, who joined her longtime mentor to talk about their relationship in the foundation's 30th floor offices, where the walls reflect the elder executive's passion for contemporary art. "We're demanding, we're curious. We, I think, are open to evolving."
The demands of Riley's position as president widened in October, when Broad announced his retirement from the Broad Foundation, saying that he wanted to spend more time with his family.
The charitable Broad Foundations – which includes the Broad Foundation and the Broad Art Foundation, which lends art works –were established to advance entrepreneurship in education, science and the arts.
Riley, a neuroscience graduate of Bowdoin College in Maine, easily passed Broad's unofficial three-to-six-month test: It's been 14 years since she joined the Broad Foundation in an entry-level position as office manager, rising through the ranks as chief of staff and vice president.
Broad is noted in the business world for building two Fortune 500 companies as co-founder of KB Home, headquartered in Westwood, and owner of SunAmerica Inc., later acquired by AIG. He ranked No. 5 on the Business Journal's 2017 Wealthiest Angelenos list with a net worth of $8.24 billion.
Putting Riley in charge of the charitable foundation was a natural next step, he said.
"I take great pride in mentoring successors, whether it was at KB Home or SunAmerica," he said. "It's nice to have her as my successor."
Mentorship mentality
Broad's decision to step down from leading the Broad Foundation put an instant spotlight on Riley – highlighting a longtime mentorship that stands out in today's business landscape of millennial-only start-ups, telecommuting and a gig economy that militates against such long-term, personal connections.
Watching 18-minute TED talks on YouTube is no substitute for the real thing. Mentorship is not something you can't get from a computer screen, Riley said.
"When you talk to any successful person, at some point in the conversation they will inevitably reference some great teacher they've had," she said. "For me, I've had the best teacher I could ever imagine over the past 14 years."
After college, Riley jettisoned youthful plans to become a pediatrician to work in the New York office of Skadden Arps Slate Meagher and Flom law firm, where she collaborated with senior partners to run the firm's pro bono department. Her projects included working with a senior attorney to represent mentally ill prison inmates.
The Connecticut native decided to seek adventure with a move to Los Angeles in 2002. A headhunter led her to the office management job at Broad Foundation.
"And that was where I got the adventure I was looking for," she said.
While "office manager" may not sound like an adventurer's dream, Riley said her initial interview with Broad convinced her it could be. She was impressed that the leader of the organization would take time to interview her for what she called "a very entry level position.
"It didn't take me long to realize there would be a lot of opportunity," Riley said. "It became clear very quickly that there would be lots of opportunities to take on responsibility."
Riley's involvement with Broad's various philanthropic entities has been wide-ranging, including overseeing the high-profile architectural competition and opening activities for the September, 2015 opening of the Broad museum. The $140 million structure, covered with a distinctive white honeycomb veil, was designed by Diller Scofidio + Renfro of New York in collaboration with Gensler's downtown office.
Riley cited the enormous responsibilities as an example of Broad's penchant for rewarding bold moves: "I came to him and said, let me do it. And he said OK, and that was it, and I was off," she said. "That's not an unusual example of the ways that he gives people who work for him much more responsibility and challenge than they thought they were capable of."
Fearless under fire
Riley recently joined the board of the Broad Institute in Cambridge, Mass., the foundation's largest grantee, and works with both MIT and Harvard University.
The institute is headed by geneticist, molecular biologist and mathematician Eric Lander. Lander, a professor at both MIT and Harvard Medical School, was one of the leaders of the Human Genome Project, and served as co-chair of the President's Council of Advisors on Science and Technology for President Barack Obama.
The Institute includes 3,300 people, including scientists, engineers, doctors and staff. The institute annual budget for fiscal year 2016 was $410 million.
Gerun is also a board member of the Broad Stage in Santa Monica.
The Broad Foundation's largest educational grantee, meanwhile, is the nonprofit Broad Center in Century City, headed by Becca Bracy Knight, which prepares K-12 public school system leaders to support students in urban communities.
The Broad Center has its own board which does not include officers of the Broad Foundation. Riley does not oversee the center but is intimately involved in its many educational efforts.
Broad has developed a reputation for being a tough customer in both business and philanthropy, engaging in high-profile clashes with the leadership of downtown's Museum of Contemporary Art and Los Angeles County Museum of Art. The title of Broad's 2012 book on success is, fittingly, "The Art of Being Unreasonable: Lessons in Unconventional Thinking."
Riley is not afraid to point out in front of Broad that he's not known for being warm and fuzzy.
Broad does not argue the point.
"In my book, I say I'd rather be respected than loved," Broad said. "Gerun has the ability to be both."
Observers say Riley's fearlessness in dealing with a power player like Broad might be the key reason the partnership has endured.
"Eli legendarily isn't the easiest person to challenge, and yet Gerun does that masterfully, and caringly," said Broad Institute's Lander. "And that is the alter ego you want running a foundation, someone who is going to truly capture the purpose of a foundation, but challenge how best to fulfill those goals."
Passing the torch
Broad Institute Board Chairman Lou Gerstner, best known for his tenure as board chairman and chief executive of IBM from 1993 to 2002, also believes Riley is the best person for the job.
"There aren't a lot of self-made billionaires who do a good job of passing on to their successors," Gerstner said. "It's particularly true in the world of philanthropy. At some point in a public company that you have led, you have to step down, there are shareholder's rules. (But) with a foundation, you are talking about the grantor's legacy. I think Eli and Gerun have developed a relationship like I've never seen."
Gerstner joked that mentorship rarely fits the stereotype of weekly meetings with a guru on a mountaintop, but credits Riley for being willing to seek knowledge from experts at all levels.
"When Gerun came to see me, she pretty well exhausted me, it was six hours with all the conversations she wanted to have," Gerstner said. "The capacity to be open and listen and learn is the reason she's been so successful with Eli."
An example: around the time Riley became president, the Foundation decided to focus its educational initiatives on Los Angeles, rather than the nation as a whole. To that end, Riley spent the better part of a year in a series in face-to-face conversations with more than 300 individuals in public education.
"She has done some new things that frankly I would not have done, wasn't comfortable doing," Broad said.
Broad in any case wants the foundation to keep building Los Angeles with Gerun at the helm.
"I wish I had the opportunity to get more people engaged in the city who have the strength and capability to do more things, more civic engagement," he said.
"Los Angeles is different, very different from San Francisco, Chicago, New York or Philadelphia," he added. "You can succeed here if you have the right ideas and the right energy –without the right family, or the right politics or religious background. (You can) get stuff done."
For reprint and licensing requests for this article, CLICK HERE.