WWE Brings Rare Bright Spot for Mattel
Company extends deal for STEM-related toys on heels of dismal holiday, Q4
Friday, February 23, 2018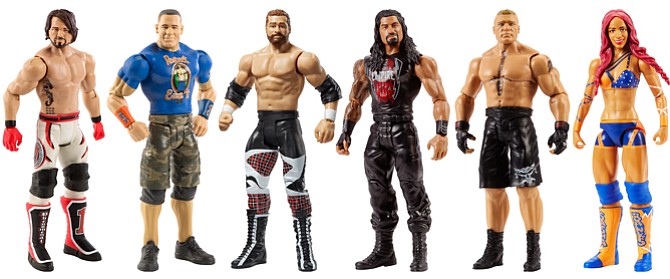 There might be light at the end of the tunnel for Mattel Inc., but there's still an uphill trudge ahead.
Products made by the El Segundo-based toymaker for the World Wrestling Entertainment Inc. claimed the No. 1 spot for sales of action figures in the domestic market in 2017, according to the NDP Group Inc., a Port Washington, N.Y.-based market research firm.
Mattel has been WWE's master toy licensor since 2009.
The company also announced this month that it had extended its partnership with Los Altos-based Tynker, an educational programming platform, to introduce computer coding to 10 million kids by 2020 using Mattel characters on Tynker products. Mattel and Tynker first partnered up in 2015.
"By exposing kids to STEM (science, technology, engineering and math) experiences on Tynker through Mattel characters they know and love, they may develop a passion for science and computing that could lead them to a career in a STEM-related field," Sven Gerjets, chief technology officer of Mattel, said in a statement.
The news comes on the heels of the company's annual report, which disclosed dismal holiday results. Its fourth quarter net loss was $281.3 million (82 cents a share) in 2017 compared to a profit of $173.8 million (51 cents a share) in 2016. The company's revenue fell 12 percent to $1.61 billion from $1.83 billion over the same time period. Year-to-year results were worse. Its income declined to $318 million in 2017 from $1.05 billion in 2016 and revenue fell to $4.8 billion from $5.4 billion year-to-year. Mattel's stock lost more than 40 percent of its value in 2017.
Mattel's reasons for its poor performance were weak demand across its core brands including Barbie, Fisher-Price products and Hot Wheels, among others, and the bankruptcy filing of one of its core customers, Toys R Us Inc. According to a Securities and Exchange filing, the company also paid a one-time $457 million charge related to new U.S. tax laws.
Lumi Raises $9 Million
Vernon-based Lumi.com, manufacturers of packaging that counts numerous e-commerce brands as customers, announced that it had raised $9 million in venture funding to boost the company's growth.
The financing for the Series A funding last month was led by venture capital firms Spark Capital, Forerunner Ventures and Homebrew, all based in San Francisco.

Lumi was founded in 2009 by Stephan Ango and Jesse Genet. The company said that online brands use its packaging to ship everything from clothing, food, books, electronics, games, mattresses, cosmetics and medicine.
If you bought something on the internet recently, chances are high that it came in box or an envelope made with Lumi," Ango wrote in a recent blog post.
Lumi counts e-commerce retailers including Beverly Grove-based FabFitFun Inc. which curates boxes of health and beauty products for its customers through an online subscription service.
Perfumes Go Sour
There were fewer counterfeit perfumes on the market for Angelenos on Valentine's Day. The U.S. Customs and Border Protection announced this month that the agency had seized 475,056 bottles of perfume with fake trademarks at the Los Angeles and Long Beach port complexes.
CPB officials said they intercepted 11 shipments containing counterfeit and confusingly similar fragrances at the local ports between Oct. 1 and Jan. 31 — a period that covered the wholesale season from the year-end holidays through Valentine's Day. The goods appeared intended to mimic 34 top-name brands with a total estimated manufacturer's suggested retail price of $31 million, CPB officials said.
"The theft of intellectual property and trade in fake goods threaten America's economic vitality and national security, and the American people's health and safety," said Carlos Martel, Los Angeles CBP director of field operations, in a statement.
The counterfeit brands included Giorgio Armani, Burberry, Calvin Klein, Chanel, Coach, Dior and Dolce & Gabbana, among others.
"Goods that are seized and forfeited, become U.S. government property," Jaime Ruiz, spokesman for CPB at the Los Angeles, Long Beach port complex, said. "Perfumes are destroyed because of unknown chemicals. Other things like fake shoes may be donated to good causes outside the U.S.," he added.
Pharmaceuticals and personal care products represented 5 percent of the total goods seized in the U.S. in fiscal year 2016, according to the most recent data available, CBP officials said. Perfumes fall under the personal care category. Total goods seized in 2016 by the CBP were approximately $1.4 billion.
Staff reporter Shwanika Narayan can be reached at snarayan@labusinessjournal.com or (323) 556-8351.
For reprint and licensing requests for this article, CLICK HERE.