Local Venues Help Revive Music Industry
Friday, February 23, 2018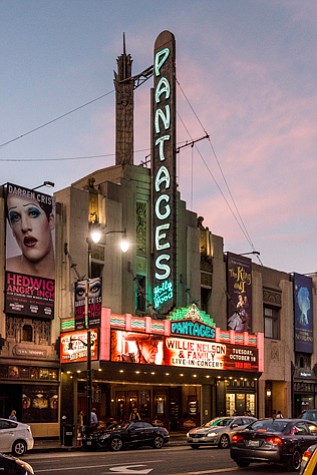 The music industry may be growing again thanks to subscription-based streaming services such as Spotify, Pandora and Apple Music, but it's still not yet back to where it used to be.
That means musicians still have to count on touring revenue – and that makes it a boom time for concert goers, in particular fans who enjoying seeing their favorite performers in relatively intimate arts venues.
There's no shortage of mid-sized options in Los Angeles, where the supply of venues in the 1,500- to 3,000-seat range has more than kept up with the increasing demand of bands in search of live gates (see related story, page 10, list, page 12).
Large venues such as Staples Center, The Forum and the Hollywood Bowl still dominate the Los Angeles County concert business. Major acts such as U2, Beyoncé, Kendrick Lamar and Taylor Swift regularly appear in those large venues.
But the smaller concert halls play a significant role in the local marketplace that's remained highly competitive even as the music industry relies more on such venues.
"We're saturated with seats and don't have enough programming to fill it for all the seats in Los Angeles," said Steve Needleman, owner of downtown's Orpheum Theatre.
The Orpheum, the nearby Mayan Theatre, the Pantages in Hollywood and the Saban Theatre in Beverly Hills cater to more selective audiences or, generally speaking, those whose musical tastes don't always center on the Billboard Top 40.
Up-and-coming acts that haven't yet broken through to mainstream success or established acts past their commercial peaks but which still have a loyal fan base often have the best chance of finding homes and ticket revenue at the mid-sized venues.
The coming weeks offer a clear example: Belfast-born rock legend Van Morrison appears on stage at The Wiltern in Koreatown; Latin Grammy-nominee Kali Uchis stars at The Novo by Microsoft at L.A. Live; Noel Gallagher, formerly of Oasis fame, appears at the Orpheum with his band, the High Flying Birds.
"Those acts can't always command the biggest venue, but they can demand a loyal audience," said Allen Hubsch, a Century City-based real estate lawyer with an entertainment-related practice at the Loeb & Loeb law firm. "If you can right-size their venue, and you can do that in every market, then they can tour."
Diversification is key for the venues. The Orpheum also features religious acts and political discussions such as former Vice President Joe Biden's appearance there on Jan. 10.
World music also has gained importance for top- and bottom-line growth. Mali's Salif Keita is scheduled to appear at The Theatre at Ace Hotel in downtown in April. That's around the same time Chinese vocalist Na Ying appears at the Pasadena Civic Auditorium as part of her world tour.
Most of the acts from overseas likely won't sell out the largest performing arts venues, but they can haul in plenty of cash. Consider a 2,500-seat hall sold out at an average price of $30 – a $75,000 gate for the artist, crew and venue to divide for the night's work.
"Those venues are probably more important today than they were at any time in the past," Hubsch said.
$8 Billion
Concert ticket sales in North America last year were an estimated $8 billion, up 9.6 percent from a year earlier, according to Pollstar, a Fresno-based concert industry trade publication.
The concert revenue has been a staple amid the disruption that started with online piracy nearly two decades ago. Total annual recording revenue for the industry peaked at $14.6 billion in 1999, according to the Recording Industry Association of America. Piracy soon began to eat into the sales of compact disc albums. CDs accounted for $12.8 billion in recording sales in 1999 – about 88 percent of total for the industry. They were down to $1.2 billion for a 15 percent share of the $7.7 billion total for 2016, the most recent data available.
Meanwhile, revenue growth in subscription streaming services has continued to increase and partially offset declines on CDs in 2017, according to the RIAA. Streaming now accounts for the vast majority of recording revenue in the U.S., and was up in the first half of last year to $4 billion, the RIAA said.
The decline of album sales from the advent of Napster and rampant online music piracy until the dawn of subscription-based streaming services set changes in motion that remain even as streaming recaptures some of the lost revenue. Performers have changed how they interact with their fans, which has reemphasized the value of live performances. A key difference: concerts and – for an extra fee – personal appearances have become an even more important source of money.
"The royalty checks (from singles and albums sales) aren't what they used to be," said Alex Hodges, chief executive officer of Nederlander Concerts, which operates the Pantages.
L.A.'s importance and centrality as a live concert spot has certainly been a big part of the trend, and some industry executives see potential openings in the market that can be exploited – especially given the dearth of options on the Westside.
The Santa Monica Civic Auditorium – which had a capacity of 3,000 and hosted the Oscars in the 1960s, along with memorable performances by James Brown, David Bowie, The Rolling Stones and others – effectively closed as a live music venue in 2016.
Same in other parts of the market. The Universal Amphitheatre was demolished in 2013 to make way for the Harry Potter ride at Universal Studios Hollywood. San Pedro's Warner Grand Theatre is "underutilized," Hodges said.
"There is room for another venue in that range," Hodges said. "The Westside is certainly underserved."
For reprint and licensing requests for this article, CLICK HERE.