Drug Maker to Boost Production
Friday, February 23, 2018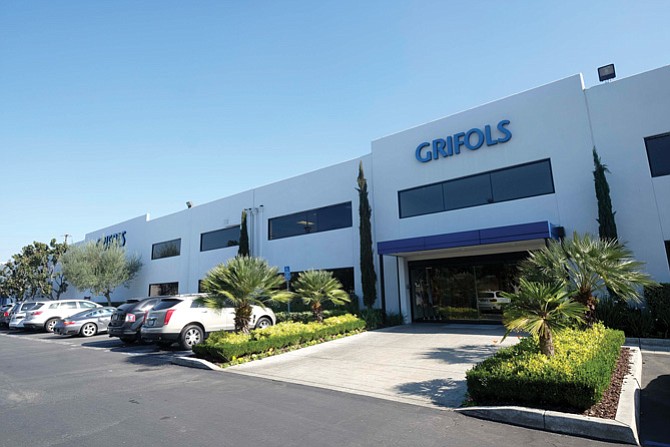 A contingent of technicians monitors rows of glass vials that inch down an automated assembly line at Grifols Biologicals Inc. in El Sereno, each filled with a plasma-derived protein used to bolster the body's immune system and fight off infection.
Expect more of the same in the quiet district just east of downtown, where the Barcelona, Spain-based company plans to open another 24-hour assembly line that could double production for Gamunex, its signature drug for the treatment of an immunodeficiency disorder.
"As we increase our Gamunex and albumin production levels, we'll be hiring additional folks over the next few years," said Willie Zuniga, chief executive of Grifols Biologicals, who grew up in El Sereno. "We're looking at hiring between 50 and 100 (more) people, a majority of them manufacturing technicians."
Grifols Biologicals, the manufacturing arm of biotech giant Grifols S.A., is among three of the company's subsidiaries spread across a hill at northern end of the 710 Freeway. The 36-acre campus also serves as Grifols U.S. headquarters. Executives there oversee operations ranging from the Grifols Plasma Organization, with 190 plasma donor centers across the U.S., to the Grifols Shared Services North America Inc., which runs IT and human resources and support services nationwide.
Growth oriented
Grifols has grown its L.A. County operations steadily in recent years, and is among the largest drug makers in the area by employment, according to the Business Journal's 2017 list of bio science companies.
The best-known drug maker in the area is Amgen Inc., one of the largest employers in Ventura County, with an estimated 5,500 workers at its operations in Thousand Oaks, just over the L.A. County boundary. Santa Monica-based Kite Pharma, a unit of Gilead Sciences Inc., also employs about 800.
Shire, a Dublin-based competitor to Griofols, has a plant in Atwater Village that employs 1,900.
Grifols' growth has come with $350 million of investments into its L.A. operations. The company's L.A. workforce has ballooned from less than 400 employees who worked at a troubled El Sereno plasma medicine company it acquired 15 years ago to 1,600 across the county – three quarters of them in El Sereno.
Many workers — from manufacturing techs who start at $17 an hour to the bioscientists who make $140,000 a year – were hired from local high schools, community colleges and nearby California State University Los Angeles.
"Grifols demonstrates the bioscience industry's potential to provide more Angelenos with jobs that can support their families," said county Supervisor Mark Ridley-Thomas, who has advocated for the biosciences industry, in a statement. "Grifols' longstanding partnerships with community colleges, universities such as Los Angeles Trade Technical College and Cal State L.A., and the Los Angeles Unified School District, is a model for training a workforce with a range of skill levels for an industry sector that is poised for rapid growth."
For reprint and licensing requests for this article, CLICK HERE.
Prev Next