Marketing on Tap at Staples Center Bar & Grill
Impact Networking's venue open to ticketholders, leads West Coast expansion plan
Friday, February 2, 2018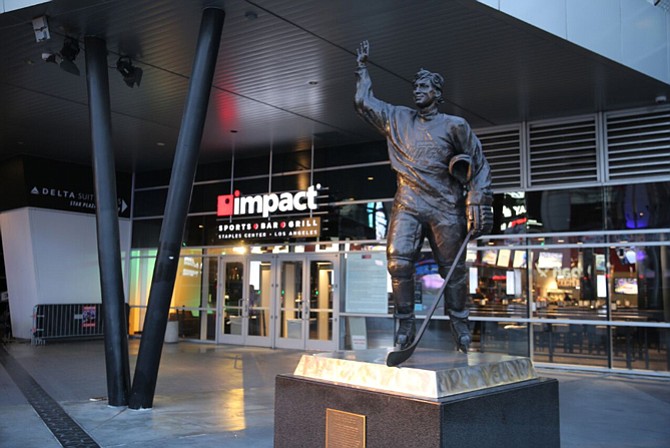 Impact Networking recently struck a multi-year deal with downtown-based real estate and live entertainment specialist AEG to operate a bar and restaurant at the arena.
The Waukegan, Ill.-based company plans to open the Impact Sports Bar & Grill on the concourse inside the Staples Center in the space previously occupied by DraftKings. Impact has been named an official partner of the Staples Center and Los Angeles Kings as part of the deal.
The 4,400-square-foot restaurant will open its doors to visitors with tickets to events at the Staples Center. The restaurant features 30 television screens, a menu by Downtown Los Angeles-based Levy Restaurants and a party-like ambience for sports fans.
Impact currently employs over 450 employees at its 15 sites and works to assist companies in reducing their manual processes through process improvement methodologies and technology to achieve organizational efficiency, according to its website.
The company already works with the Chicago Blackhawks, Chicago Cubs, Milwaukee Brewers and other professional sports teams in the Midwest. It is in the process of seeking space in L.A. for the company's first West Coast office.
"Having recently expanded our business to the West Coast, we are proud to sponsor a franchise so highly acclaimed as the Los Angeles Kings, as well as stake a presence with a team so rooted in Los Angeles' history and culture," Cucco said in a press release.
The sponsorship also gives Impact some exposure via LED displays in the L.A. Live sports and entertainment district, as well as space on the boards that enclose the rink for Kings' home games.
"They have had success in Chicago with the Blackhawks so they know that the hockey crowd is their audience and customer base," said Josh Veilleux, vice president for global partnerships at AEG.
The term and financial details regarding the deal remain undisclosed.

LPGA Back in L.A.
The Ladies Professional Goal Association decision to return to Los Angeles for the first time in more than a decade comes on the heels of a spike in viewership, according to statistics gathered by Nielsen Co.
Nearly 22 million viewers watched the 2017 LPGA Tour coverage for an average of 221,000 viewers per telecast in 2017. That was a 24 percent increase from 2016, and the most viewers for the LPGA Tour since 2011.
The LPGA recently set plans to debut the HUGEL-JTBC Open tournament on the weekend of April 19-22 at the Wilshire Country Club. It will be the first LPGA tournament held in Los Angeles since Office Depot Inc.'s Office Depot Championship, which moved from Wilshire Country Club in Hancock Park to El Cabellero Country Club in the San Fernando Valley to Trump National in Palos Verdes from 2001 through 2005.
Prev Next
For reprint and licensing requests for this article, CLICK HERE.