Opportunity at the Door
Ring founder Jamie Siminoff created the video doorbell, but that's just the start
Monday, December 31, 2018
A recent interview and photo shoot in the Ring Inc. offices in Santa Monica was interrupted when a local fireman knocked on the exterior door of Chief Executive Jamie Siminoff's office to ask about getting Ring doorbells, cameras and floodlights for the fire station. Siminoff said it's common for customers – and prospective ones – to drop by the company's offices, a crowded warren of activity where about 300 workers have already outgrown the space. The company is building new headquarters in Hawthorne, but the move is at least a year off.
Siminoff first introduced his smart doorbell, then called the Doorbot, on "Shark Tank," ABC's reality show where entrepreneurs pitch their products to a panel of financiers, dubbed Sharks. None of the Sharks bit, but the exposure helped propel the company, which went on to develop a suite of smart security products, including a range of Ring doorbells and a motion-sensitive, Wi-Fi-enabled video floodlight. "We basically have the 'ring of security' around your front door," Siminoff said.
The company was acquired by Amazon.com Inc. in February for $1 billion. While Siminoff remains at the helm of Ring, he recently returned to "Shark Tank" as a Guest Shark. The chief executive sat down with the Business Journal to discuss his company's history, its growth and plans for the future.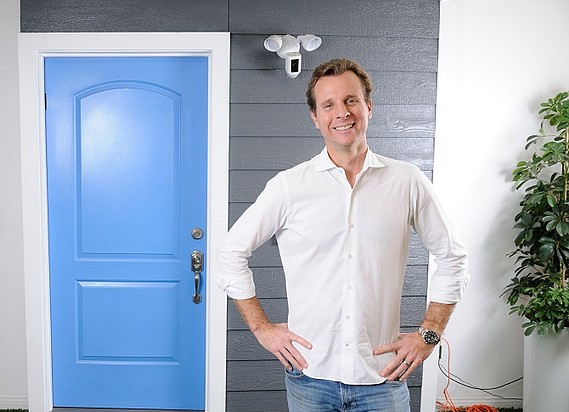 You have said you invented Ring to solve a problem — to see who was at the door – but has Ring evolved into more of a security device?
I built this product, and my wife said, 'This makes me feel safer.' I realized it doesn't make you feel safer; it delivers presence, and by delivering presence, you can actually stop a crime before it happens. And that became the invention, which was, how do we prevent crime before it happens. Everything else is really just an output of that invention.
How did you go about raising money?
I raised a little bit of money here and there along the way. But the awareness and credibility of being on "Shark Tank" is what really got us the extra sales, which led to bigger business, which was attractive to investors and gave us the ability to hire engineers to build the next generation products. It started the momentum.
And then you got a chance to go back to Shark Tank and be on the other side as a Guest Shark. Are you looking to mentor or invest in other companies?
Prev Next
For reprint and licensing requests for this article, CLICK HERE.