Community Attraction
Two Bit Circus just opened downtown, but it's already gearing up to take the show on the road
Monday, December 31, 2018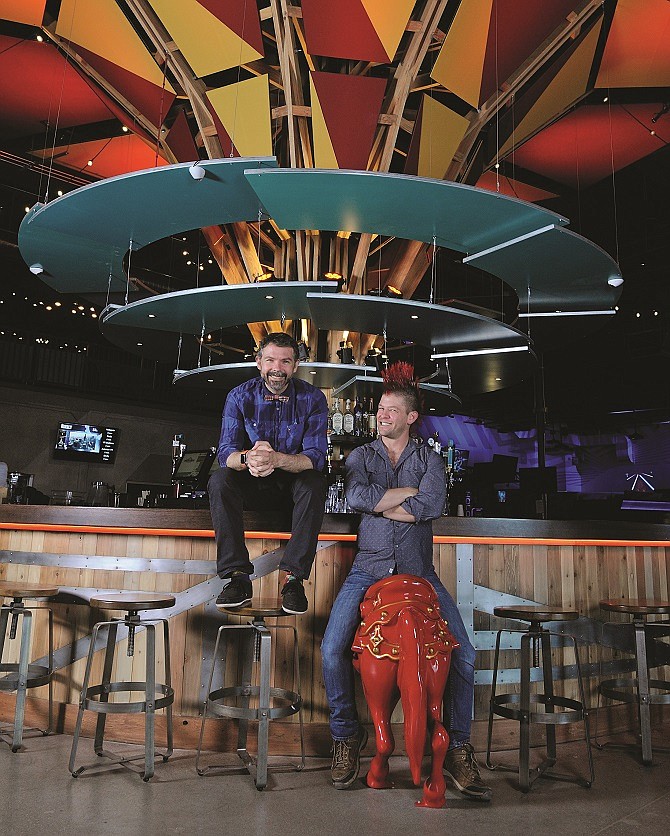 Two months after opening, Two Bit Circus is already drawing crowds of about 1,000 people on Saturdays and Sundays, according to Brent Bushnell and Eric Gradman, the roboticists and event producers behind the downtown business that combines aspects of a carnival, amusement park, video arcade, virtual reality theater, event space, bar and restaurant.
To date, the company has raised $21.5 million in two rounds from investors that include Intel Corp.'s investment arm, Intel Capital, and Jazz Venture Partners.
Bushnell, who serves as chief executive, and Gradman, the company's chief technical officer, oversee a staff of about 125 employees, including about 80 people who work in the park, and 20 engineers and fabricators building and maintaining games in the Arts District space.
The two recently took a break from running their urban carnival to speak with the Business Journal about the inspiration for Two Bit Circus and their plan to expand the concept to other cities beginning next year.
Tell me the history of Two Bit Circus. How did it come about?
BUSHNELL: In 2008, we were looking for new ways to play with a bunch of great technology and particularly focused on getting people together in public. It was early days for downtown L.A.'s rebirth, and there was this rave for nerds called Mindshare. We were part of a group of nerds building fun attractions for the public − rooms with laser beams and walls with buttons. Frankly, a lot of the stuff that you see on the floor today, those were early prototypes.
Then we started doing big corporate events. We also transitioned into helping tech companies build attractions for Comic-Con and South by Southwest. We were doing huge events, the Super Bowl and Davos. Then we said, 'We've done all these events for other people. Let's do our own.'
You host an educational event called STEAM Carnival. How did that come about?
BUSHNELL: We wanted a place to showcase all that stuff we were making – whether we made it for ourselves or for those (other) brands. We wanted to inspire kids about science and engineering. STEAM Carnival really came out of this. We spun that out as a nonprofit, the Two Bit Circus Foundation. We've trained 5,000 teachers; 300,000 students. It's a complete alternative to the science fair. Kids learn all the fundamentals of being an inventor by building games, and then they throw their own carnival.
At what stage did you start to take on investors?
BUSHNELL: It was right after we did our first carnival. They really bought into this idea of modern entertainment in public. We would have had no prayer if we hadn't had five-plus years of doing huge attractions for Intel and Warner Bros. and the Cartoon Network. We really had a deep pedigree of doing work brands really wanted and that customers were really loving.
Two Bit Circus combines several types of businesses – entertainment, restaurant, bar. What is the advantage to that formula?
BUSHNELL: VR is really interesting. Escape Rooms are awesome. (But) you can't get that many people through in an hour. That's why we have all the rest of the entertainment, the Carnival Midway, the reimagined arcade, the metagames. All of these are additional ways for people to engage beyond some of these tentpole attractions. Having all the entertainment plus the food allows people to stay longer. The bar means you can check the box for people who want to be going out on a Friday night. People might come for any one of those things and stay for the others.
GRADMAN: We can (also) bring corporate groups in for team-building. We can put on shows that were created just to get colleagues to get to know one another better.
Tell me about the space. I understand you gave yourself room to change the games on the floor.
GRADMAN: We have beta nights where we bring out games that are in some stage of production, and we test them out on guests. We think of this park as a new form of community center where people can bring games from all over the world. There's a world of people designing video games for home use and cellphones, but the roster of creators who want to build for a place like this is growing.
What is next for the company?
BUSHNELL: We built this with an eye towards replicating it, and we've designed the economic model to work in 100 cities. We are looking to open additional sites in 2019. We're looking for cities that have those demographics from young families to young adults. We've identified a bunch of sites. We haven't announced the cities yet. But I can say it's not Vegas or Orlando.
For reprint and licensing requests for this article, CLICK HERE.