LPC West Buys Culver City Development Site
Project location purchased from Woodbine Legacy Investments
Friday, December 21, 2018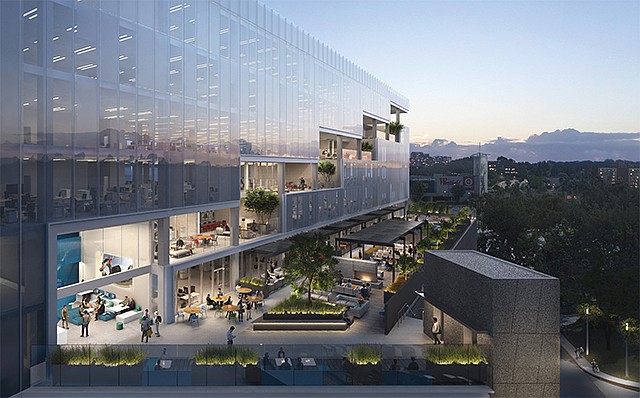 Entrada, a planned 300,000-square-foot office space in Culver City, has been sold to Broad Street Principal Investments and LPC West, a subsidiary of Lincoln Property Co. Terms of the transaction were not disclosed.
The site was purchased from Woodbine Legacy Investments. The group owns the DoubleTree by Hilton Los Angeles − Westside next door.
The Gensler-designed project will cater to entertainment, media and technology companies, and share some amenities with the hotel, which will undergo a $35 million renovation in 2019.
The site is currently a parking lot. LPC West will be the developer of the project.
"Entrada will be a world-class project with a highly-visible location between Culver City and Playa Vista – two of the region's most important locations for entertainment, media and technology," said Rob Kane, executive vice president at LPC West, in a statement. "This project will be a premier trophy asset with a cutting-edge design in an area that has seen much activity and innovation in recent years. We are thrilled to develop the region's newest creative office project."
Tenants for the building have not yet been announced. LPC's Kent Handleman will be the leasing broker for the project.
Entrada is expected to be completed in 2021.
• • •
Veteran Broker Founds
New Firm
Real estate veteran Fred Cordova has started Corion Capital Partners, a group that will do value-adds, turning old buildings into lifestyle-oriented properties. The developments, Cordova said, will have "less me space and more we space" and have more purposeful designs that cater to demand from technology, advertising and media companies.
Cordova has 35 years of investment experience and has dealt with more than $7 billion in development and transactions, he said. He was previously an executive vice president of Kennedy Wilson Holdings Inc. Cordova left earlier this year to start Corion Capital Partners. Cordova has previously worked with Colliers International Group Inc. and Santa Anita Realty Enterprises.
"My interest and passion has always been in the urban landscape and redeveloping," Cordova said.
Corion Capital is targeting deals valued in the $15 million to $30 million asset range. Cordova expects the properties to deliver three to four times the initial investment made with an eight to 10 year turnaround.
"The product is the building stock that is antiquated," Cordova said. "It's broken. It doesn't work, and it needs to be fixed, and I want to be involved in fixing it."
Office, retail, multifamily, hotel and select industrial properties prime for conversion are all being looked at in areas including West Los Angeles, Santa Monica, Culver City, Playa Vista and El Segundo, according to Cordova. These are areas, he said, that have a huge demand for nontraditional workspaces.
Corion is currently looking to raise $25 million to $30 million in its Rigel Fund 1. Cordova said the firm is targeting wealthy individuals who want to invest in real estate but lack the time or know-how to do so themselves.
• • •
NAI Capital Adds 4 in DTLA
It's been a busy time for hiring as firms capitalize on the talent pool left when Charles Dunn Co. Inc. shuttered its brokerage business.
Commercial real estate firm NAI Capital Realty has added four people to its downtown office. The group has hired Charles Dunn's Chris Runyen, Michael Vara, Tracy Taft and Faye Montgomery.
Charles Dunn folded its brokerage business earlier this year.
Runyen, Vara and Montgomery were named senior vice presidents. Taft was named vice president.
Staff reporter Hannah Madans can be reached at hmadans@labusinessjournal.com or (323) 556-8337.
For reprint and licensing requests for this article, CLICK HERE.