AECOM, Parsons Partner with Japanese Firms
Infrastructure projects seen as part of joint U.S.-Japan policy to combat China
Friday, December 21, 2018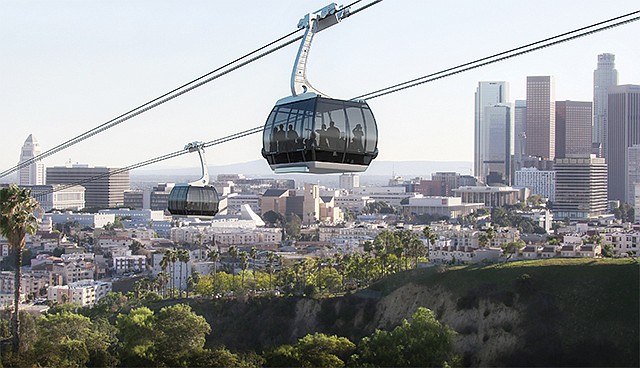 With all the focus in recent years on doing deals in China or with Chinese companies, it's a bit unusual to see two locally based engineering and infrastructure firms benefitting from a joint U.S.-Japanese policy of creating a counterbalance to growing Chinese influence.
That's what happened earlier this month when Century City-based AECOM and Pasadena-based Parsons Corp. both announced agreements to collaborate with Japanese firms to bid on infrastructure projects in countries in the Asia-Pacific region and beyond.
The agreements are part of a deal Japan and the United States reached at a summit in September. According to an announcement from the White House in November, the two countries have pledged to work together to develop energy, infrastructure and digital connectivity in the Indo-Pacific region. The agreement has been portrayed in some global media reports as a counter to China's Belt and Road Initiative, a strategy to develop infrastructure projects in Europe, Asia and Africa.
AECOM's partnership with Oriental Consultants Global Co. Ltd. was signed Dec. 5 at OCG's Tokyo headquarters. It "will allow for joint financial and resourcing arrangements to compete for the largest and most complex infrastructure projects in the region," according to a joint press release from both companies. AECOM is a global infrastructure firm that, in recent years, has added the ability to take infrastructure projects from cradle to grave while OCG is an engineering consulting firm.
Parsons signed an agreement Dec. 6 with Pacific Consultants Co. Ltd., a Tokyo-based construction management and services firm specializing in infrastructure projects. In the joint announcement, Parsons said the memorandum of understanding would "better enable Parsons' participation in projects involving the Japanese Official Development Assistance, Japanese government, and Japanese private companies, including projects not only in Japan but also other Asian countries."
The announcement said the two companies have already collaborated on an airport project though no further specifics were given.
"We look forward to exploring collaborative ventures in the Indo-Pacific region with PCKK," Parsons' Chief Executive Chuck Harrington said in the announcement.
• • •
Boost for Dodgers Gondola
The plan for a privately funded gondola line to ferry fans to Dodger Stadium from Union Station received a boost Dec. 6 when the Los Angeles County Metropolitan Transportation Authority announced it will start exclusive negotiations with project proposer Aerial Rapid Transit Technologies to try to bring the plan from the concept stage to project development.
ARTT was formed earlier this year by Drew McCourt, son of Frank McCourt, the former Los Angeles Dodgers owner who still retains an ownership stake in the parking lots surrounding the stadium.
ARTT has proposed a $125 million gondola line passing over roughly 1.4 miles of terrain between Union Station and the parking lots surrounding Dodger Stadium. The line would carry up to 30 cars around game time, capable of transporting 5,000 people per hour in one direction. The proposal is similar to other active gondola lines around the globe, including one in Koblenz, Germany, that passes over the Rhine River.
"The signing of a letter of intent with Metro is a critical step in building the gondola between Union Station and Dodger Stadium," ARTT Project Manager Martha Welborne said in a statement.
Phillip Washington, the transportation authority's chief executive, called the signing of the letter of intent "a critical milestone in developing an innovative and exciting way for Dodgers fans to get to the game while reducing traffic."
• • •
Tetra Tech in Peru
Pasadena-based engineering firm Tetra Tech Inc. announced Dec. 12 that the U.S. Agency for International Development awarded the company a $23 million contract to strengthen forest management in Peru and promote private sector engagement in the country's forest sector.
According to the announcement, more than half of Peru's landscape is covered by Amazon forests that are home to some of the world's most diverse ecosystems, but many of the nation's forests are suffering losses from illegal logging practices.
Under the five-year USAID contract, Tetra Tech will provide technical services to develop and implement monitoring tools, such as an electronic timber tracking system that documents and monitors timber movement through the supply chain. Tetra Tech also will seek participation of indigenous and other forest-dependent communities in developing policies governing Peru's forests.
"Tetra Tech is pleased to support USAID's work in Peru to promote sustainable forestry management and increase economic opportunities in a region that includes some of the highest biodiversity in the world," Dan Batrack, Tetra Tech's chief executive, said in the announcement.
Staff reporter Howard Fine can be reached at hfine@labusinessjournal.com or (323) 556-8327.
For reprint and licensing requests for this article, CLICK HERE.