Oak View's Seattle Hockey Project Greenlit by NHL
$600 million Key Arena revamp ahead for Westwood facilities developer/operator
Friday, December 14, 2018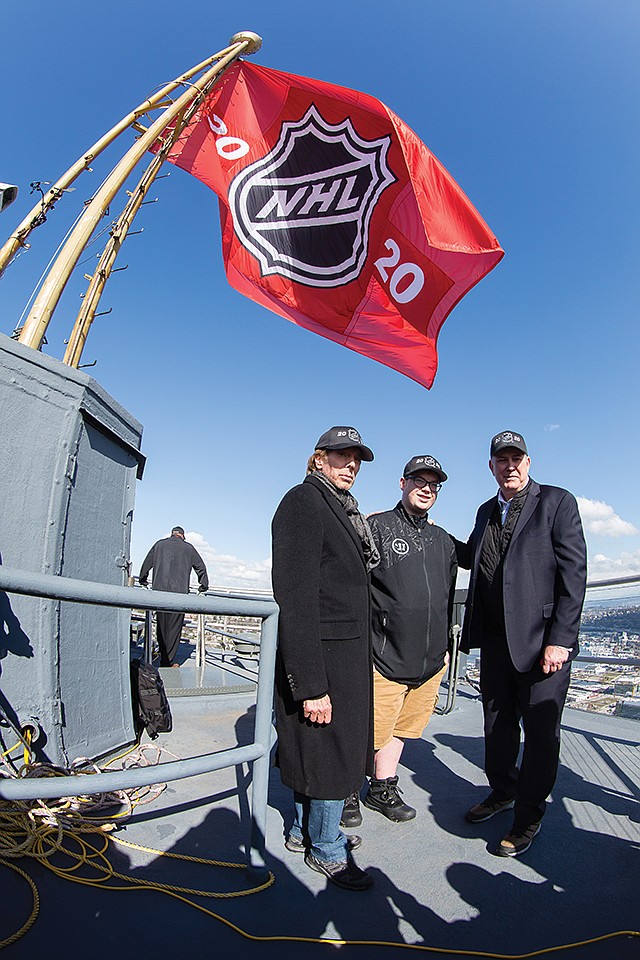 Westwood-based sports facilities developer and operator Oak View Group was cheering Dec. 8 when the National Hockey League announced it was expanding to Seattle, where Oak View is investing hundreds of millions of dollars to redevelop a professional sports arena.
The NHL Board of Governors' approval came four days after Seattle's City Council authorized the final details of a 39-year lease and redevelopment agreement with OVG for Key Arena.
The downtown Seattle arena is the former home to the National Basketball Association's Seattle SuperSonics, but it has been little used since the SuperSonics fled to Oklahoma City in 2008.
In a press release, the city council estimated redevelopment costs of at least $600 million for the project. OVG also must pay $40 million to the city for transportation improvements, $20 million to Seattle-area nonprofits, and at least $2.4 million per year in annual tax payments over the 39 year lease.
The arena redevelopment will be financed by debt, private equity investors and federal tax credits, according to the City Council release.
Messages left with OVG were not returned.

The KeyArena redevelopment is the most ambitious project of 3-year-old OVG, founded by Tim Leiweke, former chief executive of Anschutz Entertainment Group Inc., and live-music mogul Irving Azoff, who also runs the Azoff Co.
AEG dismissed Leiweke after plans to build a facility bringing the National Football League to downtown Los Angeles did not materialize.
In addition to the KeyArena plan, Oak View is building a facility for the New York Mets and New York Islanders, and it is a consultant for dozens of arenas across North America.
Leiweke, now OVG's chief executive, declined in a prior interview with the Business Journal to say how much Oak View has raised, or what revenue the company is bringing in. Leiweke said in the interview that film producer Jerry Bruckheimer and TPG Capital billionaire investor David Bonderman are among the firm's biggest financial backers.
• • •
KTLA's Future Days
Nexstar Media Group Inc. announced Dec. 3 that it's purchasing Chicago-based Tribune Media Co., which would make the Irving, Texas-based company the owner of KTLA-TV, Los Angeles's oldest television station.
Nexstar's $6.4 billion purchase will close in the third quarter of 2019, according to Nexstar spokesman Joe Jaffoni.
If the deal closes, Nexstar-owned stations would reach 39 percent of U.S. television households, giving the company the largest market share of any broadcast station owner.
Under Nexstar ownership, KTLA may be on sounder financial footing. Nexstar's revenue doubled 220 percent to $2.43 billion from fiscal 2016 to fiscal 2017, partly stemming from acquiring media assets. The company posted $533 million operating income in 2017.
Tribune Media, by contrast, saw a 5 percent drop in total revenue in 2017 and posted $168 million in 2017 operating income.
The deal comes after KTLA spent more than a year in ownership limbo.
Hunt Valley, Md.-based Sinclair Broadcast Group Inc. was poised to purchase Tribune after Sinclair told federal regulators it would sell off stations in order not to exceed federal limits on how many stations one company can own. But Sinclair's acquisition fell through on FCC concerns it wasn't actually divesting from stations but simply selling them off to business associates.

KTLA is the 5th most viewed L.A. television station, according to Nielsen Holdings ratings, and it has a local news team of more than 50 employees, according to the company's website.
• • •
Ultimate Endeavor
Talent agency Endeavor has named Mark Shapiro to the newly created position of president, the company said Dec. 10.
Shapiro formerly helped to oversee production and programming at ESPN Inc. His rise at Endeavor comes as the agency expands beyond its traditional role as one of Hollywood's big three agencies. (Creative Artists Agency and United Talent Agency are the others).
An Endeavor press release credited Shapiro with negotiating the Ultimate Fighting Championship's television contract with ESPN. Endeavor bought the UFC in 2016 for $4 billion. The talent agency also negotiated in May a five-year, $1.5 billion contract for Walt Disney Co.-owned ESPN to broadcast UFC fights.
Staff reporter Matthew Blake can be reached at mblake@labusinessjournal.com or (323) 556-8332.
For reprint and licensing requests for this article, CLICK HERE.