Up, Up and Away: Contractors See Green as Renovation and Expansion of LAX Soars in 2018
Friday, December 14, 2018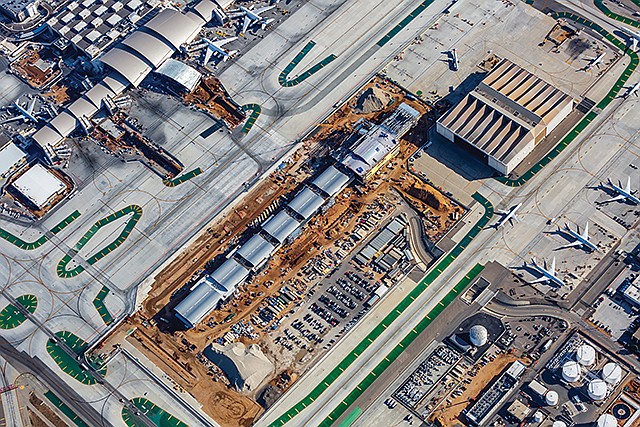 2018 will go down as the year the long-debated overhaul of Los Angeles International Airport finally became reality as scores of design and construction contractors reaped more than $11 billion from new contracts and construction starts.
This unprecedented surge in construction contracts and work is all part of the $14 billion modernization program at the nation's second-busiest airport. The work is designed to upgrade, over the next five years, the passenger experience at terminals and ease access into and out of the notoriously congested facility.
"This is the year we set in stone the advanced future of LAX because of the number and scope of contracts we awarded," said Deborah Flint, chief executive of Los Angeles World Airports, the city agency that operates the airport. "What we're doing at LAX is not just about the dollars, but it's about changing the passenger experience and changing the way megaprojects are evolving with the private sector."
The rapid project rollout is a boon for scores of private-sector contractors, both in Los Angeles and around the globe.
Take downtown-based design firm AC Martin Partners Inc., which has three contracts related to the LAX modernization: work on two terminal renovations and a planned consolidated rental car facility. Taken together, these are the largest infrastructure contracts in the 112-year-old firm's history; the company now has a dedicated staff of at least a dozen people at the airport.
"The huge size of this public infrastructure project and the amount of work we are doing on it are both unprecedented," said Bob Newsom, president of AC Martin. "A chance like this doesn't come around very often."
Another local company reaping the benefits of all the work at LAX is Century City-based engineering and construction giant AECOM, which has contracts on two terminal projects: a new, mostly international terminal rising on the airfield behind the Tom Bradley International Terminal and a project to expand the front facades of several terminals to ease connections to a planned people mover.
"LAWA has historically been and remains a key partner for AECOM," company spokesman Michael Chee said. "Creating a 21st century transportation infrastructure requires collaboration, vision and strong working partnership with clients like LAWA."
Terminal work
All of this work is the result of the convergence this past year of two massive modernization programs at LAX. One program encompasses major terminal renovations and the building of new terminal structures. The other program involves the building of a people mover – an above-ground railcar system – a consolidated rental car facility and other infrastructure designed to increase options for getting into and out of the airport.
Prev Next
For reprint and licensing requests for this article, CLICK HERE.