VR Goes Out of Box
Technology: firms move to location-based experiences
Friday, December 7, 2018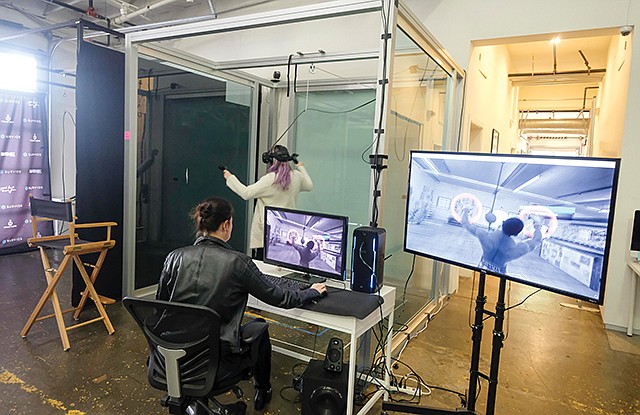 Virtual reality aims to transport users to another place. But VR companies are finding their business models work better when the users are all in one location.
VR producers are offering public virtual reality experiences in arcades, amusement parks and malls − marketing them to families and groups. Companies say it's a way to offer more complex, higher-end VR content to a wider audience.
Several VR firms from the Southland are gravitating toward this model as the projected retail market for virtual reality games has yet to materialize.
Survios Inc., a Culver City-based VR game developer, opened its first location-based experience in January 2018 in the Del Amo Fashion Center in Torrance, and in August, it partnered with Beijing-based NetEase Inc. on a deal that could put its games into 5,000 arcades in China.
Survios Chief Creative Officer James Iliff said the primary driver of the deal was the in-home virtual reality market's slow development.
"The big reason we're interested in the arcade market is the retail market is growing but not as much as we want it to," he said. "Our data (says) the arcade market will exponentially rise in 2019 and continue to get bigger. Retail is still a breadwinner for us, but we plan on doubling our game output and feeding that into arcades as well."
The public VR experiences include both physical hardware and software. VR hardware typically includes headsets, remote controls and a camera-powered motion sensor, which is occasionally swapped for a seat that moves to simulate motion or a motion-tracking backpack. VR software consists of the games or experiences seen through the headset.
The initial rosy predictions about in-home VR adoption were largely sparked by Facebook Inc.'s $2.3 billion March 2014 acquisition of Oculus VR, a virtual reality headset developer. Tech gurus at the time of the purchase predicted VR would swiftly become as popular as television.
Costly and cumbersome hardware and a lack of quality VR content that carries over between platforms has kept the retail market depressed. But the technology is still in its early stages, and experts predict a high rate of growth over the next five years.
Market research firm Statista Inc. estimates the global VR market will total $14.5 billion by 2021, and the combined augmented and virtual reality industries will reach a global market size of $290 billion by 2022, up from 2018's estimated $27 billion.
Short-term focus
While the virtual reality market's full potential is still coming into focus, arcade-style VR games are currently seen as the more lucrative model and offer access to a wider audience.

Guy Primus, co-founder and chief executive of Culver City-based Virtual Reality Co., said arcade-style VR installments are more likely to attract users because they are already set up and placed in public areas people gravitate to for entertainment. Primus estimated there were 50 VR experience locations in the Greater L.A. area now; he deemed more than a dozen "high-end experiences."
The company has raised $25 million since forming in October 2014 and expects to post mid-seven figure revenues by end of 2018.
A June deal with Dave & Buster's Entertainment Inc. distributes the company's latest title, "Jurassic World VR," to roughly 120 Dave & Buster's locations across the country, according to Primus. He said Dave & Buster's contributed nearly $3 million in advertising funds to promote the game.
"Jurassic World VR" is a 5-minute multiplayer experience and costs $5 at a Dave & Buster's. Primus noted that VR installations can be expensive because "we're talking about brick and mortar and a hardware investment, not just software," but neither he nor any other VR company executive would disclose the cost of running a physical VR experience.
Other local virtual reality companies getting in on the arcade-style experience include Culver City-based Dreamscape Immersive Inc., which will open its first location-based VR experience in the Westfield Century City mall Dec. 14. Chief Executive Bruce Vaughn said the company was approached by the mall to continue a pop-up VR booth they operated for three weeks. Its VR experiences cost $20 for between eight and 12 minutes of gameplay. Dreamscape Immersive has raised $45 million since its 2016 incorporation and has 50 employees. Vaughn declined to comment on company revenue.
Hollywood ties
Virtual reality game and experience developers are also forging close ties to Hollywood, one of the driving factors behind their proliferation in Los Angeles.
In December 2016, Century City-based studio MGM Holdings Inc. led Survios' $30 million funding round – the VR company has raised $55 million total – and helped turn films into immersive games.
"Through our relationship with MGM, we gained access to all their (intellectual property) and have been working to develop games from their movie library," Survios' Iliff said.
That access led Survios to develop a VR boxing game based on MGM's 2015 film "Creed," which launched in time for this year's "Creed II" movie premiere.
"A studio with a strong reputation and brand joining a hot new startup (is) combining old wisdom with new innovation in a symbiotic way," Iliff said.
The Virtual Reality Co.'s first location-based project, a VR game based on the film "The Martian," was a collaboration with Twentieth Century Fox Film Corp.'s Fox Innovation Lab. The VR game, also dubbed "The Martian," debuted at the Sundance Film Festival in 2016.
"It was an income consideration, comparing the cost of production to what the revenue opportunity was (for) location-based versus home VR," Primus said, noting that the location-based model is more lucrative right now because the market for home-based VR has not developed.
Dreamscape Immersive also has traditional entertainment industry backing from movie theater heavyweight AMC Entertainment Holdings Inc., which invested in the virtual reality firm's $30 million 2017 Series B round.
"AMC was the lead investor, and in addition to that, they committed to opening six Dreamscape Centers," Vaughn said. "It's more of a real estate play than anything else − when AMC has theaters that are underutilized, it's a nice conversion for them."
For reprint and licensing requests for this article, CLICK HERE.