VR Goes Out of Box
Technology: firms move to location-based experiences
Friday, December 7, 2018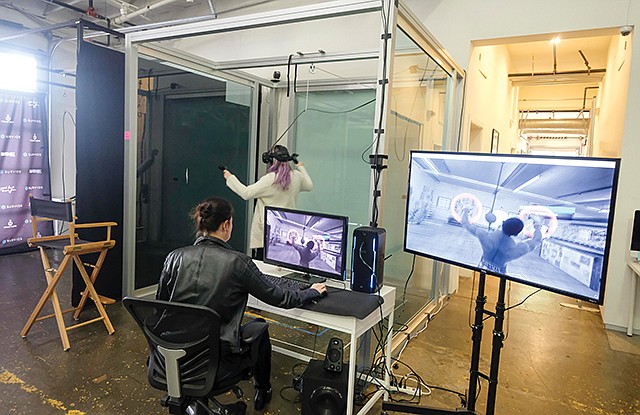 Virtual reality aims to transport users to another place. But VR companies are finding their business models work better when the users are all in one location.
VR producers are offering public virtual reality experiences in arcades, amusement parks and malls − marketing them to families and groups. Companies say it's a way to offer more complex, higher-end VR content to a wider audience.
Several VR firms from the Southland are gravitating toward this model as the projected retail market for virtual reality games has yet to materialize.
Survios Inc., a Culver City-based VR game developer, opened its first location-based experience in January 2018 in the Del Amo Fashion Center in Torrance, and in August, it partnered with Beijing-based NetEase Inc. on a deal that could put its games into 5,000 arcades in China.
Survios Chief Creative Officer James Iliff said the primary driver of the deal was the in-home virtual reality market's slow development.
"The big reason we're interested in the arcade market is the retail market is growing but not as much as we want it to," he said. "Our data (says) the arcade market will exponentially rise in 2019 and continue to get bigger. Retail is still a breadwinner for us, but we plan on doubling our game output and feeding that into arcades as well."
The public VR experiences include both physical hardware and software. VR hardware typically includes headsets, remote controls and a camera-powered motion sensor, which is occasionally swapped for a seat that moves to simulate motion or a motion-tracking backpack. VR software consists of the games or experiences seen through the headset.
The initial rosy predictions about in-home VR adoption were largely sparked by Facebook Inc.'s $2.3 billion March 2014 acquisition of Oculus VR, a virtual reality headset developer. Tech gurus at the time of the purchase predicted VR would swiftly become as popular as television.
Costly and cumbersome hardware and a lack of quality VR content that carries over between platforms has kept the retail market depressed. But the technology is still in its early stages, and experts predict a high rate of growth over the next five years.
Market research firm Statista Inc. estimates the global VR market will total $14.5 billion by 2021, and the combined augmented and virtual reality industries will reach a global market size of $290 billion by 2022, up from 2018's estimated $27 billion.
Short-term focus
Prev Next
For reprint and licensing requests for this article, CLICK HERE.