SpaceX Breaks Launch Record
Technology: Aerospace company counts 20 successful missions in 2018
Friday, December 7, 2018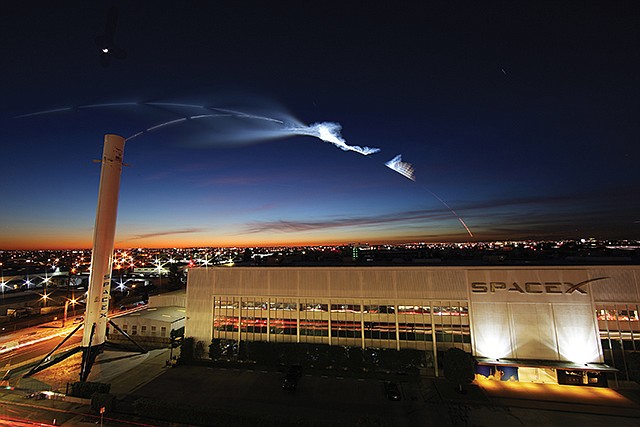 Two rocket launches last week by Hawthorne-based Space Exploration Technologies Corp. (SpaceX) broke the company's record for number of successful missions in a calendar year.
SpaceX broke its 2017 record of 18 rocket launches Dec. 3, launching 64 small satellites into low-Earth orbit for Seattle aerospace outfit Spaceflight Industries Inc.
The SpaceX Falcon 9 rocket, which launched from Vandenberg Air Force Base carrying 64 "smallsats," set a record for most satellites strapped to a rocket booster, a stack more than 20 feet tall.
"This was an incredibly complex mission, and I'm extremely proud of what our talented team at Spaceflight has achieved," Spaceflight Industries President Curt Blake said in a statement. "This mission enabled 34 organizations from 17 different countries to place spacecraft on orbit."
SpaceX followed the Spaceflight mission with a Dec. 5 resupply to the International Space Station, which marked the company's 20th launch in 2018.
The rocket carried more than 5,000 pounds of food and supplies to the ISS and launched from Cape Canaveral Air Force Station in Florida.
The launch marked the fourth flight of the Hawthorne-based aerospace firm's $62 million reusable Falcon 9 first-stage rocket booster, which reportedly failed to land properly because of hydraulics issues.
Since its founding in 2011, SpaceX has launched more than 210 satellites, and it reports contracts to launch 100 more in 2019.
For reprint and licensing requests for this article, CLICK HERE.