Q&A: Beutner Plans for Business, Education Ties
LAUSD Chief Seeks Bigger Role for Community of Business
Friday, August 31, 2018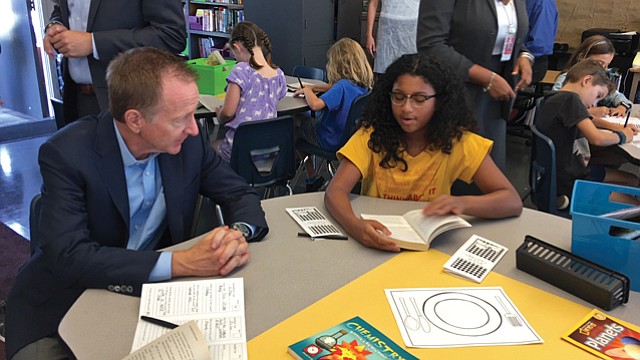 Austin Beutner's duties as superintendent of the nation's second-largest school district – with 700,000 students, roughly 1,000 schools and an $8.2 billion annual budget – mark the latest chapter in an ambitious civic resume. Beutner worked as a broadly empowered top deputy to Mayor Antonio Villaraigosa in the wake of the Great Recession. He later started and withdrew from a run for mayor of Los Angeles, and then served as publisher of the Los Angeles Times amid a wave of disruption that roiled the publication and print media in general. Beutner still isn't signing up for the easy stuff – he now must guide the Los Angeles Unified School District through financial difficulties, including rapidly rising pension and retiree health insurance costs and drops in revenue due to declining enrollment. Negotiations with United Teachers of Los Angeles remained a point of contention as this issue went to press, with threats of a strike in the air. Beutner's background gives him plenty to draw on as he confronts LAUSD's fiscal challenges —he started his career at Blackstone Group in New York, and at age 29 became the firm's youngest partner. He went on to play a key role in the U.S. government's efforts to help Russia transition to a market economy after the collapse of the Soviet Union, and then co-founded a private equity firm now known as Evercore Inc. Beutner sat down with Business Journal Editor Jerry Sullivan and Reporter Howard Fine to discuss these challenges, and his vision for decentralizing control within the school district.
What should the Los Angeles Unified School District do to turn out students that businesses will want to hire?
The reason we do all this work at LAUSD is to give every kid a great foundation for a 21st century job, or a path to college graduation, or both. Today, roughly 12 out of every 100 students who enter our high schools will graduate from college. That's not good enough. And in parts of the district, it's considerably less than 12 percent. We must produce kids with the knowledge, proficiency, confidence and skills to be successful in life.
How does the district get there?
We get there by simplicity and focus – and transparency about where we are. We need an organization that starts with the student and builds from there, as opposed to starting with the center – district headquarters – with its bureaucracy and with rules, regulation and compliance emanating from the top. The resources at the center are better deployed in the individual schools.
Prev Next
For reprint and licensing requests for this article, CLICK HERE.