Pot Bot Operator Looks to Ride Green Wave
Greenbox, maker of weed vending machines, wants to expand business
Friday, August 31, 2018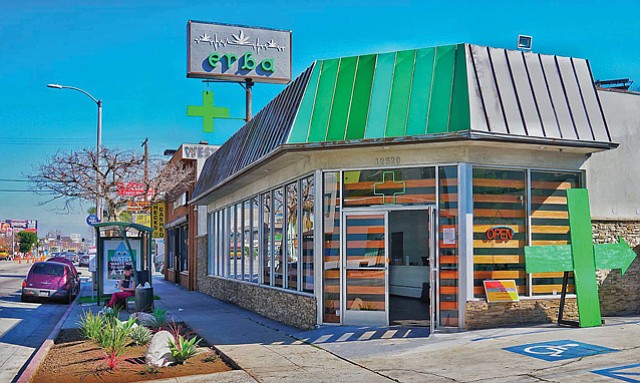 A "budtender" is slang for a cannabis
dispensary employee responsible for
helping customers choose the proper medicinal or recreational products, but the title may soon shift to "bot-tender."
Greenbox Robotics, a Marina del Rey company founded in June 2017, wants to bring automation to the cannabis market by using a smart vending machine to dispense cannabis. Two dispensary operators have signed on to use the product so far, including Erba Collective in Santa Monica and another in Arizona.
Customers select products via touch screen and a robotic arm can grabs the selected. A corresponding app provides an up-to-date menu of products in the kiosk for shoppers before entering a dispensary.
"Automation is fueling almost every aspect of our world today, why should the cannabis industry be any different?" Zack Johnson, founder and chief executive of Greenbox Robotics, said.
Johnson added that Greenbox's goal is to "collect better data around what customers are buying so they can advise on trending products" and make more sales.

Dispensary owners pay Greenbox a $5,000 installation fee per kiosk, as well as a $500 monthly maintenance fee.
Greenbox's vending machines accept cash and debit cards currently, but they can't take credit card payments because cannabis is illegal at the federal level and financial institutions often won't process transactions related to marijuana sales.
Greenbox claims to be compliant with state regulations, and its vending machines and app include biometric facial recognition technology to verify users.
Vending machines are only accessible to customers who have already been verified at a licensed dispensary's security checkpoint. Facial recognition is optional, but spares customers the need to check in with dispensary employees and show an ID.
Each facial recognition verification costs Greenbox $6, according to the company, which passes only $2 of the charge to dispensary owners. Johnson said he hopes to make up the difference on sales of ads for cannabis brands that would be displayed on the Greenbox vending machine.
MyCrypto Raises $4 Million
Redondo Beach-based crypto-wallet developer MyCrypto Inc. announced August 30 it raised $4 million in a Series A round led by San Francisco firm Polychain Capital.
Mick Hagen of Mainframe, Ausum Blockchain Fund, and Lily Liu, founder of Earn Global Inc. were among the seven investors participating in the round for the company, MyCrypto Inc., which developments apps for buying trading and storing crypto currencies.
"We believe today one of the major bottlenecks to cryptocurrency adoption is the lack of an easy-to-use interface for average people and MyCrypto is led by hardcore cryptocurrency entrepreneurs to be well-positioned to onboard the next one hundred million cryptocurrency users," said Olaf Carlson-Wee, chief executive of Polychain Capital, said in a statement.
Prev Next
For reprint and licensing requests for this article, CLICK HERE.