Market Movers
L.A. metro area leads state in growth of women-owned firms over last decade
Friday, August 31, 2018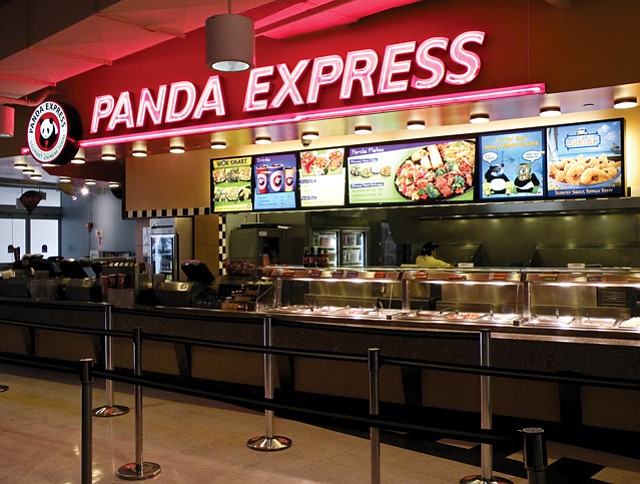 About 1.5 million women-owned businesses employ over a million people in the state of California, accounting for a projected $232 billion in revenue for fiscal year 2018, with firms in the Los Angeles metropolitan area accounting for nearly half of both totals.
That's according to the eighth annual "State of Women-Owned Business Report" commissioned by New York City-based American Express Co., which came out late last month.
The report is based on U.S. Census Bureau data that includes Los Angeles and Orange counties, which combine for a population of about 13.3 million, or about one-third of the state's population.
Los Angeles saw the most growth – nearly 80 percent – in the number of women-owned enterprises over the last 10 years compared with other California metropolitan areas, according to the census data.
"What's interesting about L.A. and its surge in women-owned firms is what we call 'necessity entrepreneurship' where many women turned to opening up their own businesses due to lack of jobs during that time frame," said Geri Stengel, an American Express research advisor. The great recession played a role, she added.

Almost half of the 1.5 million women-owned businesses in the state – some 736,000 – are located in L.A. They are projected to combine for $105 billion in revenue this year, according to the study.
Stengel said that she's noticed a post-recession shift reflected this year when it comes to motivations for women to start businesses, with more going on their own based on entrepreneurial desire rather than a need individuals have to create employment for themselves.
"With the type of growth that's happening, this last year we've seen what we call 'opportunity entrepreneurship,' when a need in the market is identified and a service or product is offered," she said.
Stengel said she's observed, anecdotally, that Los Angeles is the No. 2 market in the country, behind New York, in the growth of women-founded businesses, recently surpassing San Francisco.
Other recent measures indicate that funding and pay disparity still disproportionately affect female entrepreneurs compared with their male counterparts despite the uptick in new formations despite the uptick in women-owned business.
A global survey released in March by online design marketplace 99designs said a significant funding gap between the genders exists, with men almost twice as likely to have raised more than $100,000 in capital.
The Business Journals' 2018 ranking of top women-owned firms in L.A. County showed revenue from the 100 companies on the list reached $18.9 billion in 2017, up 1.8 percent compared with 2016. At the top of the list were companies such as Wonderful Co., Forever 21 Inc. and Panda Restaurant Group.
California was No. 13 in the rate of growth of women-owned firms since 2007, with a 49.8 percent increase; it ranked No. 32 in growth of jobs created by women-owned companies, with a 11.8 percent increase; and No. 35 in growth of firm revenues, with a 25.8 percent increase, the report said. California ranked No. 28 in the nation considering all three factors combined.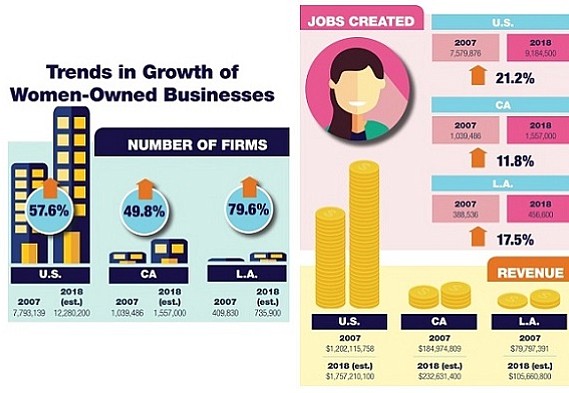 For reprint and licensing requests for this article, CLICK HERE.