Will Downtown Spillover Fill Out Westlake?
REAL ESTATE: Stretch of 7th Street points up potential
Friday, August 24, 2018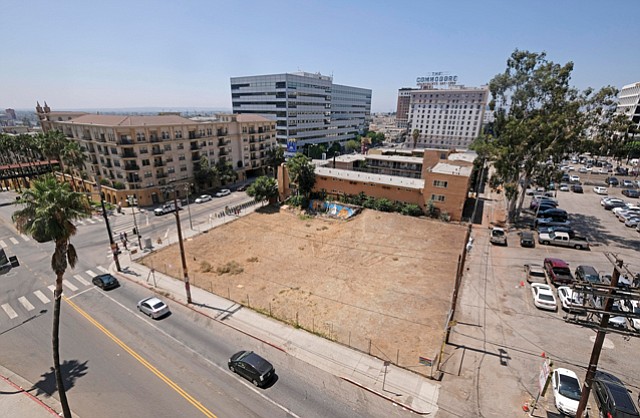 Downtown's renaissance appears to be spilling into the heart of the gritty Westlake district – which runs west from the city's center to Koreatown, bordered roughly by 3rd Street to the north and Olympic Boulevard to the south.
The current round of building downtown has been ongoing since the recovery from the Great Recession took hold, claiming development opportunities and sending apartment rents and condominium prices steadily upward.
"There is a shortage of where people can go and develop right now," said Seth Grossman, a Century City-based senior managing director at Meridian Capital Group, a commercial real estate finance and advisory firm headquartered in New York.
Spillover has until recently extended only as far as a section of Westlake that hugs the 110 freeway, where several new residential projects have risen among office buildings that give the area a downtown feel.
Signs that the tight market is forcing a new view of some of Westlake's more hardscrabble precincts can be seen on a three-block stretch of 7th Street that's about halfway between the 110 and MacArthur Park.
The stretch starts at Bixel Street on the east and ends around Witmer Street on the west, and now includes:
• A 28-story, 306-unit, 300,000-square-foot high-rise apartment tower proposed at 1247 W. 7th St. by Ontario-based American Lifan Industries Inc. with construction scheduled to begin in February.
• A 37-story multifamily project proposed on an L-shaped parcel on the northwest corner of 7th and Bixel streets by United American Properties of Newport Beach.
• A project that would bring 130 condominiums and 7,000 square feet of commercial space to a 0.8-acre parcel of land at 1145 W. 7th St. that's owned by China-based Zhuguang Properties.
• A six-story, 76-unit apartment complex at 1301 W. 7th St. that's slated to begin construction next month, according to co-owners Deep Green Housing and Community Development and designed by Hollywood-based Relativity Architects.
• The 13-story, 160,000-square-foot Mayfair Hotel at 1256 W. 7th St. recently completed a multi-million-dollar renovation of its 1926 structure.
The 2.7-square-mile Westlake district is among the city's most densely populated, with most of the housing stock currently occupied by working-class and poor tenants. It is home to large immigrant communities from Mexico and Central America, and is dotted with historic buildings dating from the 1920s and a few hip and relatively small residential outposts here and there.
Westlake remains a far cry, however, from drawing the scads of young professionals with relative high incomes and a desire to live in inner-city neighborhoods. That has been the basis of hot hipster markets from Silver Lake to Koreatown, not to mention standard high-end hubs such as Santa Monica, West Los Angeles and Beverly Hills.
Prev Next
For reprint and licensing requests for this article, CLICK HERE.